How to Recover Folders from Emptied Recycle Bin on Windows 10?
"A few important folders on my Windows 10 got accidentally deleted while removing junk data. I discovered that my important folders are available anywhere on my computer. Is there any way to regain those folders? Or they are been deleted forever?".
Many of you might have experienced similar circumstances! Yes, most of us delete folders accidentally and later realize that we need it back. It's well and good if you remember it before emptying the Recycle Bin; so that deleted folders can be easily restored using the Restore option. But, things seem to be completely different if you emptied Recycle Bin before you restore the deleted folders. If this happens, at first, you need to-
Check the entire computer for deleted folders
Verify backup for the folders
These workaround helps to ensure-
Whether your folders are deleted?
If folders are deleted, can you restore them from backup?
If you have backed deleted folders before the deletion and now you found them in backup, then your problem is solved. Just copy folders from backup and paste in your desired location.
Backup is unavailable
In case, if you fail to possess the backup of the deleted folders, then there is no such option available in your Windows 10 computer. But, don't worry! you can easily regain permanently deleted files by utilizing a reliable folder recovery software.
Generally, many of the users conclude that deleted folders are gone permanently, after emptying the Recycle Bin in Windows 10 or any other Windows OS. But, technically it's not true. After deletion of a file or folder, your Windows marks the hard disk space occupied by the deleted items to be available for use. Thus, the deleted item's entry is masked and deleted item will not be visible. But the data reside in the same storage space until and unless it is overwritten by new data.
The easiest way to recover folders deleted from an emptied Windows 10 Recycle Bin
The folders emptied from the Windows 10 are easily recoverable with the help of Folder Recovery software. Once you encounter data loss from the Windows 10 PC, you need to act fast before your computer overwrites deleted folder space with any new data.
Folder Recovery Software
The Folder Recovery tool has an inbuilt scanning module that scans the entire drive and efficiently restores emptied or bypassed recycle bin folder. It is powerful enough to retrieve even folders deleted by applying Shift-Delete. The program extracts the folders from the Windows 10 hard drive and displays them for a preview in two different layouts. You can verify the recovered data and save it to a suitable storage location on your computer. In addition to this, the Folder Recovery program can be utilized to retrieve deleted/lost/corrupt files from external HDD, USB drives, SSD, FireWire drives, etc.
This advanced recycle bin folder recovery tool is available in a demo version as well. You can use this software to recover deleted files on Windows Server 2008 and 2003, XP, Vista, 7, and 8.x. You will find no difficulty in data restoration process due to handy interface and excellent technical support provided by the application. Moreover, this application is also capable to restore over 300+ types of file type formats.
How to Recover Folders from the Emptied Recycle Bin on Windows 10?
Step 1: Get Folder Recovery software installed on your Windows 10 computer. Select Recover Files option.
Step 2: Choose the drive location of the Recycle Bin folder on your computer and click on the Scan button.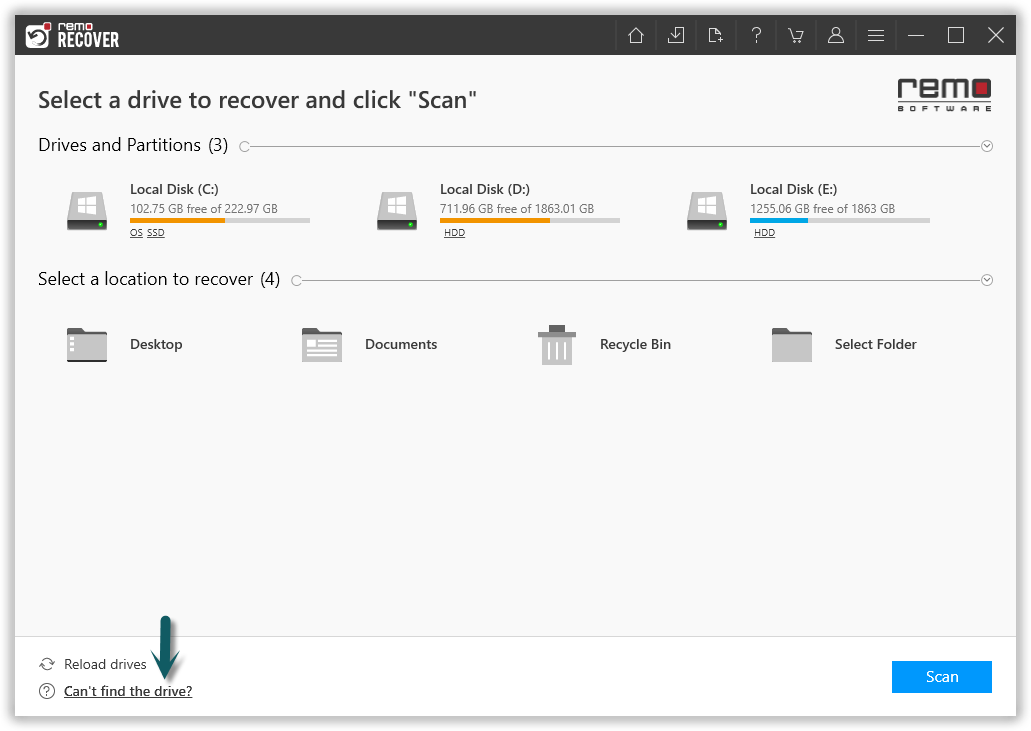 Figure 1: Recover Partitions/Drives
Step 3: The tool starts searching for the files cleared from the recycle bin folder.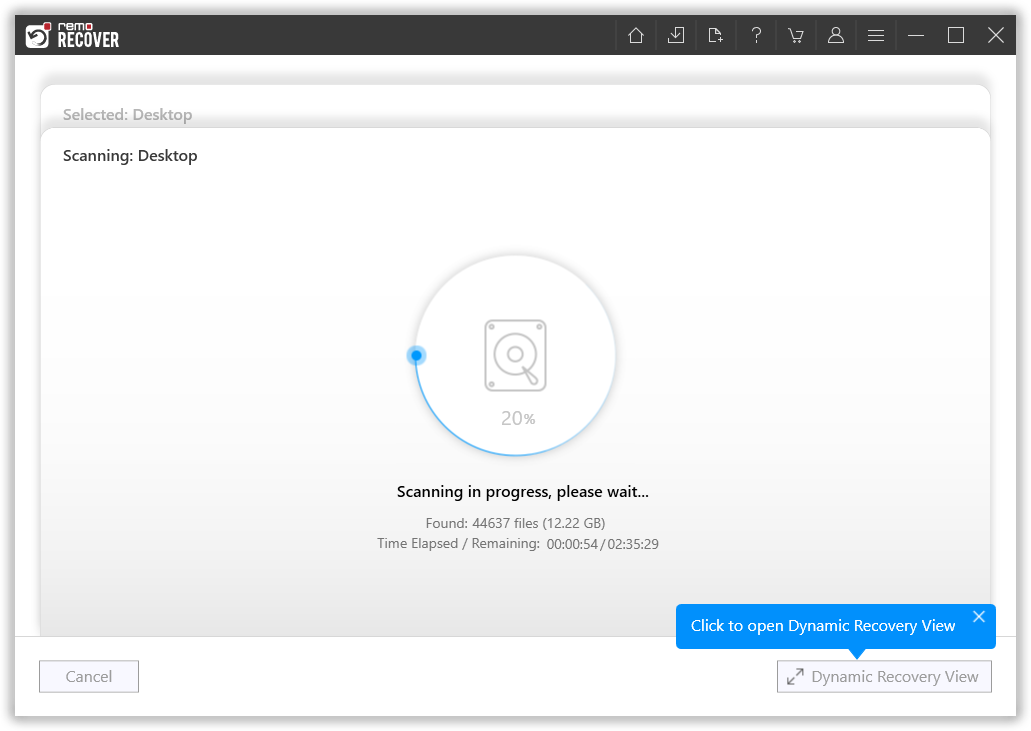 Figure 2: Scanning for Folders
Step 4: The retrieved files will be displayed in File Type View and Data View.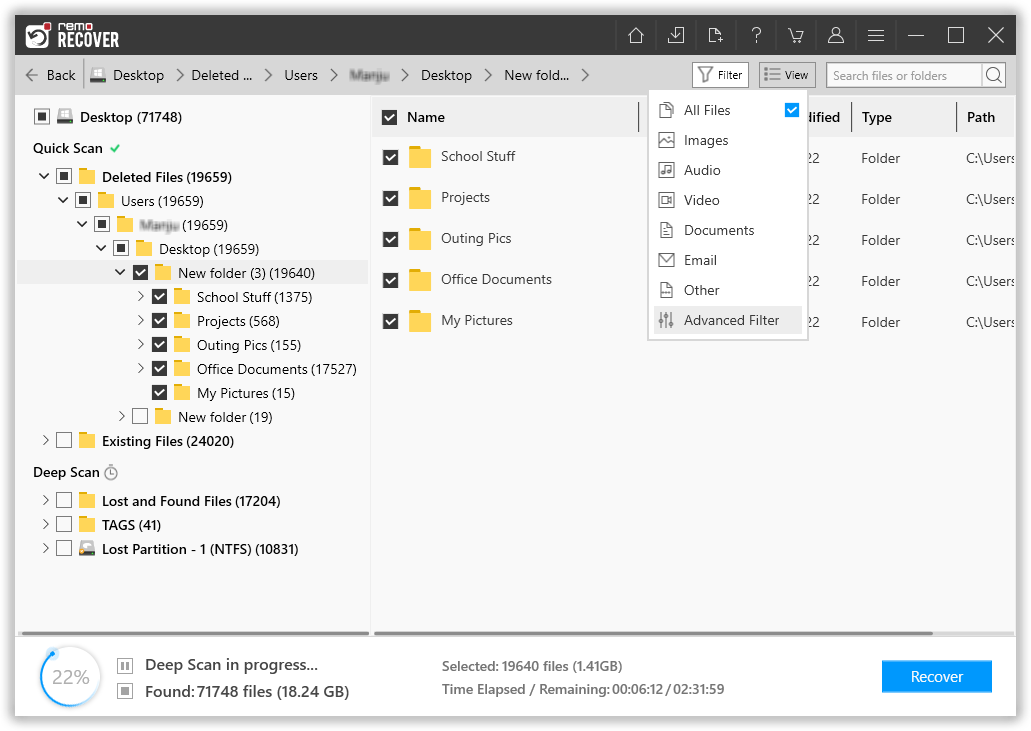 Figure 3: Recovered Folders
Step 5: Preview the recovered files by right-clicking on the particular file item.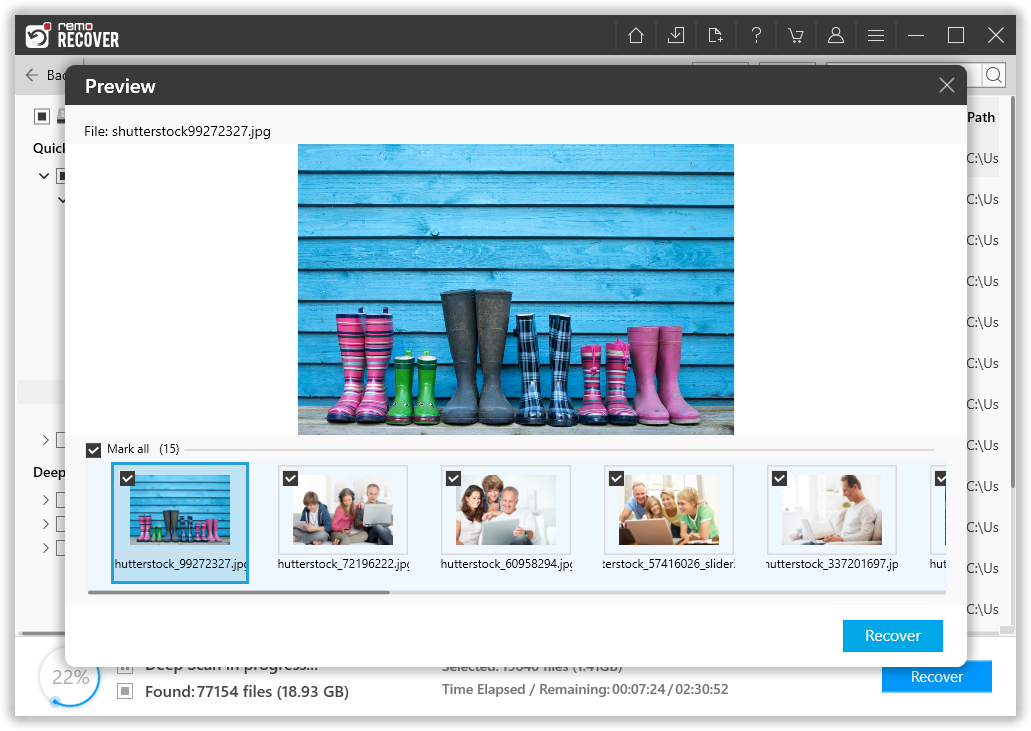 Figure 4: Preview Window
Step 6: Finally save the files retrieved from the Windows 10 recycle bin to a secure storage drive location.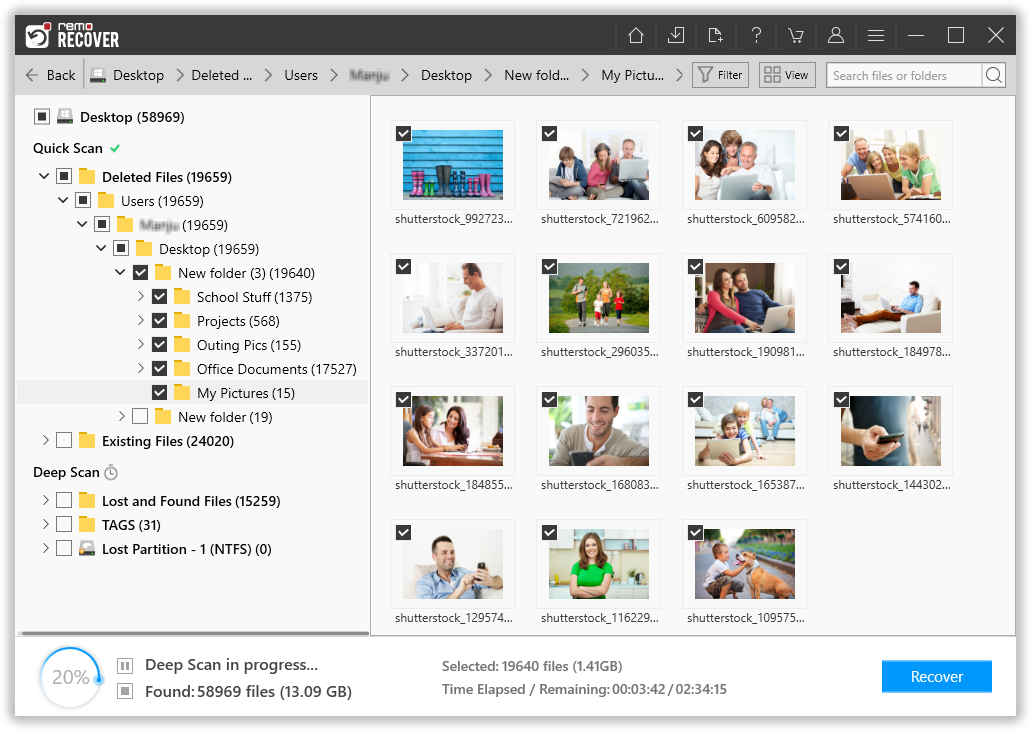 Figure 5: Save Recovered Folders