How to Recover Accidentally Deleted Folders from HDD, SSD, and USB Drives
Folder Recovery software restores the files and folders deleted after formatting, accidental deletion, re-partitioning, virus infection, etc. with utmost ease
Supports all file systems including NTFS, NTFS5, HFS, HFS+, FAT16, FAT32, and exFAT
Comes with advanced features like "Save Recovery Session" that allows users to resume the recovery process any time further. With "Open Recovery Session" users can resume the recovery process without having to rescan their devices
Download the demo version now to recover & preview the recovered files for free
Folders can be created on all laptops or desktops. These folders can be used to store many important files such as system files, picture, songs, etc. in separate folder. Storing data in a separate folders makes the user to access, edit and manage files easily. While dealing with files or folders on your computer you might end up accidentally deleting some important files and folders. This situation in turn, creates a big problem causing a huge data loss; if you do not have a proper backup of the deleted folders.
Have you ever faced a critical situation where your vital files are deleted due to accidental deletion of folders? Are you suffering from important data loss, which is needed, for your work? Do you have any idea on the best way to rescue folder after accidental deletion? If your reply is no, then you should not get annoyed. Since you have landed on to the right place, this article will introduce you the proficient software named the Folder Recovery. By making use of this restoration utility, you can easily get back deleted folders effortlessly from the hard disk drive.
Reasons behind accidental deletion of folders:
While deleting some unwanted old folders to increase your boot speed, you may mistakenly select important folders and delete them. If your deleted file size is more than Recycle Bin storage capacity then it bypasses deleted item storage folder. In that case, you will face a huge data loss.
When you were about to delete D drive data, but you wrongly selected USB drive connected to your computer and deleted all the folders. You might be unable to find deleted items in Recycle Bin or Trash of Mac system because the folders deleted from external storage device will not be stored in Recycle Bin/Trash. As a result, user has got no chance to retrieve deleted folders back.
Sometimes folders can be accidentally deleted by making mistake in using the commands. When you use RD, RMDIR command from a command prompt instead of using other commands, you may face deletion of files along with its directory from Windows operating system. Some of these commands like rm, do not ask any confirmation before deletion. Its better, not to use commands if you lack knowledge in it.
Deleted folders can be easily retrieved
Loss of these important folders due to any reason creates a major crisis and nowadays it is a chief issue faced by many people worldwide. However, don't worry! There is still great opportunity to recover folder accidentally deleted from computer or external device using the most comprehensive folder recovery software. Restoration of deleted folders is possible because whenever you delete any folders from hard disk, files are not removed permanently, but the occupied space is marked as free and can be overwritten with new data. But adding fresh data will erase deleted data permanently beyond recovery. Hence it is better to perform deleted folder recovery before they are overwritten with new data.
Excellent Features of the Folder Recovery Software:
Folder recovery is the top-rated tool in the present market as it can effectively recover folder accidentally deleted from the computer hard disk. Using this restoration utility, you can retrieve my pictures folder, my songs folder, systems files folder and many more from both the computer and all external storage devices. The software is designed with advanced scanning techniques that helps users to restore files from a RAW external hard drive without any assistance. Folder retrieval program supports a recovery of folders from all versions of Windows like Windows 10, Windows 8, Windows 7, Windows Vista, Windows XP, Windows Server 2003 and 2008. With the aid of this application, you can easily retrieve accidentally deleted folders on all versions of Mac.
You can use the demo version of this software to know in detail on how to restore accidentally deleted folder following few simple steps. You can even preview the recovered files and check the efficiency of the software. If you are satisfied with the output then you can purchase the licensed version and save all the recovered files.
Steps to recover accidentally deleted folders:
Step 1: Download and install the Folder Recovery Software on your computer. On the main screen with three different options. Among them click on "Recover Files" option
Figure 1: Main Screen
Step 2: Among the two options provided, Select "Recover Deleted Files" option to rescue accidentally deleted folders.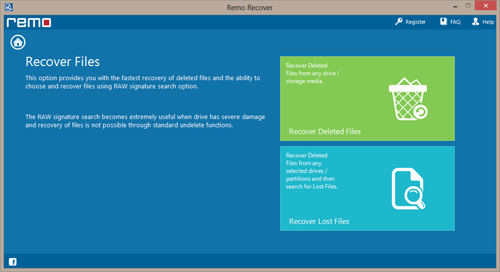 Figure 2: Select Recover Deleted Files Option
Step 3: Soon after the selection of the "Recover Deleted Files" option, select the drive from which the folders need to be restored. Immediately after clicking on "Next" button will give rise to the scanning process.
Figure 3: Select Drive To Restore Deleted Folders
Step 4: Right after the scanning process is completed, the retrieved data can be viewed using "File Type View"/"Data View" option. Then select "Preview" option to view recovered folders prior to saving.
Figure 4: Preview Restored Deleted Folders