Software to Recover Deleted & Lost Folders from Any Storage Device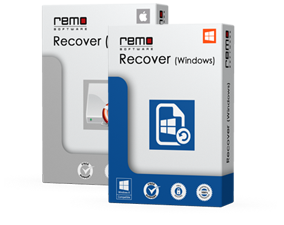 Professional data recovery tool that can recover deleted and lost folders from computer's internal hard drive, and other external storage devices
The software is available for free download that can Perform file and folder recovery and offers a free preview of the recovered file & folder prior saving
Available in Windows & Mac editions separately, that is compatible with Windows 10, macOS High Sierra, and their earlier versions too
We create a folder to store some important files or documents such as Word files, music files, videos, etc. in an organized way. These folders are safe on your Windows or Mac system hard disk unless you format the disk or accidentally delete those crucial folders. Many times we unknowingly delete a folder which contains all the details regarding official projects and later start worrying about recovering deleted folders.
An easy approach to recover deleted & lost folders
Upon folder deletion, you will lose important file items such as media files, presentation files, etc. Well, there are various factors responsible for deletion or loss of the folders. But losing vital files will prove very troublesome to any user unless there is a right backup of the folder that got deleted or missing.
If you do not possess a backup of the deleted or missing folders, then don't worry. It is still simple to undelete the folders using the best data recovery tool named Folder Recovery software. Read further to learn how to undelete deleted folders after you delete any folder accidentally or intentionally.
Folder Recovery - Free Software to Recover Deleted & Lost Folders from Computer, Memory card, External Hard Drive, and other USB Devices
Folder Recovery is an excellent solution for restoring folders containing text files, images, videos, etc. This tool is highly recommended by the industry experts because it is capable of recovering folders that are been permanently deleted from system drives and other external storage drives. The software requires nominal disk space for the installation and so you can save a lot of disk space. Demo version of Folder Recovery software allows you to preview the recovered folders as soon it finishes scanning. Thereby you can evaluate the performance of this recovery application before purchasing the software. Now let us go through some of the factors that account to loss of folders.


Factors leading to the deletion & loss of folders from the storage drives
One may lose folders or files from their Windows or Mac machine when tried to format the hard disk mistakenly or purposefully. The folders can also get corrupt due to malware attack and other malicious programs. Even certain third-party applications can delete, corrupt or make some major changes to your vital folders. Improper partitioning, bad sector formations, emptied recycle bin folder, applying Shift-Delete on folders, etc. are some more reasons that lead to deletion/loss of the folders. The causes for loss of folders are still many. But fortunately, the Folder Recovery tool will help you to restore the folders that got deleted due to any of the reasons.
Features of Folder Recovery software
Works with system drives and also external HDD, SSD, USB drives, FireWire drives, etc.
Performs folder recovery on Windows 7, Windows 8, Windows 10, Windows XP, Windows Vista, and can also recover folders & files deleted using RM Command on Mac OSX High Sierra, Sierra, El Capitan, Yosemite, Mavericks, Snow Leopard, Leopard, Mountain Lion, Lion, and so on.
Brings back folders without affecting the original file content
Built with the ability to restore more than 300 file type formats
Displays a preview of the retrieved folder items in two different layouts
Recovers permanently folders that are deleted using "Shift + Delete" or "Command + Delete" keys.
Supports Outlook folder recovery, image folder recovery, video recovery, songs recovery, document recovery, etc.
Steps to recover deleted & lost folders:
Step 1: Launch the Folder Recovery software on your system.
Step 2: Open the program and select the Recover Files option that is available on the main screen. Then continue to choose the drive that is to be scanned for the deleted or lost folders.
Step 3: Press on the Scan button.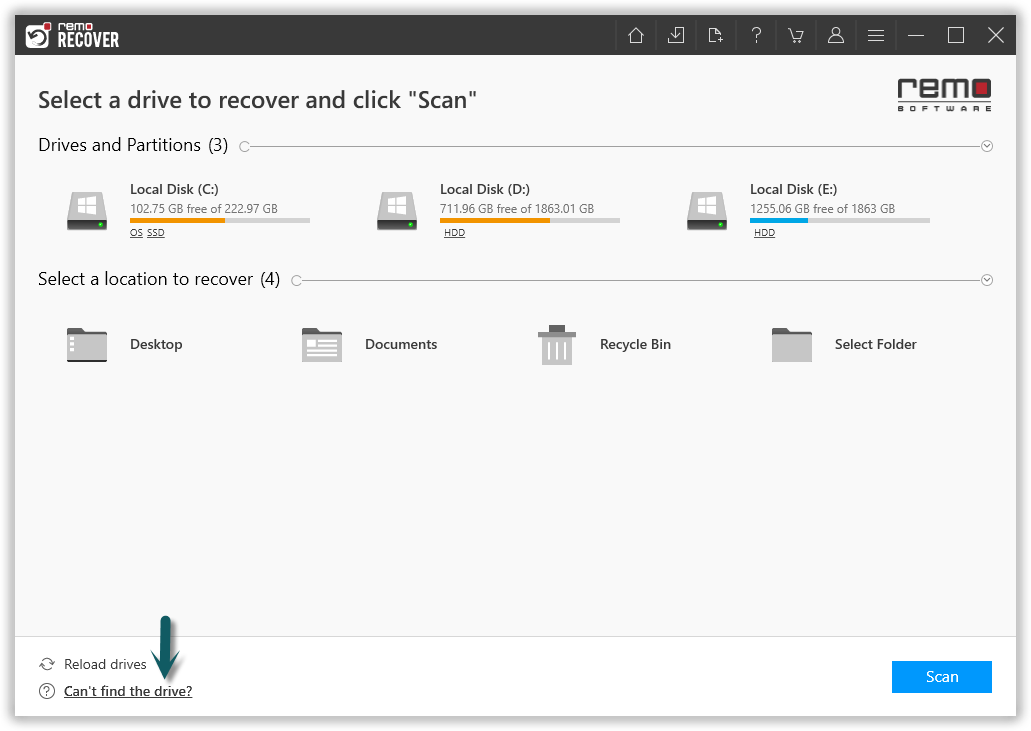 Figure 1: Recover Partitions/Drives
Step 4:
The tool initiates the folder recovery process by deep scanning the selected drive.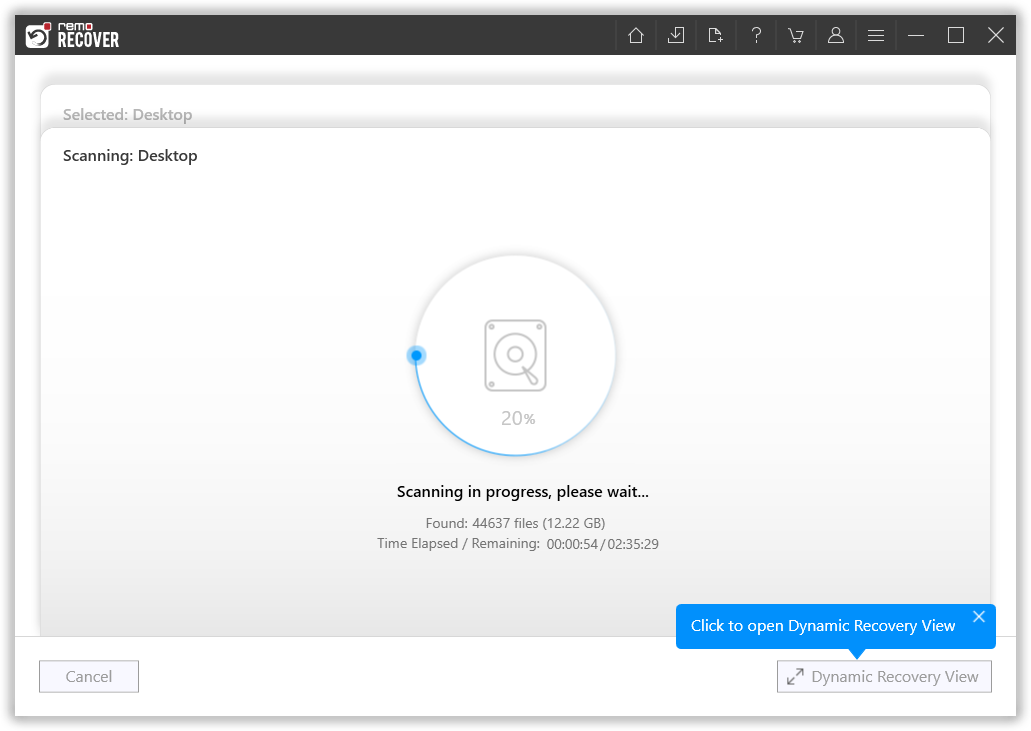 Figure 2: Scanning for Folders
Step 5: Proceed to preview the recovered folders in either of File Type View or Data View.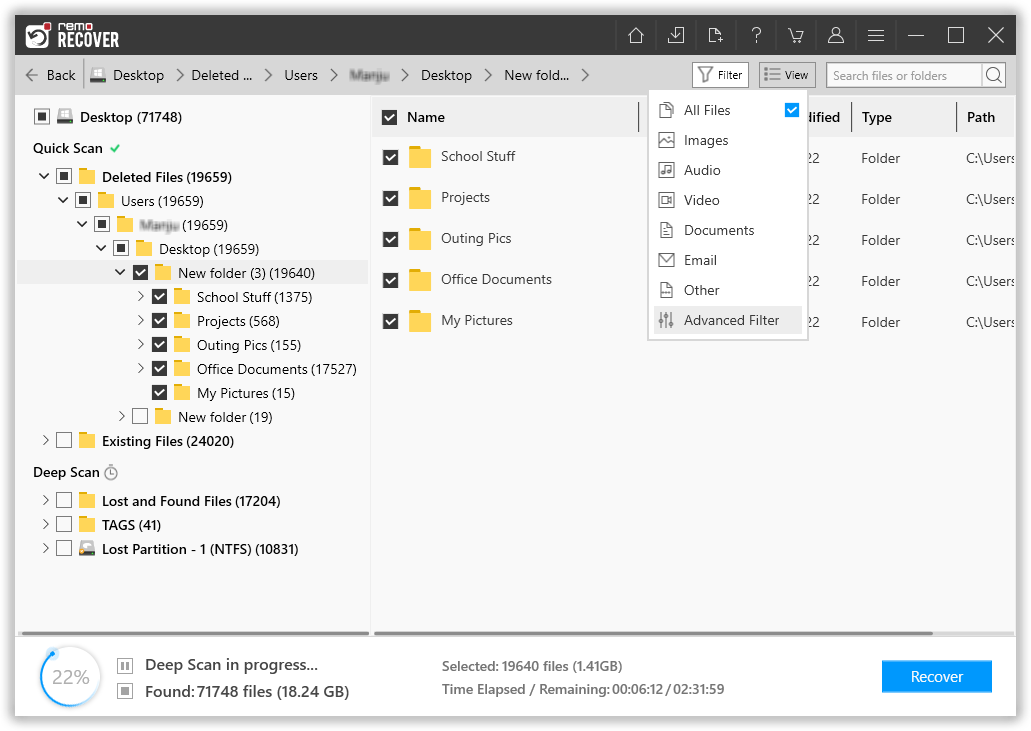 Figure 3: Recovered Folders
Step 6: Right-click on a particular file item to preview.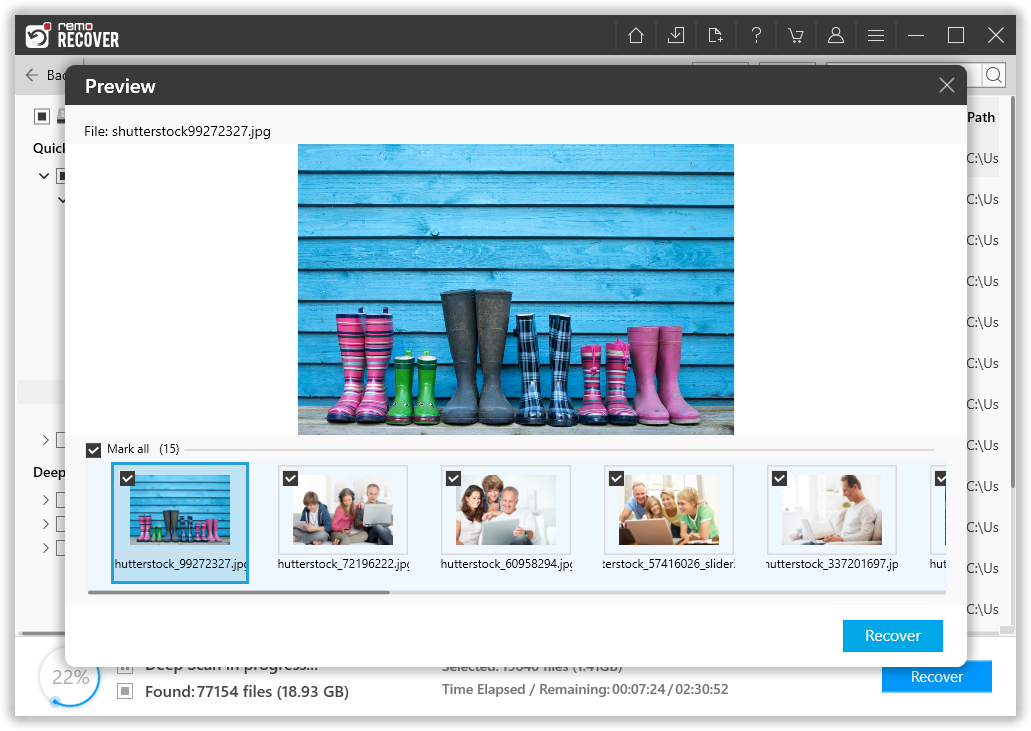 Figure 4: Preview Window
Step 7: Lastly, select a suitable destination path to save the recovered files.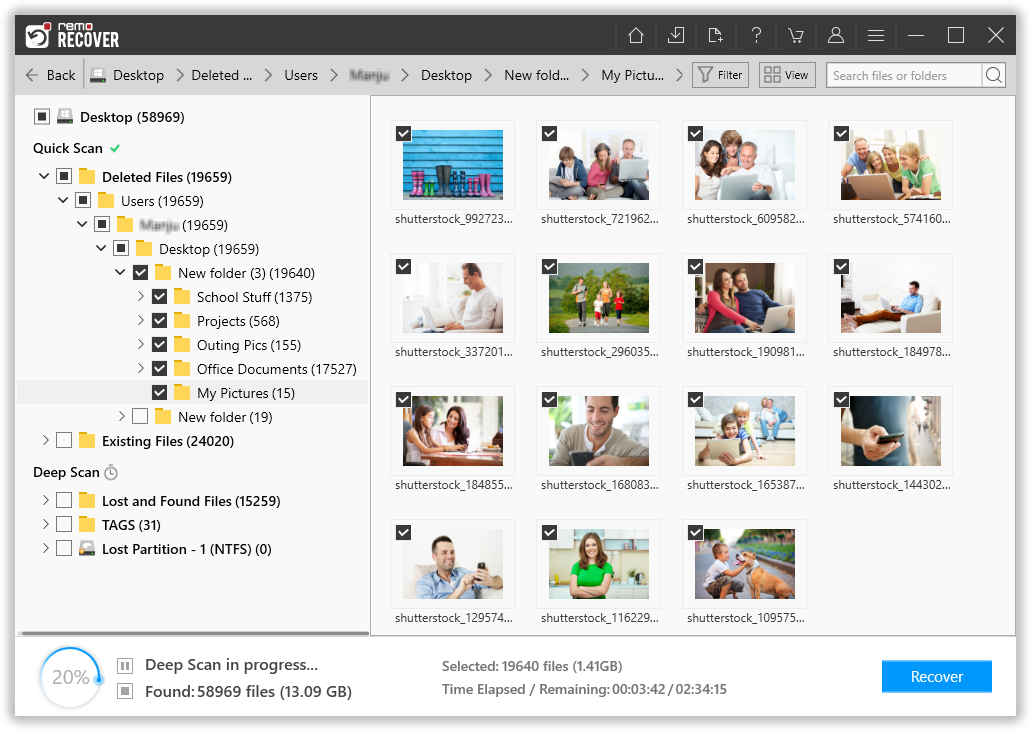 Figure 5: Save Recovered Folders
Latest News:
How to Recover Accidentally Formatted Mac Hard Drive?
Remove Read-Only Mode from Folder
Recover Folders from Empty Recycle Bin on Windows 10
How Photos Are Stored in a DCIM Folder?
How To Recover Deleted Folder in Outlook 2016?
Restore Lost Files after Windows 10 Upgrade
Recover Deleted Folder from Recycle Bin Windows 8
Recover Files from Hitachi Hard Drive
Recover Data from Toshiba Laptop Hard Drive