Quick Way to Restore Folder that is Too Large for Recycle Bin
Restores the folder containing videos, images, audio files, documents, etc. that have bypassed the Windows Recycle Bin folder after deletion
Also supports deleted files and folder recovery from corrupted, formatted, and deleted drives
"Save Recovery Session" feature in the trial edition helps to resume the recovery process any time and avoid rescanning of the PC
Free preview of the recovered files and folers in the demo version helps users to evaluate the tool before purchase
Recycle Bin is a temporary storage folder where all deleted files are stored. If you need those files then you can restore them through a simple restore operation But what can you do if the large deleted folder is not found in the Recycle Bin. How to recover large folder from Recycle Bin? In order to deal with this situation, you can go through the folder recovery software. This tool is capable to recover files and folders that are too big for Recycle Bin. It can restore the large folder from Recycle Bin within a short duration.
Whenever any such folder loss disaster encounters, most of the users may believe this deleted folder has gone forever and cannot be recovered. But the truth is that the folder is not deleted permanently. Actually, the link that is pointing to the folder location is removed but not the file/folder contents. However, the file will be no longer remain visible at the user end.
Well, surprisingly, it is very simple to recover folder for Recycle Bin on Windows 8, Windows 10, Windows 7, Windows XP, Vista, etc. using the professional Folder Recovery software. You can also make a note that, to increase the chances of deleted file or to restore the large folder from Recycle Bin, quick action is a prime necessity. When you have realized about the deletion of an important folder, do not continue to save any more files on your hard drive until you recover folder too big for Recycle Bin. Folder recovery is a Windows utility, which makes file recovery within a quick time. One can also recover folder after format and the tool for this can be obtained at - http://www.folderrecovery.net/after-format.html.
Advanced features of the folder recovery software
If some files or folders bypassed the Recycle Bin, then folder recovery tool can save your data. It works very well to recover folder too big for Recycle Bin.
This tool is able to recover files which are deleted using "Shift+Delete" keys or Windows command prompts.
It helps to get back any file deleted from USB drives, flash memory cards, iPod, etc.
Whether the file is deleted from Recycle Bin or it is not at all found in the Recycle Bin, the folder recovery software is always with you to get back your files. It is designed with an advanced set of features to revive folders in the simplest fashion. This application can effectively restore the large folder from Recycle Bin because it has a strong inbuilt recovery engine. You can recover files deleted from Recycle Bin within a few mouse clicks.
Procedure to recover folder that is too large for Recycle Bin:
Step1: Run the Folder Recovery application and select "Recover Files" option from the main page as shown in Figure 1.
Figure 1: Main Page
Step2: From the next Window select the appropriate recovery option according to the data loss situation (whether Recover Deleted Files or Recover Lost Files). And then choose the storage drive from which you want to recover folder. Click on the arrow button at the bottom to continue; refer to Figure 2.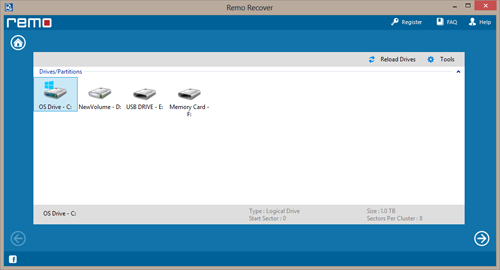 Figure 2: Select Drive
Step3: Once the file recovery process is complete, you can preview of all the recovered files. If you satisfied with this results, save all scanned information by using "Save Recovery Session" option as shown in Figure 3.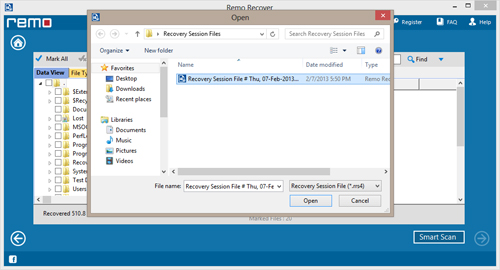 Figure 3: Save Recovery Session
After activating the product, open recovery session and save all recovered files on any device which is accessible to the host operating system.