How to Disable Read-Only Attribute from Folders?
The best solution to restore mistakenly deleted read-only files/folders
Folders lost due to accidental format, system upgrade and corruptions can be retrieved
All file formats of text and media are supported
After upgrading the system to Windows 10, if you face an annoying problem. Certain folders cannot be accessed since they open as read-only. In fact, after a little probing here and there, you find that most Document folders are set to read-only. Sounds quite an irritating situation to face, right?
The read-only is a file attribute which means a file can only be opened or read. Deleting, or renaming the file cannot be done. The immediate thing any user would do is right-click on the folder to bring up Properties dialog, and in the General tab, the Attributes Read-only box is unchecked. However, when the dialog box is brought up again, the Read-only attribute is still set. So what else can be done to stop folders from being in Read-only mode?
If you are looking for any fixes for this issue, then here you go. Some most suitable methods to disable folders from being in read-only mode-
Method 1: Using CMD
In this method, you try to force Windows to remove the read-only attribute from the folder.
Go to Start menu, and type cmd in the search bar
In Command Prompt window, type the following command –
attrib -r +s C:\Users\YourUserName\Foldername
Method 2: Get Full Control
If using Command Prompt to disable read-only attribute doesn't work out, then here is another method you can try out.
If you are the only user, then follow the steps mentioned here –
Right click on 'C' drive, and select Properties
Go to Security tab --> Advanced --> Change Permissions
Select the appropriate user, and click Edit
Next, select This folder, subfolders and files under Applies to tab
Under Basic Permissions, select Full Control, and click OK
If other users are present, then go through this –
In 'C' drive, right click on your username in Users folder, then select Properties
In Security tab, go to Advanced, and hit Continue
Now click on Enable Inheritance
This should fix the read-only issue on your folder. Well, you faced read-only issue with folders after Windows upgrade. Likewise, you also face other issues after Windows upgrade. In fact, a common problem which many users face after Windows upgrade is data loss. Your important folders and files are lost after upgrade. But you don't have to worry because the Folder Recovery utility can recover folders and files on Windows.
Folder Recovery tool helps to retrieve folders from SATA, IDE, and SCSI drives. It even restores lost/deleted folders from external drives. The software supports folder recovery on Windows 7, Windows 8, Windows 10, and other editions. It scans the complete Windows storage drive thoroughly and fetvhes all the folders which are missing or erased.
Here is how to restore read-only folders that are lost/deleted –
Step 1: Download and run the Folder Recovery on your computer. Select Recover Files option on the main screen.
Figure 1: Main Screen
Step 2: In the next screen, choose either of Recover Deleted Files or Recover Lost Files option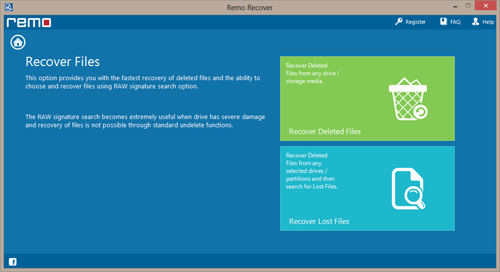 Figure 2: Select Recover Lost Files Option
Step 3: Next, select the drive from which lost files and folders have to be recovered. Proceed to press on Next
Figure 3: Select Drive To Restore Files
Step 4: After scanning is completed, preview the recovered data and save the required ones.
Figure 4: Preview Restored Files