How to Recover Deleted DCIM Folder from SD Card?
Quickly regains deleted or lost DCIM folder from SD card that is used in digital cameras, mobile phones, camcorders, and other gadgets
Recovers DCIM folder deleted or lost after formatting, accidental deletion, and corruption of the SD card
Demo version is available for free download that recovers deleted, or lost DCIM folder from SD card and offers free preview of the recovered folder before saving
The tool is available in Windows & Mac editions that is compatible with the latest Windows 10 & macOS High Sierra, and their earlier versions
Nowadays, smartphones and digital cameras are unavoidable gadgets in the world of electronics. These are common gadgets used by people today. We all are familiar with the DCIM folder and we know that digital images are stored in this folder. Ever have you thought that's why these images are not stored in a folder called Photos? It is the digital directory to store digital images. When we insert a memory card into a camera, it searches for the DCIM folder and if it is absent, the device will create one by itself.
Well, it can be told that all the images captured by digital devices are stored in the DCIM folder on the memory card. As memory card is always prone to errors and data loss, we cannot ensure that all the images in the DCIM folder are secure.
Reasons for the loss or deletion of DCIM folder from SD card
The main threat to the DCIM folder is the virus attack on the memory card. SD card in smartphones or digital camera can be easily affected by the virus usually when it is connected to a virus-infected computer.
Abrupt removal of the SD card from the camera or mobile phones while DCIM folder is in use. The sudden removal of memory cards during data transfer between devices could also be a reason for the loss of data from the DCIM folder
All the files and folders including image files in the DCIM folder can be lost due to accidental formatting of the SD card.
Images present in DCIM folder can be lost due to accidental deletion of images from the application like a gallery.
Loss of data from DCIM folder can also occur due to many more reasons and are unpredictable. Henceforth, it is always better to keep the backup of folders in the memory card in order to avoid any data loss. If a relevant backup is unavailable then you need to switch to a reliable DCIM folder recovery software. Well, the Folder Recovery is regarded as a perfect solution to recover DCIM folder from SD card which is lost due to various scenarios as mentioned above.
Folder Recovery Software to Recover Deleted/Lost DCIM Folder from SD Card
The Folder Recovery program is equipped with rich-set algorithms that deeply scans your SD card to completely extract media files from it. This finest utility works in a read-only mode and thus will not alter the original media quality after restoration. You can easily run this DCIM folder recovery application on any version of Windows and Mac OSX. In addition to this, a demo version of the program is also made available.
Advanced Features of Folder Recovery Software
Offers a fast, easy, secure technique to retrieve the DCIM folder that got deleted or lost
This utility can easily recover deleted images from SDXC, SDHC, CF, xD, MMC, memory stick, USB drives, etc.
Recovers DCIM folder from SD card and sorts the recovered data on the basis date, size, and file name
Folder Recovery application allows the user to preview the recovered files from SD card prior to restoration of the same
Greatly helpful in getting back all the missing image folders and deleted media files containing any file type extensions
Steps to recover DCIM folder from SD card:
Step 1: First connect your SD card to a system where the Folder Recovery software is installed. Select "Recover Files" option from the welcome page as shown in Figure 1.
Step 2: Browse the attached SD card and click on the Scan button.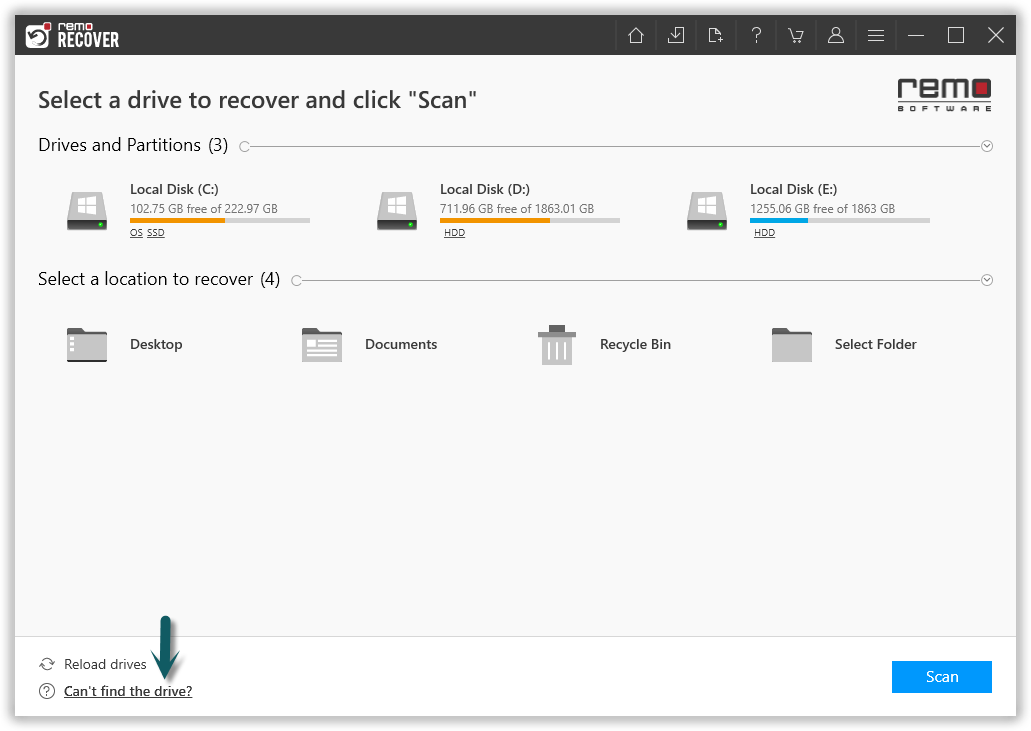 Figure 1: Recover Partitions/Drives
Step 3: The scan on the SD card gets triggered.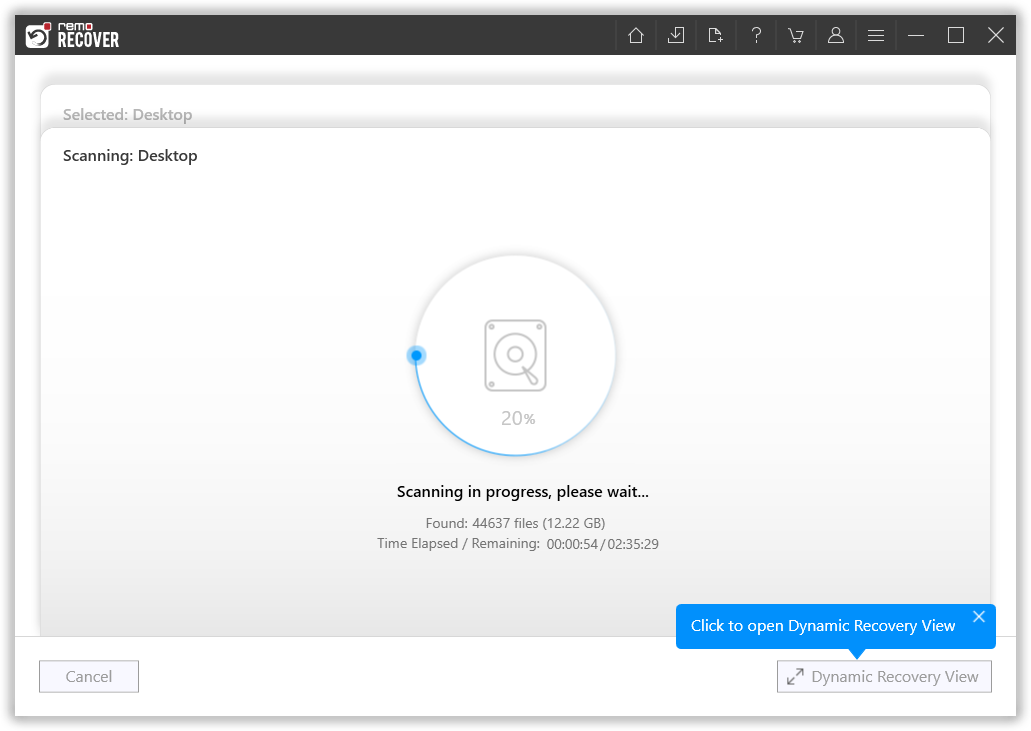 Figure 2: Scanning for Folders
Step 4: Recovery results appear in File Type View and Data View.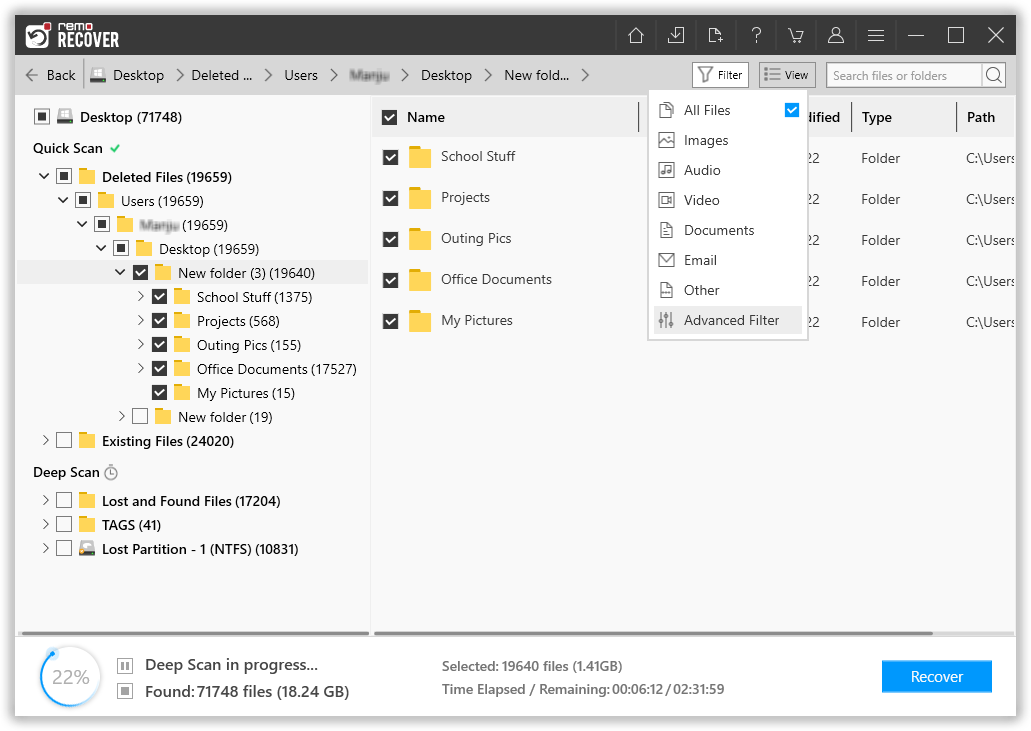 Figure 3: Recovered Folders
Step 5: Preview the file items recovered from the DCIM folder. Mark the media files for saving.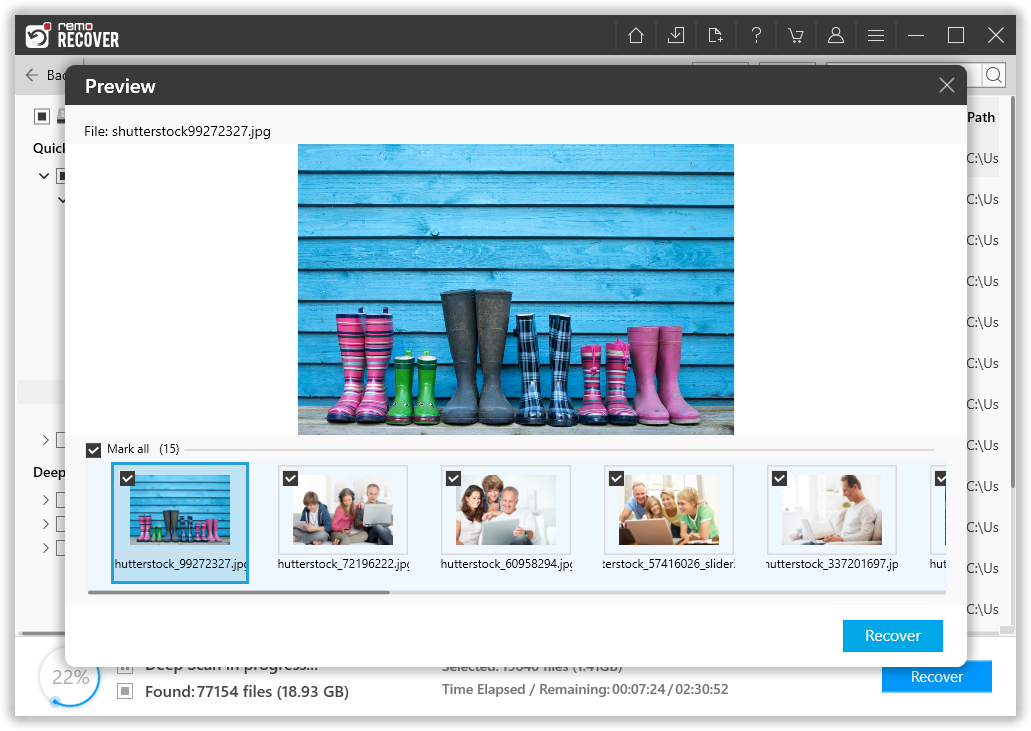 Figure 4: Preview Window
Step 6: Now specify a suitable storage location to save the files restored from the DCIM folder. Click on the Save button.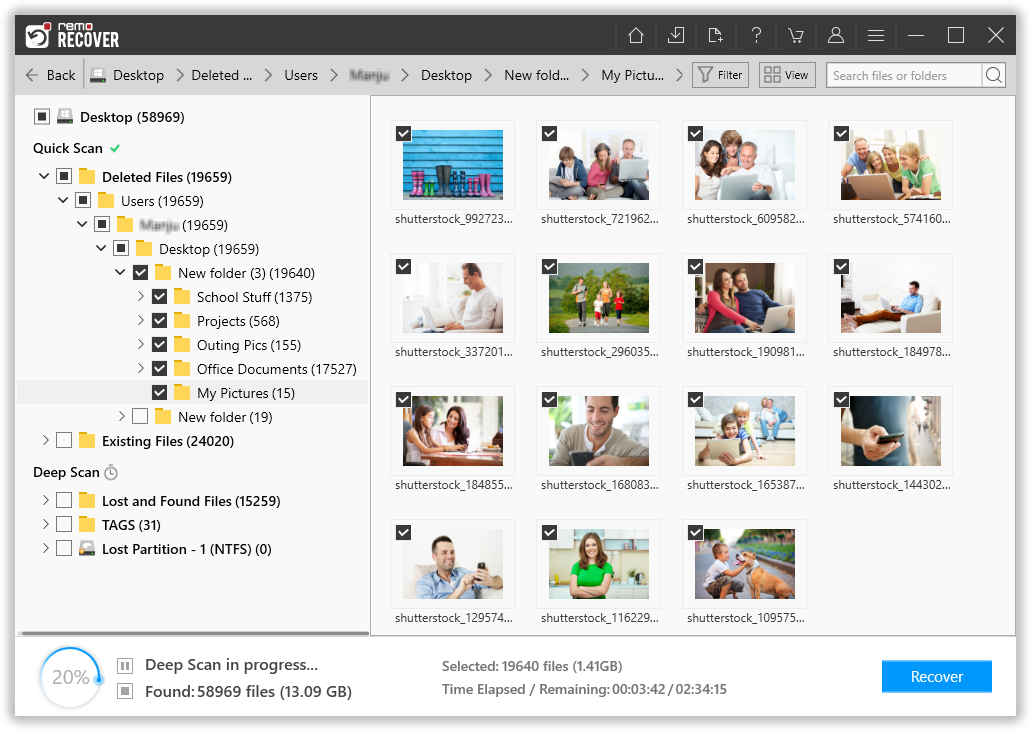 Figure 5: Save Recovered Folders