How to Recover Deleted Folders from Computer, Memory Card, External Hard Drive, and USB Drives?
Restores files and folders deleted due to various reasons
It also recovers deleted and lost files from USB flash drives, external hard drives, memory cards, SSD, iPods, etc.
A free demo version restores files and presents them in a preview window
Fully compatible with all latest versions of Windows and Mac machines
A folder is created especially to save files like video files, songs, pictures, software, games, documents, etc. To use any of these files quickly and easily, we usually prefer to store them in a single folder with a suitable name related to its file contents. Well, if you get to delete some important folders due to any unforeseen factors then you can easily undelete them using the most reliable and secure tool named as the "Folder Restoration software" .
Scenarios Wherein Files & Folders Get Deleted from Storage Drive
Accidental deletion: While deleting unwanted folders from a particular drive on your system, you may accidentally delete some important folders by using "Shift+ Delete" keys.
Emptied recycle bin folder: You might also mistakenly clear the recycle bin folder without verifying the files in it.


Format operation: You might accidentally choose the wrong partition for formatting and thereby lose all the data from the computer drive.


Use of the third-party software: Some unreliable third-party programs can also affect the files saved on the hard disk storage on your PC


Improper cut-paste operation: While performing a cut-paste operation to transfer files between drive and other devices, if an interruption like a power outage or removal of the external device takes place then it might delete the folder from the source location.


Note: If you want to recover deleted folder from your system, then you should not further add new data onto it. Saving new files would overwrite the existing data that you are looking to restore via Folder Recovery software.
Folder Recovery software to recover deleted files & folders
The Folder Recovery software is an advanced tool used to regain deleted folder in safe and quick steps. It is the most powerful utility to recover deleted folders from a memory card, system disk partitions, external HDD, SSD, USB drives, etc. The program is loaded with the strong scanning algorithm that helps to restore deleted folders in their original format. It also employs simple user-interface which helps you to revive lost folders with the utmost ease.
You can also make use of the "Preview" option that lets you confirm the retrieved file items. The recovered files can be easily identified as they will be sorted according to their filename, size, creation date, and modified data. This makes it handy to recover deleted picture folder, video folder, audio folder, etc. in a simple set of steps. Moreover, the Folder Recovery program can be installed on any version of Windows and Macintosh OSX.
Steps to recover deleted folders:
Step 1: Download and install the Folder Recovery software on your computer. The main screen avails three different options. Among them click on the "Recover Files" option
Step 2: Locate the drive from where the folders got deleted and click on the Scan button.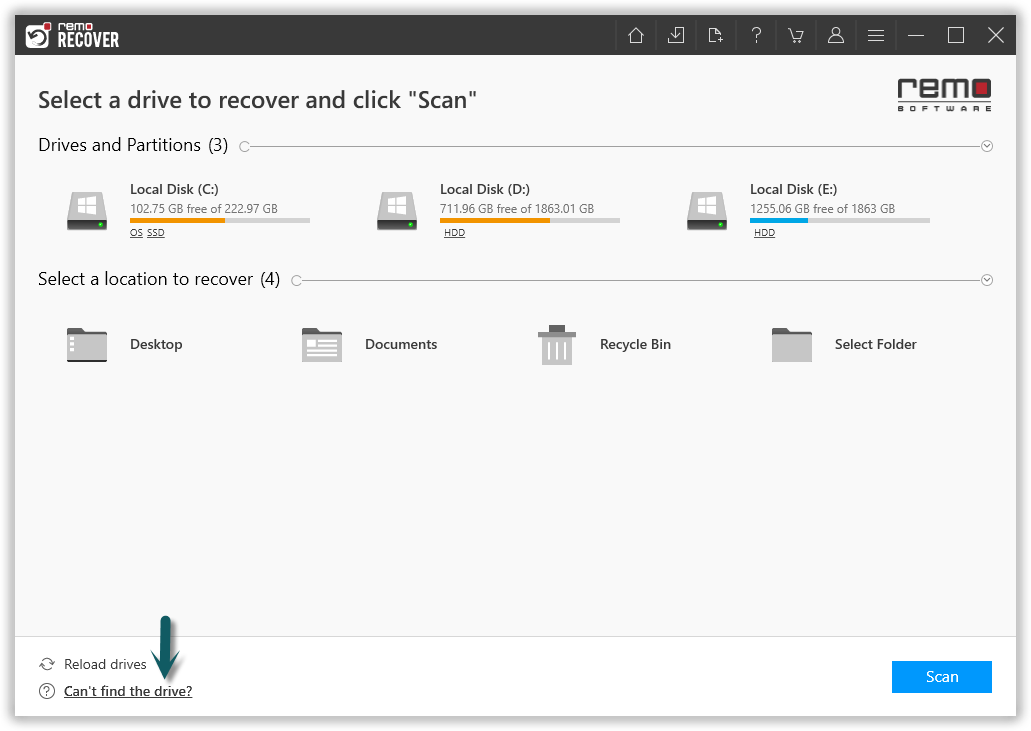 Figure 1: Recover Partitions/Drives
Step 3: The tool starts undeleting the files and folders from the chosen drive.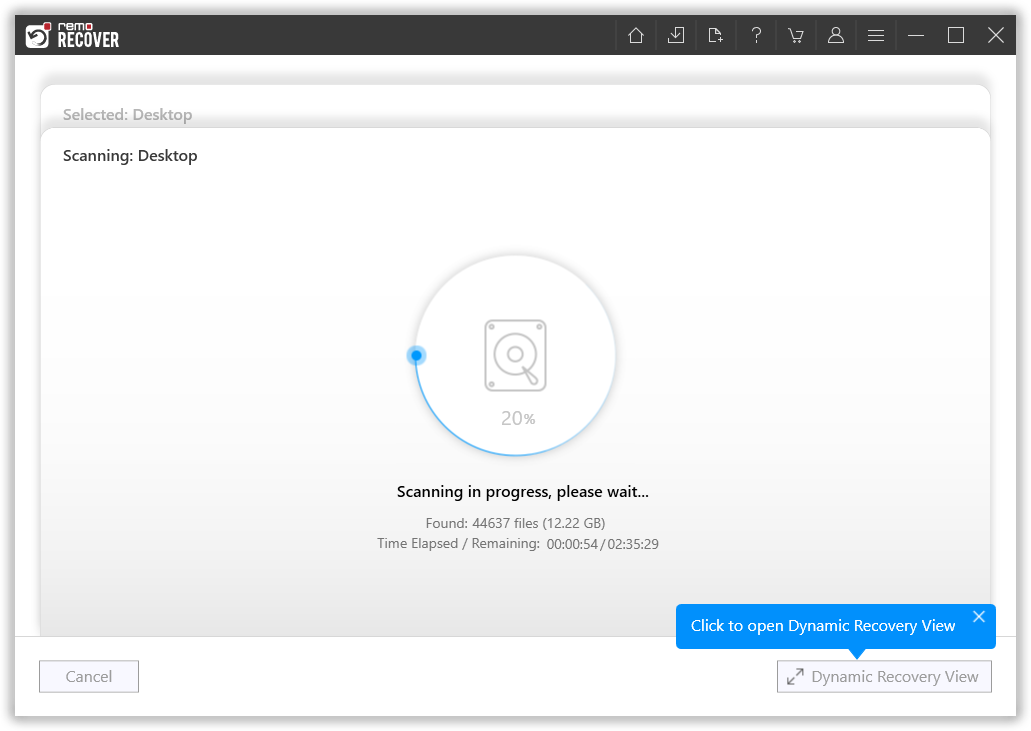 Figure 2: Scanning for Folders
Step 4: The recovered files can be viewed in File Type View and Data View.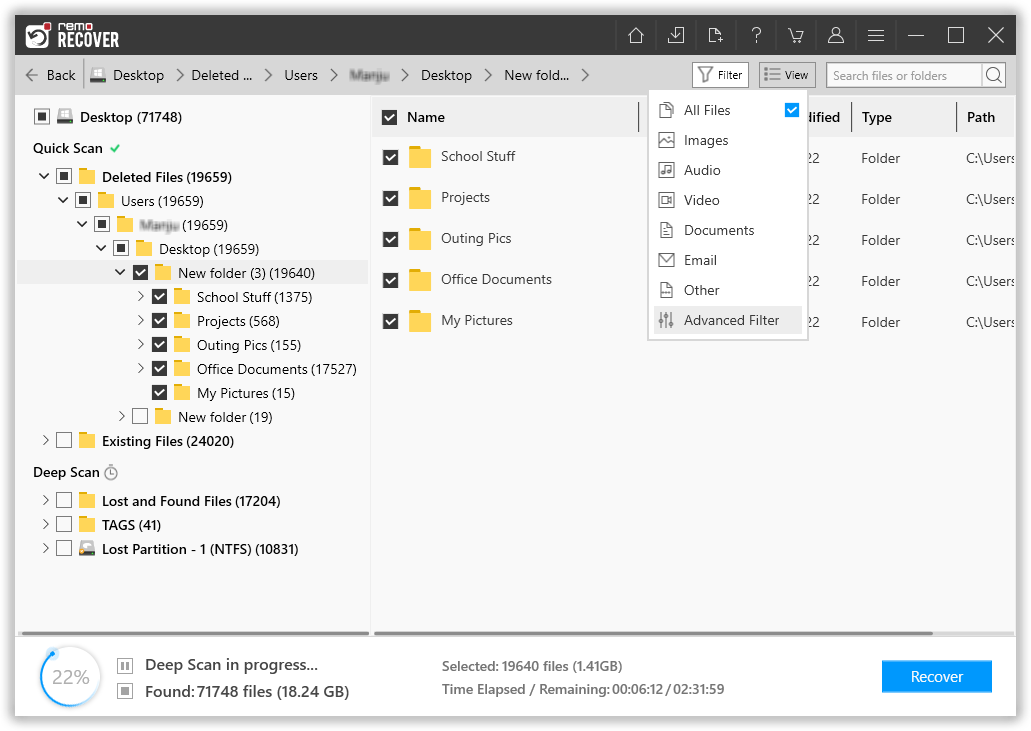 Figure 3: Recovered Folders
Step 5: Preview the individual file item by right-clicking on it.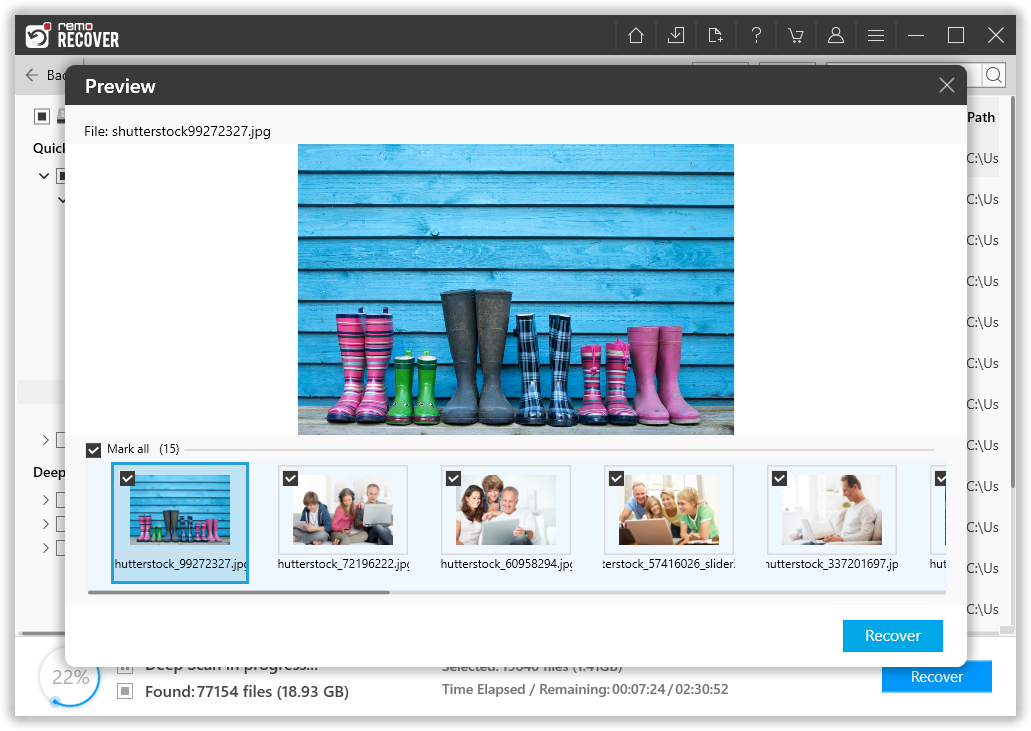 Figure 4: Preview Window
Step 6: Mark the restored files for saving.
Step 7: Choose a suitable drive location to save the retrieved folder.
Step 8: Press on the Save button.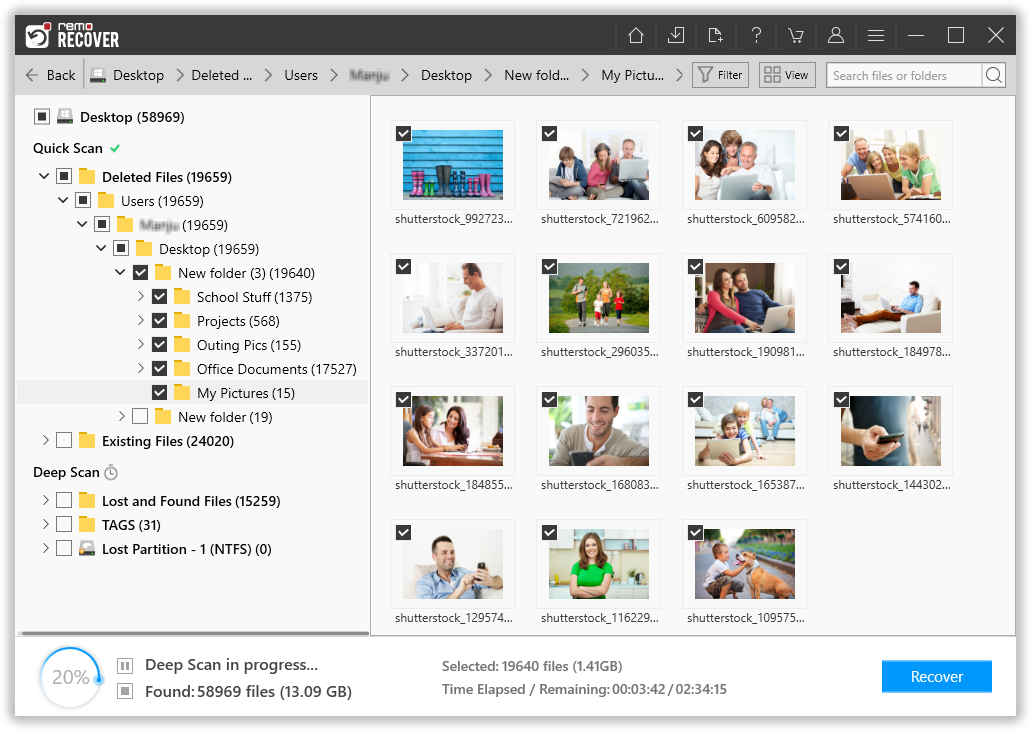 Figure 5: Save Recovered Folders
Also, try this!!
If you want to visualize a realtime preview on how to recover deleted folders from your device or computer using Folder Recovery software, then check it out here.