Know How to Undelete Folders?
Undelete files and folders after Shift + Delete, accidental formatting, emptying the Recycle Bin, etc.
Supports folder recovery from all various storage devices including hard drives, SSD, pen drives, memory cards, and others
Performs restoration of videos, audio files, images, documents, and other file formats with ease
Displays a preview of the recovered files and folders in the demo version prior to purchasing the software
At many occassions, we lose some valuable folders stored on Windows or Mac system. There are times, when we empty the recycle bin or the Trash folder unintentionally. At such point, you might think it is never possible to regain the permanently deleted files. But, no, though the files/folders are not accessible in the computer they can be recovered using an efficient folder recovery application.
It is easily possible to undelete files
The deleted folders are not permanently deleted from the computer until and unless it is overwritten by new files or folders. Any deleted file or folder can be extracted even if they are been erased from the recycle bin on your Windows PC. To overcome any situation of data loss, you can straightaway make use of this highly-proficient software like Folder Recovery to retrieve deleted folders from Windows or Mac.
Undeleting via Folder Recovery software
If you have deleted folders accidentally from your Windows or Mac machine, data can be fetched effortlessly with the help of this reliable recovery tool. You can also find folders after a Shift-Delete operation using the Folder Recovery software. This program is been built with the eminent recovery engine to revive deleted folders from your computer system. The tool also enables you to recover folders deleted from memory cards, USB flash drives, SSD, memory stick, iPods, etc. The Folder Recovery program is built to retrieve files/folders at the following instances of data loss-
Deletion via Shift-Delete
Virus and malware threats
Mistaken format operation
File system corruption
Bad sector formations
Interrupted file transfer
Even data lost whilst repartitioning the drive, configuring dual Operating System or while deleting unwanted partitions, etc. can also be retrieved. One can easily install the recovery application to retrieve deleted folders from Windows 7, Windows 8, Windows 10, Windows XP, Windows Vista. The Folder Recovery application is also made available in a separate version(supports all latest editions). This application is also available in a trial version.
Note: Read more about how to recover folders from deleted partition using the Folder Recovery tool.
Steps to undelete folders:
Step 1: Install the Folder Recovery application on your computer. Select "Recover Files" option on the main window.
Step 2: Browse the drive location of the folders that got deleted. Click on the Scan button.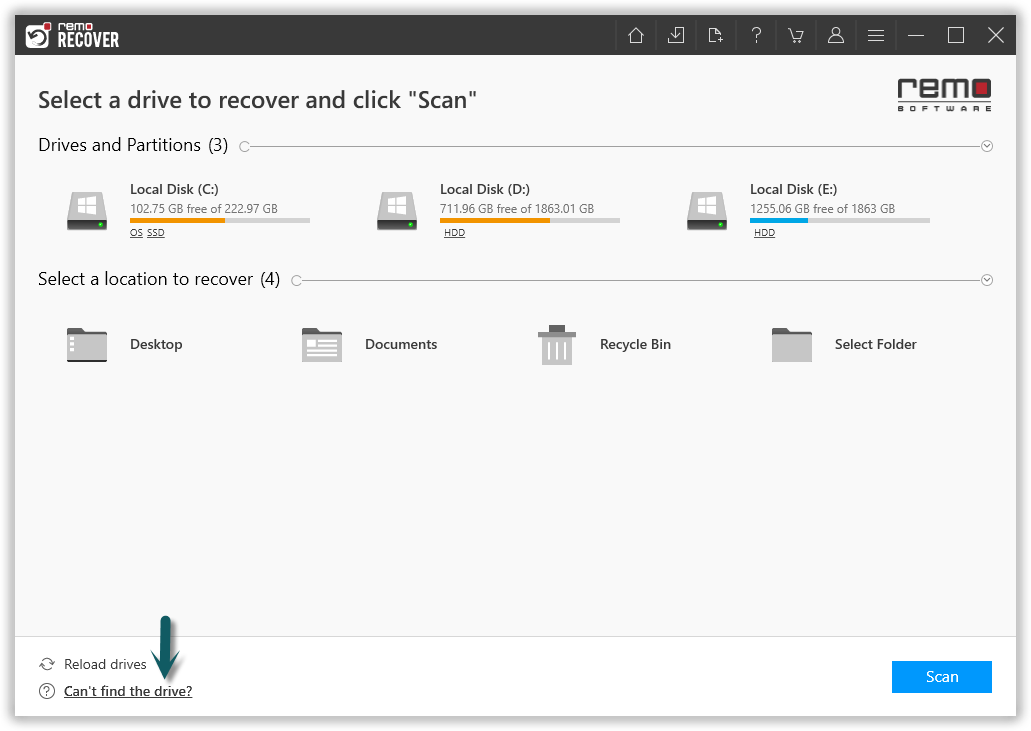 Figure 1: Recover Partitions/Drives
Step 3: The tool starts to undelete the folders from the drive you specified.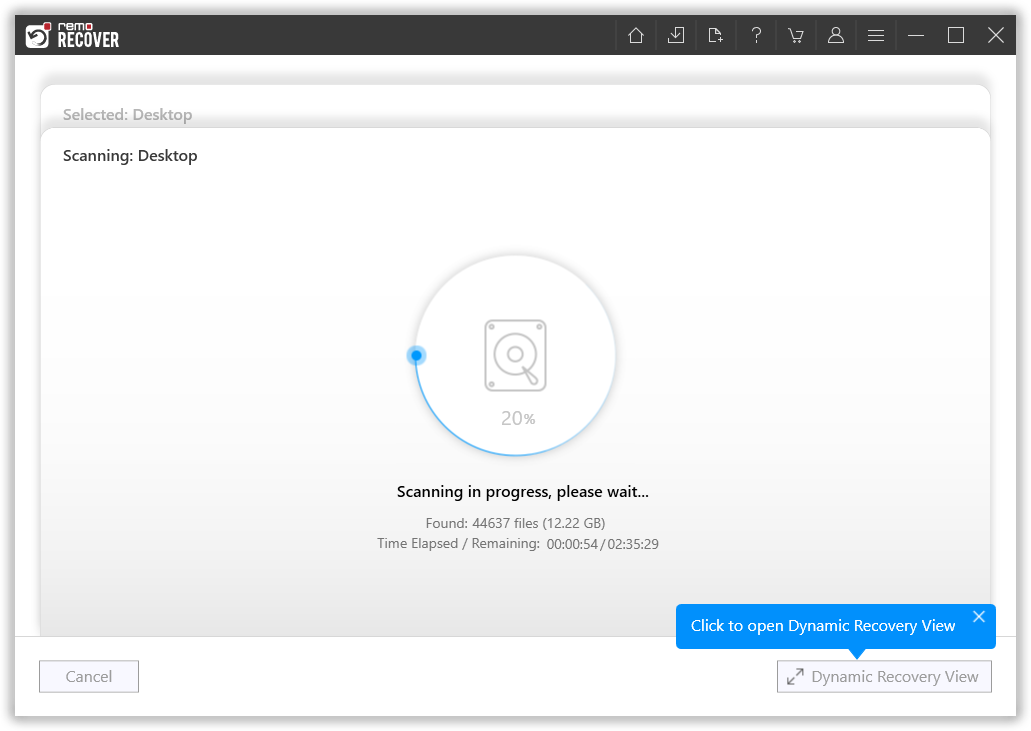 Figure 2: Scanning for Folders
Step 3: Check for the retrieved files and folder under File Type View and Data View panes.
Step 4: Mark the recovered folders that you want to save.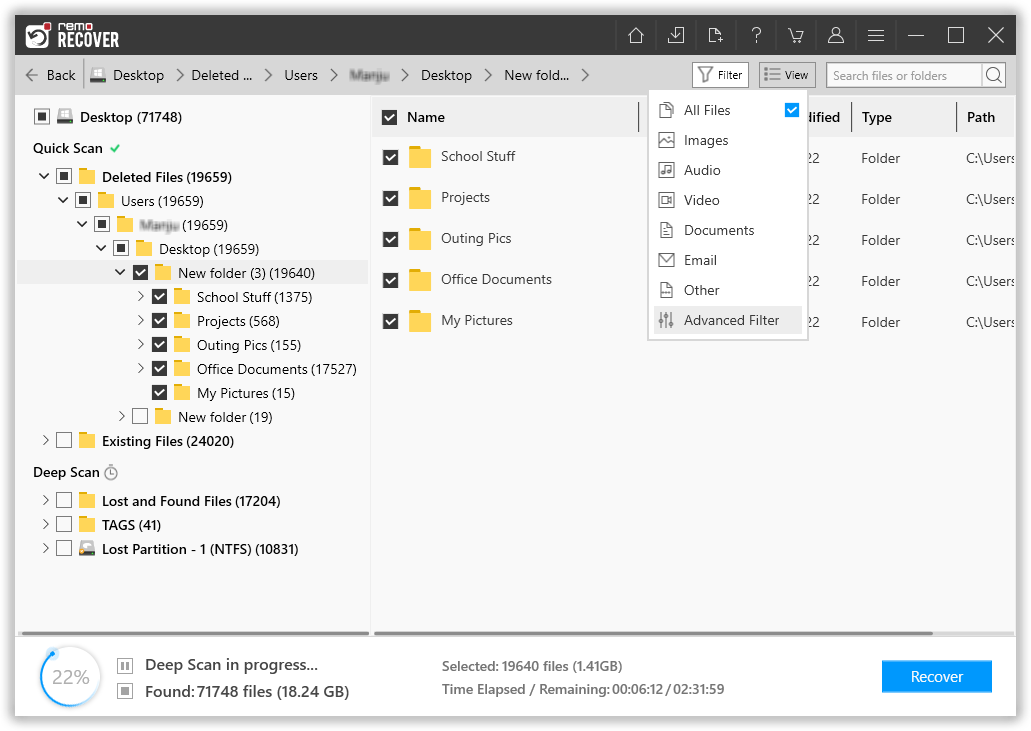 Figure 3: Recovered Folders
Step 5: Pick a suitable drive location to save the undeleted folders and hit on the Save button.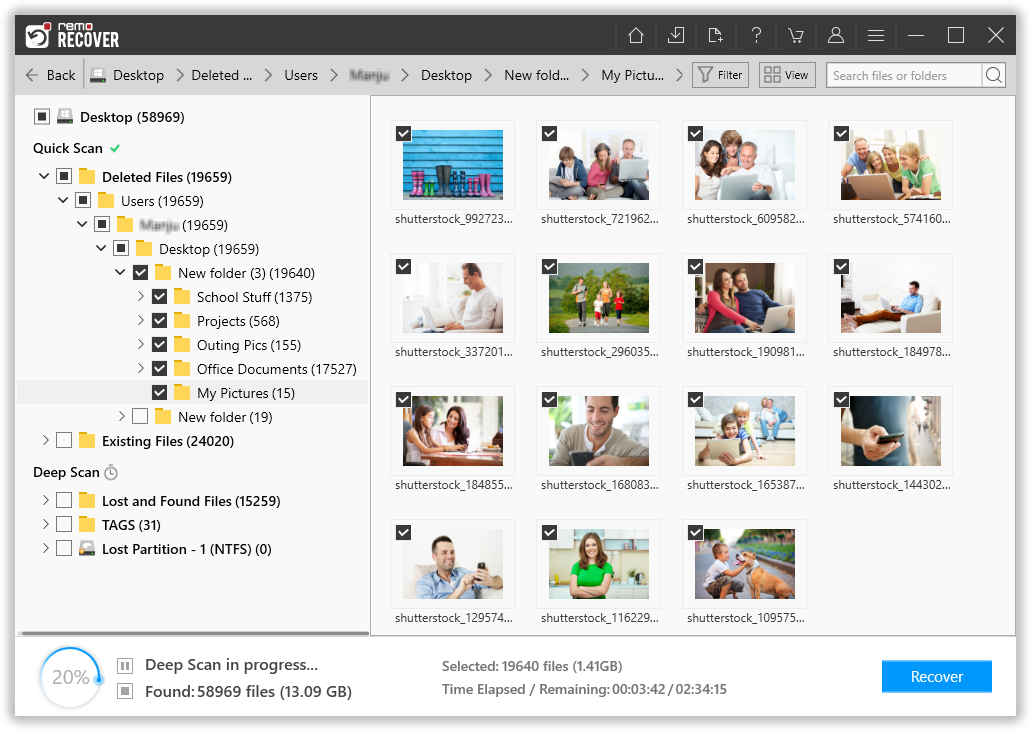 Figure 4: Save Recovered Folders