Recover Deleted Folder from Mac Trash
Recovers all the files and folders deleted from Trash on Mac OS X including Sierra, El Capitan, Yosemite, and other earlier versions
Offers a free preview of the recovered files and folders in the demo version itself before you activate the complete version of the software
Also supports data recovery from USB flash drive, external hard drive, SSD, memory card, iPods, and so on.
Also restores corrupted, formatted, and lost Mac volumes
Works with HFS, HFS+, exFAT, and other file systems
Deletion of Mac folders
The Trash in Mac holds any deleted folders and files. When you delete folder or files from Mac using "Delete" then its reference is deleted from the allocation table and stored in Trash. But when you delete the folder from Trash or empty Mac Trash, the files will be permanently deleted from the machine. At times, users delete some important files from the Trash and later realize the need for it.
Upon clearing the folders from the Trash folder, most of the users assume that it is never possible to regain the file items wiped from the Mac Trash. Well, no, that's not right. It is still possible to restore Trash files after permanent deletion by implementing the right recovery techniques.
Trash files can be easily recovered
When the files are emptied from the trash, only their reference will be deleted from the hard disk but the data resides in the same storage space. The space of the deleted folder will be marked as free to save new file items. Therefore, until and unless this space is utilized(overwritten) by any new items, it is possible to extract the deleted files. Now, to securely recover lost folders and deleted folders from Mac trash all you need is the Folder Recovery application.
Macintosh Trash Recovery made simple
The Folder Recovery is a powerful software that revives Trash folders using its strong scan algorithms. Though the files are permanently deleted from Macintosh machine, this utility completely scans the drive and extracts deleted files using the unique file signatures.
You can also employ Folder Recovery application to restore files that got permanently by applying "Command + Delete" keys. This application can be easily installed on any edition of Mac OSX- High Sierra, Sierra, El Capitan, Mavericks, Yosemite, Snow Leopard, Leopard, Mountain Lion, Lion, etc. Apart from Mac drive volumes, this application is highly capable of retrieving files from various external storage drives- SSD, external HDD, USB drives, iPods, etc. in a matter of a few minutes. You can also avail the Windows version of this software that can be used to restore folder after emptying the Recycle Bin on Windows 10, 8, 7, XP, and so on.
Steps to perform Mac Trash Bin recovery:
Step 1: Download and install the Folder Recovery software on your Mac machine. The main window will appear as shown in Figure 1.
Step 2: Click on the Recover Files option and then select the Mac volume that stored Trash files. Click on the Scan icon.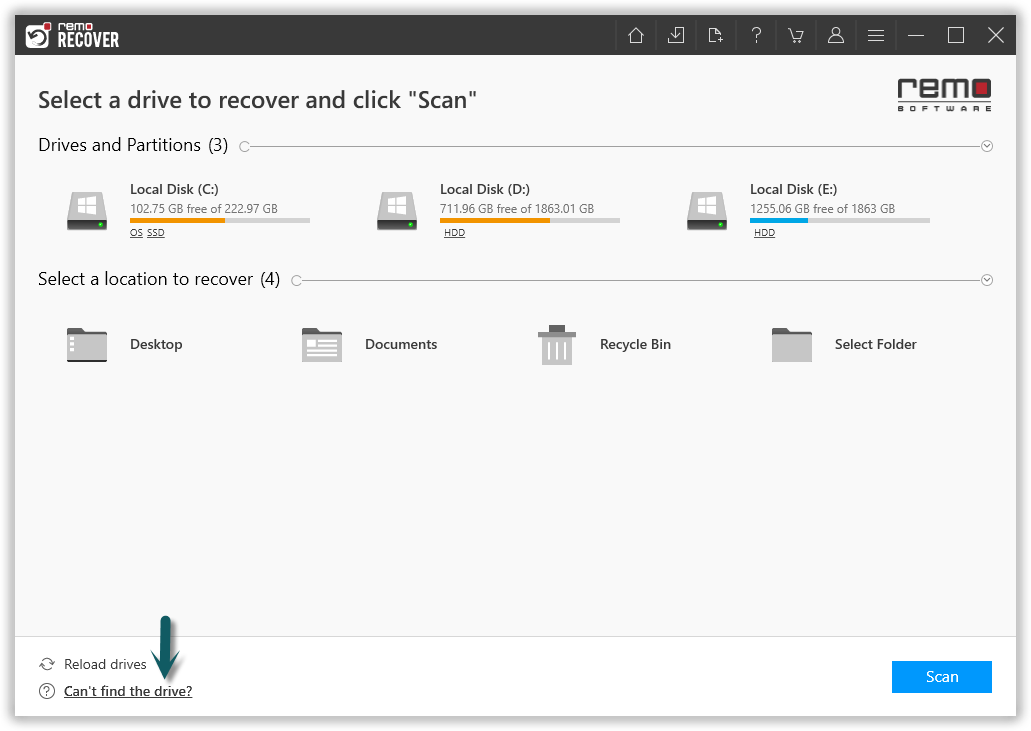 Figure 1: Recover Partitions/Drives
Step 3: Allow the software to finish the scan process.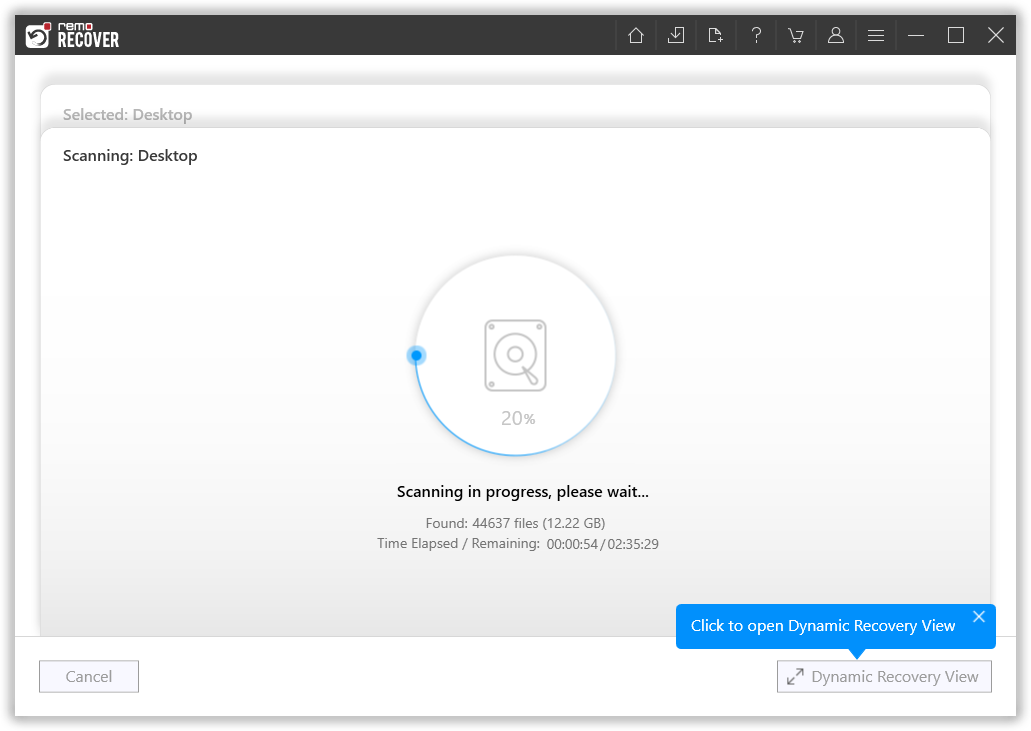 Figure 2: Scanning for Folders
Step 4: The list of retrieved file items will be displayed in File Type View and Data View.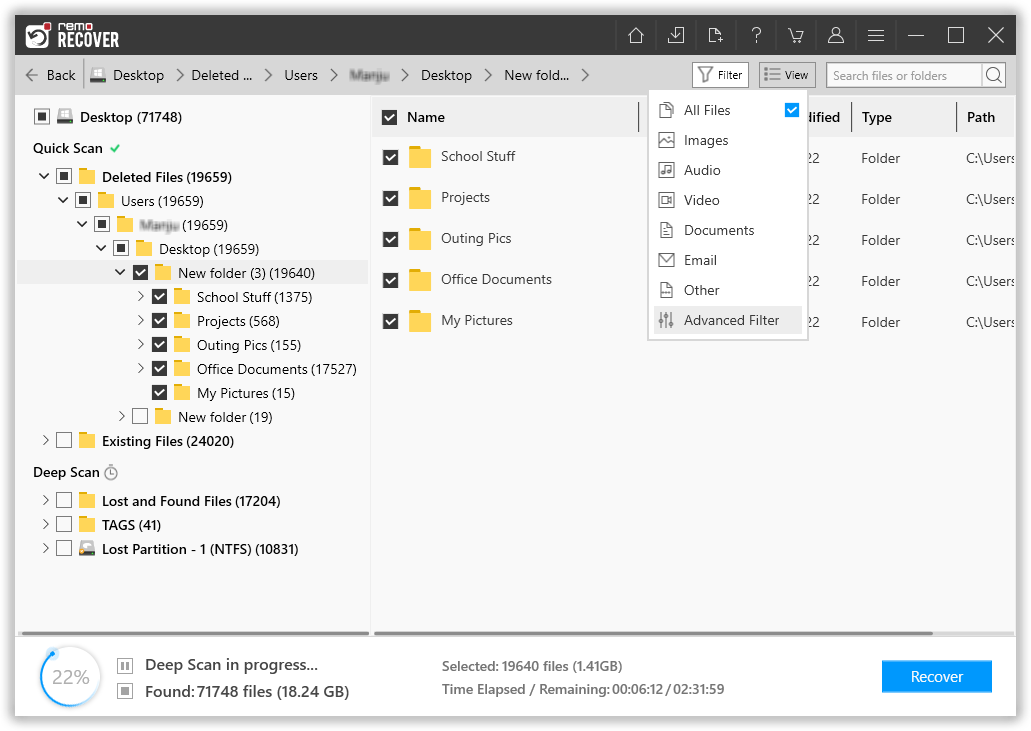 Figure 3: Recovered Folders
Step 5: You can preview and mark the files for saving.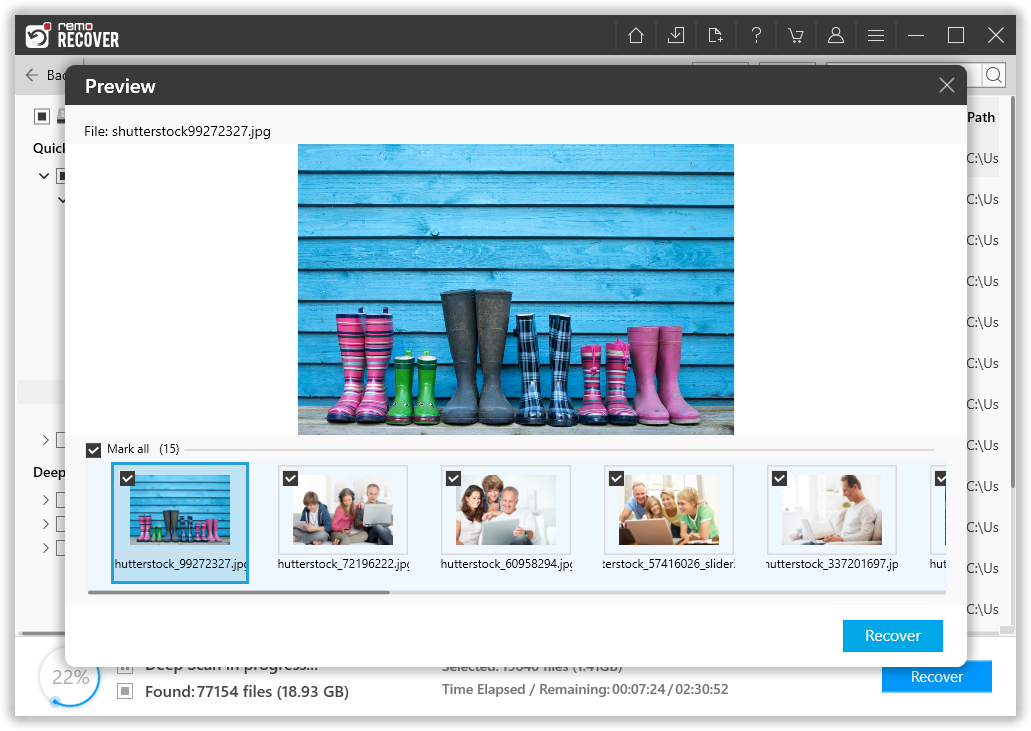 Figure 4: Preview Window
Step 6: Browse a suitable drive location to save the files restored from the Trash and hit on the Save button.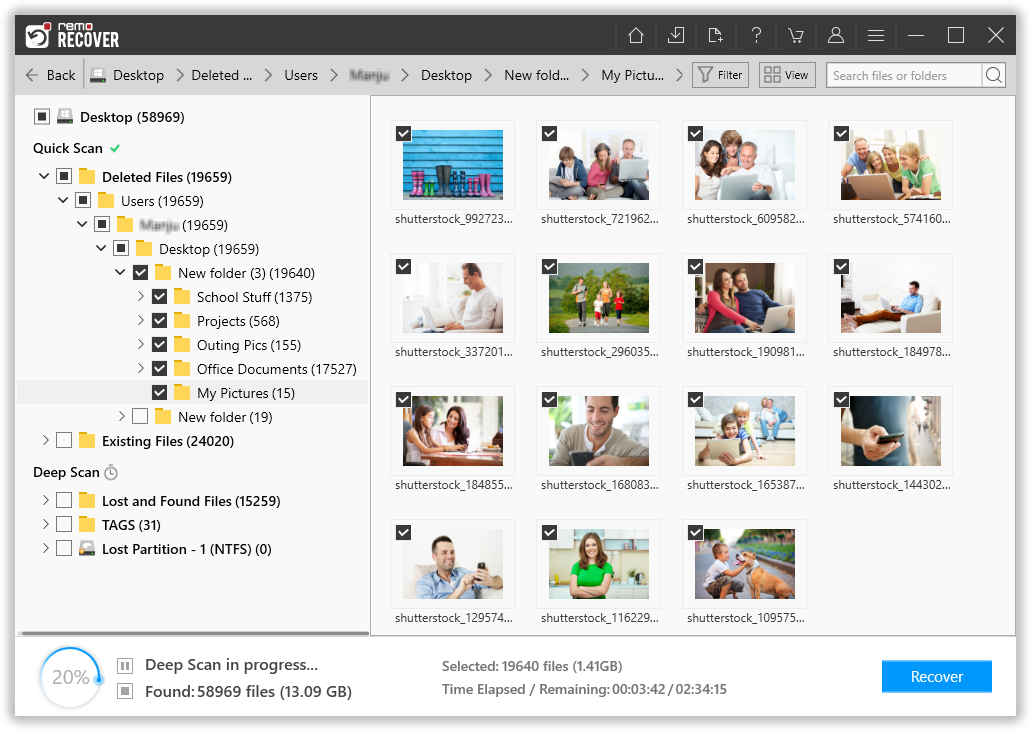 Figure 5: Save Recovered Folders