Recover My Videos Folder
Scans and recovers all formats of video files including MP4, MOV, AVI, M4V, MKV, etc. from the hard drive, memory card, USB flash drive, SSD, FireWire drives, etc.
Also recovers images, audio files, documents, and other files with ease
Made available in a demo version
Revives video files and displays them in a preview window
My Videos folder comes pre-installed in your Windows system and is made available for each user. It resides in your User profile along with My Documents, My Music, and My Pictures folders. Segregating data in this format ensures fast and easy access. But in some instances, the video files could get deleted or inaccessible due to several reasons.
Let us see some of the common reasons for deletion or loss of videos from the My Videos folder
Mistaken Deletion – Accidental or intentional deletion of a file or folder is the most common reason for losing important data. My Videos folder might contain some of your most favorite videos that you may lose due to a mistaken selection of files while removing unwanted files.
Formatting – Formatting, whether done intentionally or accidentally, results in complete loss of data. The best option is to take regular backup of all the important video files. Otherwise, to restore My Videos folder, you will need a recovery tool. To recover folders lost or deleted after formatting, read this page.
Accidentally removing user account – Suppose you accidentally remove your user account while managing user accounts on your system. Since that My Videos folder is present separately for each user, you will lose that folder along with all the files saved on your particular user account.
Anti-virus scanning – If your system is affected by some serious virus infection and you might run a virus scanning using some anti-virus tool. If the My Videos folder contains any files infected by virus then there is a possibility that the anti-virus software might delete the files from the My Videos folder.
To recover My Videos folder deleted because of any of the above-mentioned scenarios, make use of Folder Recovery software. This software will help the user to get back My Videos folder from any version of Windows Operating System like Windows XP, Vista, 7, 8, 10. The tool is even compatible with recovering deleted folders on Windows 2008 and Server 2003.
Use Folder Recovery software to regain My Videos folder
The Folder Recovery software has a wizard-style interface that is very easy to operate by a novice user. To restore My Videos folder the user will not require any kind of technical expertise. One simply needs to download the software on the computer and start retrieving the videos and other media files.
Extraordinary features of the Folder Recovery program
Retrieves all formats of videos, audio, text, pictures, emails, etc. To regain deleted files like pictures visit- https://www.folderrecovery.net/deleted-pictures.html.
The software provides "Add/Edit Signature" option using which the user can add the desired video files format to the list and then start the recovery process again.
Provides an option to save the current recovery session so that the user does not have to restart the whole recovery process.
This advanced tool can also be used to recover the folder from a shared drive in a few mouse clicks.
Performs video restoration from system drives, external HDD, USB drives, memory cards, and others.
Simple steps to recover My Videos folder
Step 1: Run the Folder Recovery utility on your computer. From the main screen select "Recover Files" option.
Step 2: Choose the drive that stored the My Video folder. Hit on the Scan icon.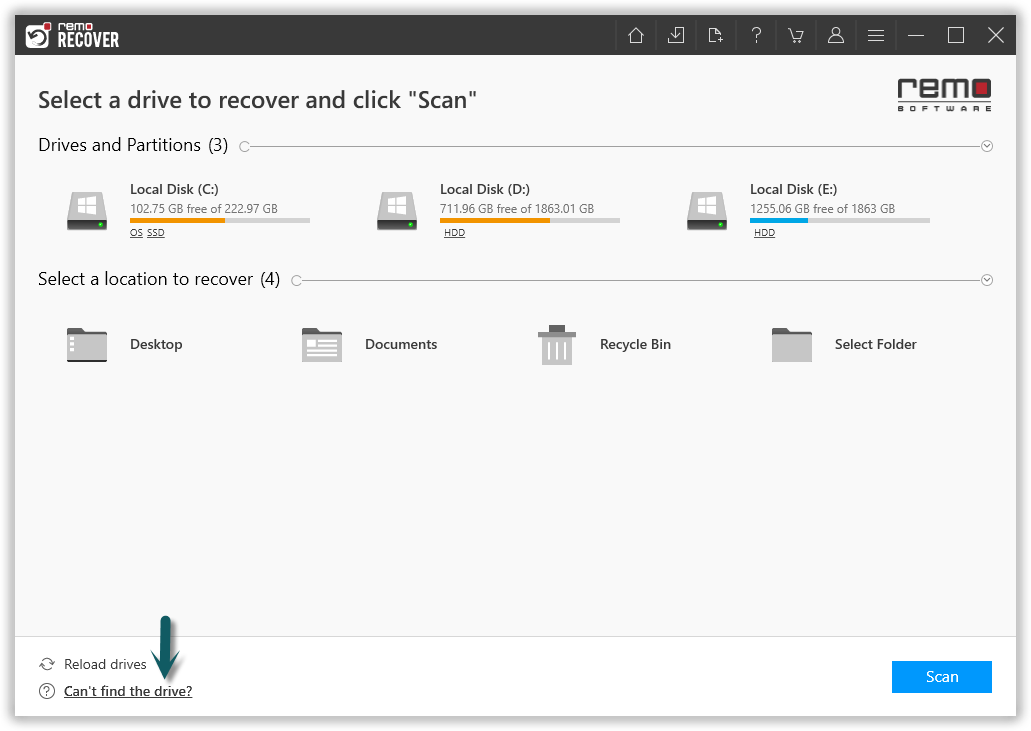 Figure 1: Recover Partitions/Drives
Step 3: Let the software finish scanning the entire drive for the My Videos folder.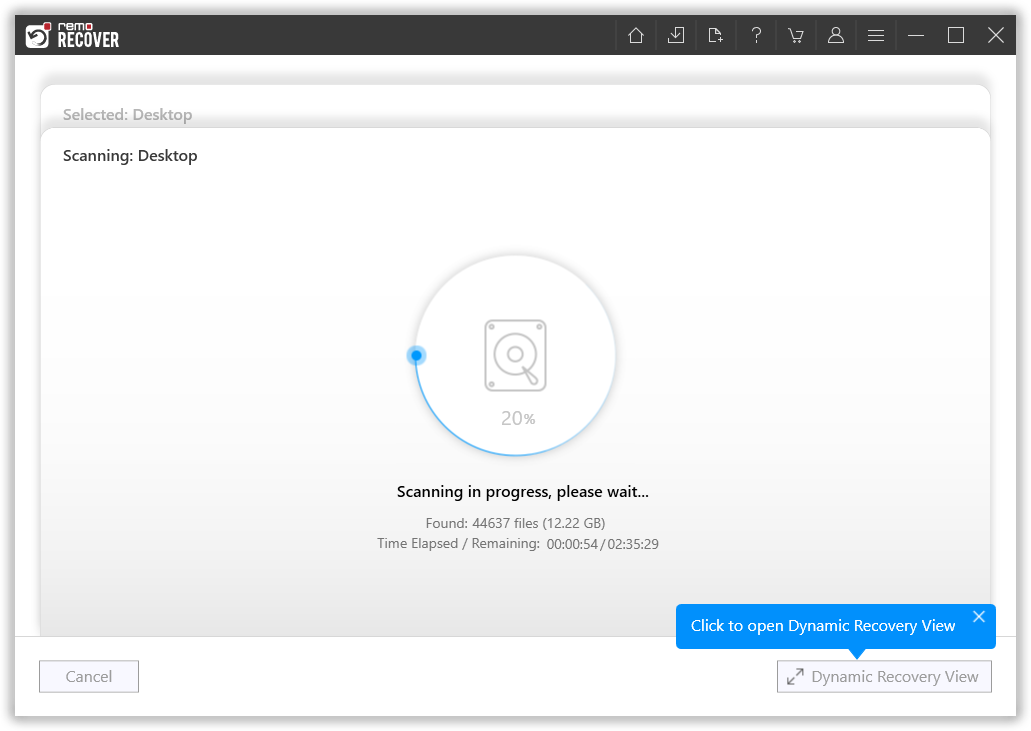 Figure 2: Scanning for Folders
Step 4: Recovery results appear in a new window. Check for the video files under File Type View or Data View.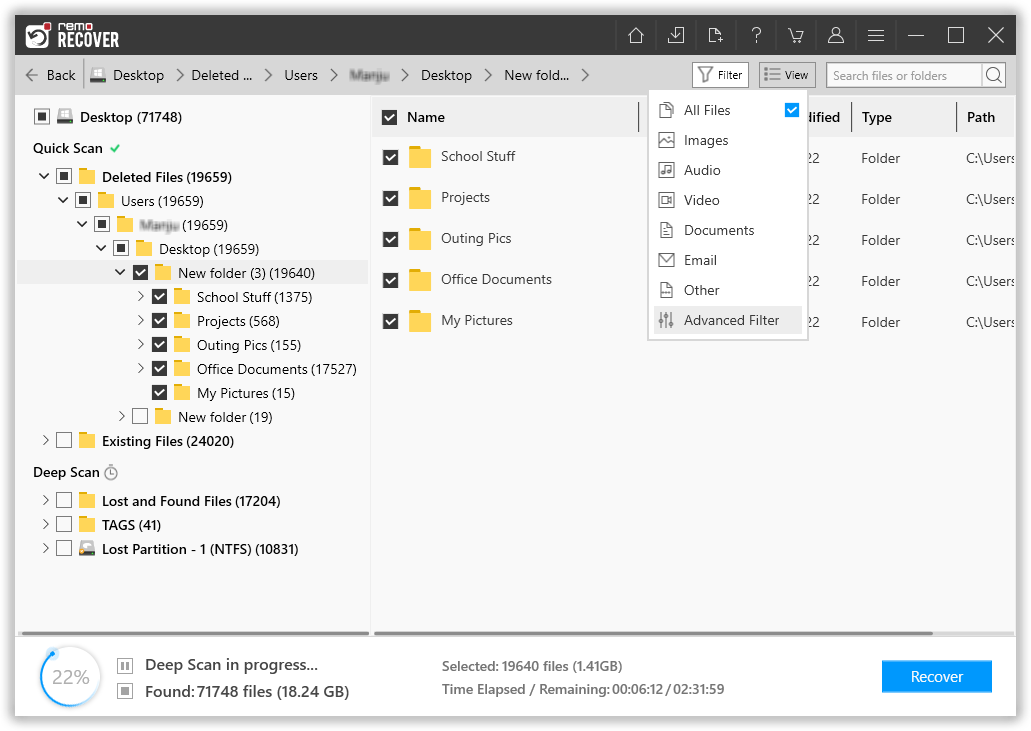 Figure 3: Recovered Folders
Step 5: Preview the restored file items with a right-click.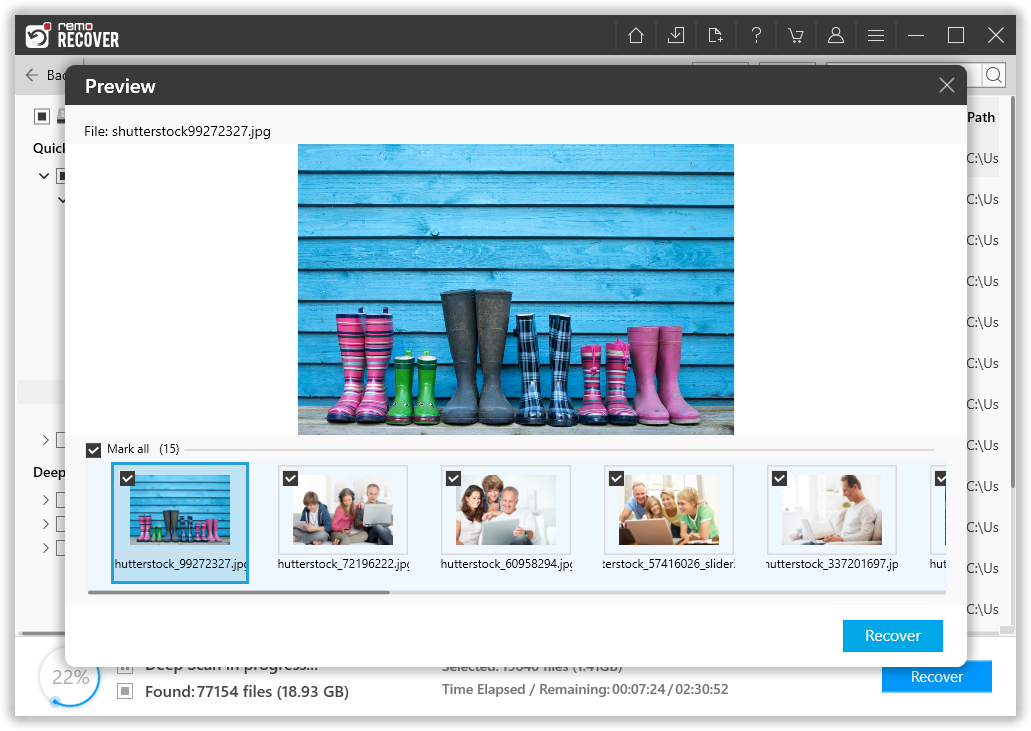 Figure 4: Preview Window
Step 6: Lastly, choose a suitable drive location to save the restored videos folder. Click on Save button.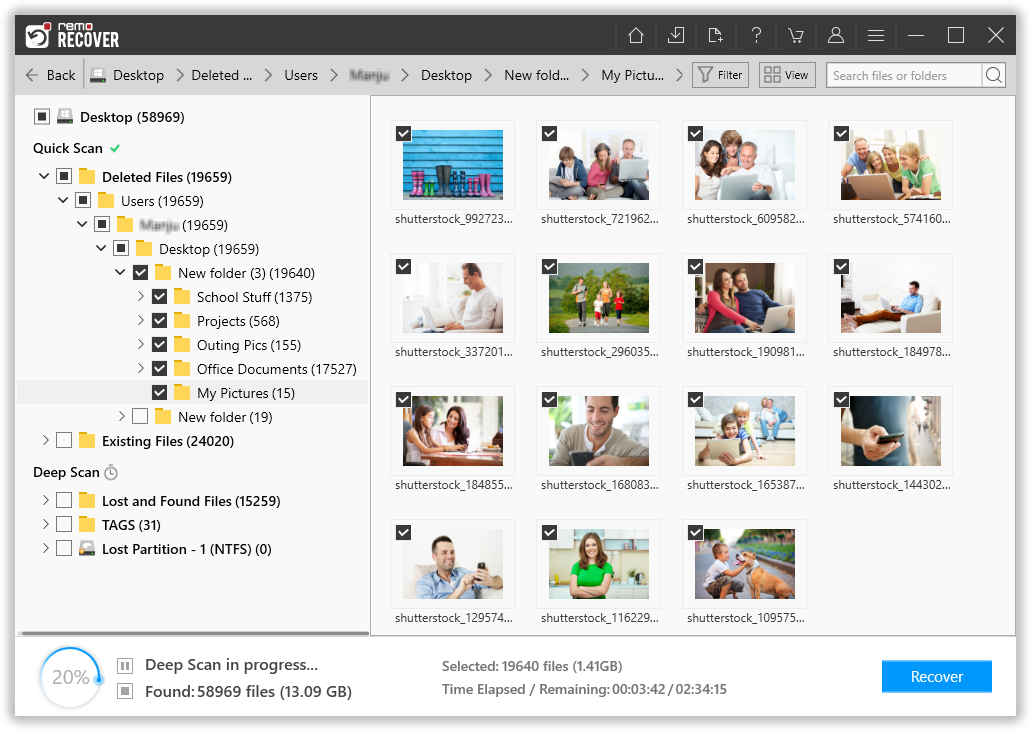 Figure 5: Save Recovered Folders