How to Restore Deleted Partition Data?
A simple tool to recover deleted partition that is formatted with FAT16, FAT32, NTFS, and exFAT file systems
Partitions that are formatted, deleted, or corrupted can be restored with the software
Performs data restoration from various brands of external hard drives, SSD, memory cards, USB flash drives, FireWire drive, and much more
Shows preview of the retrieved data in two-different layouts
Offers a great convenience in recovering partition data.
When a system is booted for the first time the foremost thing we should opt to do is to create partitions on the hard disk drive in order to save files in an organized way. The benefit of dividing hard drive is that, when the operating system gets corrupted due to any reason, then chances of data loss is only from an active partition (When any new operating system is installed on the hard drive after OS corruption, then only the active partition files are replaced with new operating system files. Hence, all the files that are present on other partitions (apart from the active partition) aren't lost even if OS is re-installed.).
But what if one of the disk partitions containing vital files get deleted
Creation or deletion of a partition is carried out manually so one need not worry about hard disk drive getting deleted automatically. In order to create or delete any drive we usually use the Disk Management utility. In case, while using Disk Management utility, if we click on "Delete Volume" mistakenly then the entire partition gets erased immediately. When a partition gets deleted, all the saved files become unreachable. One of the most depressing facts about partition deletion is that there is no manual way to get back files in such circumstances.
What are the other scenarios for loss of files from hard drive partitions?
Human mistakes: At oftentimes, users accidentally delete the partition data. Due to such improper handling, the folders and files residing on the disk partition will get erased.
Malfunctioning Third-Party Software: Besides using the Disk Management utility, you can also use different third-party software (like MiniTool Partition Wizard, Acronis Disk Director, GParted, etc.) to perform similar tasks. If these software starts to malfunction then it may result in the hard drive partition deletion.
Virus Attack: Viruses are small programs that can make some undesired changes to the hard disk drive. If the virus that intruded the system is of low intensity then it may just corrupt a few of the files. However, if the virus is of high intensity then it may either delete or corrupt hard drive partitions.
Improper System Shutdown: Many a time, the hard drive may become inaccessible due to improper system shutdown (Improper system shutdown can happen due to different reasons such as hardware issues, power loss, pressing power button, etc.). As improper system shutdown happen file system may get corrupted and henceforth, all files present within that drive gets inaccessible.
Improper Changes to the Partition Security Settings: By tweaking some security or accessibility settings of the hard drive partition you can ensure that only authentic user/users to access disk files stored on that partition. If any errors occur whilst applying these changes then files present on that drive may turn inaccessible.
So, what must be done to recover files from the erased partition? Well, all you need to do is implement a reliable recovery software. This software applies its outstanding scanning algorithm over the entire hard drive and provides a list of drives, from which you can get back files with utmost ease. It also helps you in recovering deleted files from formatted partition of different hard drive brands such as WD, Toshiba, Transcend, Hitachi, Samsung, Seagate, etc.
Don't worry about losing data from the HD partitions
Now anyone of you can easily recover deleted hard drive partition data by using a reliable partition recovery software- Folder Recovery program. This tool rigorously scans the entire partition and shows a list of recoverable files in Data View or File Type View. All the listed files that can be recovered using this software in their original format.
Folder Recovery tool to restore Partition Data at your service!
Under all the above-mentioned data loss scenarios, you can utilize the Folder Recovery program to recover files in a very simplistic way. This recovery software scans selected partitioned hard drive and lists all the files and folders that can be recovered. Files that are listed after completion of scanning procedure can be sorted based on categories such as the file name, file size, file creation date, and file format. It also displays a preview of the files and folders extracted from the hard disk partitions after completion of the scan process. Besides all these features, it also helps you to recover lost folders after partitioning the hard drive from your computer.
Additional features offered by Folder Recovery application:
Helps in the recovery of files and folders from desktop and laptop hard drives
Performs recovery of folders and files after data loss due to an accidental usage of System Restore option
Also enabled data recovery from external hard drives, SSD, USB hard drives, FireWire drives, etc.
Runs on a read-only mode and so it will not alter the original data
Creates recovery session in order to reduce the time for file restoration
Steps to restore deleted partitioned data
Step 1: Upon launching the Folder Recovery software you will find three main options. Select "Recover Partitions" option.
Step 2: Select the drive partitions from the list of available storage drives. Click on the Scan button.
Figure 1: Recover Partitions/Drives
Step 3: Wait for a while for the program to finish the scan on the selected disk partition.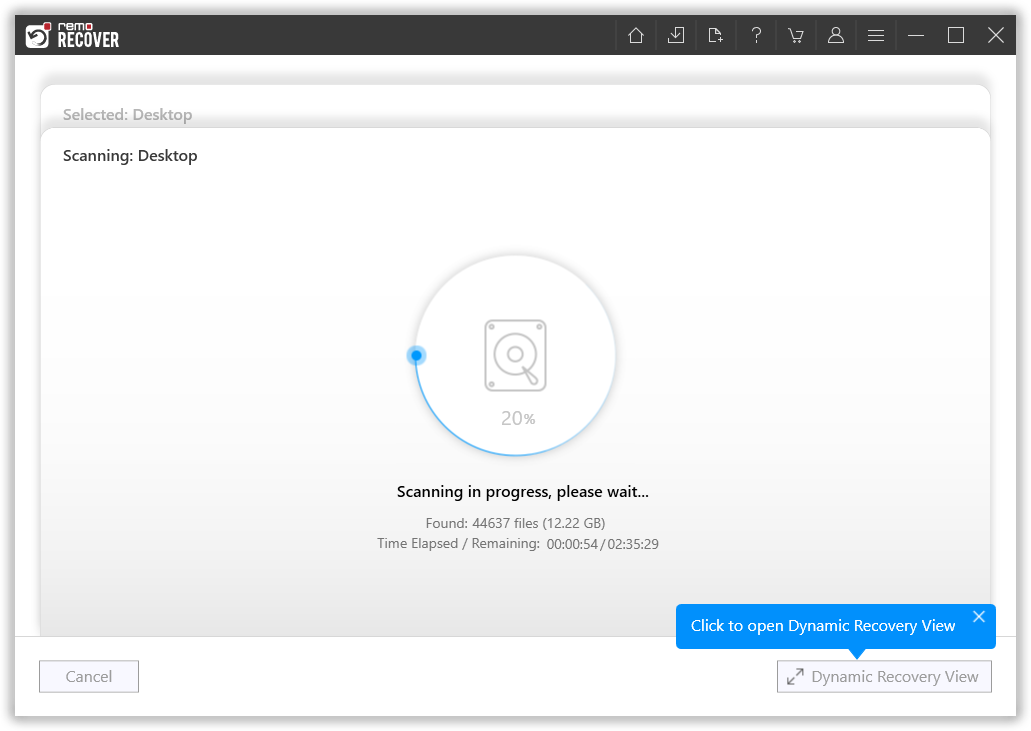 Figure 2: Scanning for Folders
Step 4: The recovery results will get displayed in File Type View and Data View.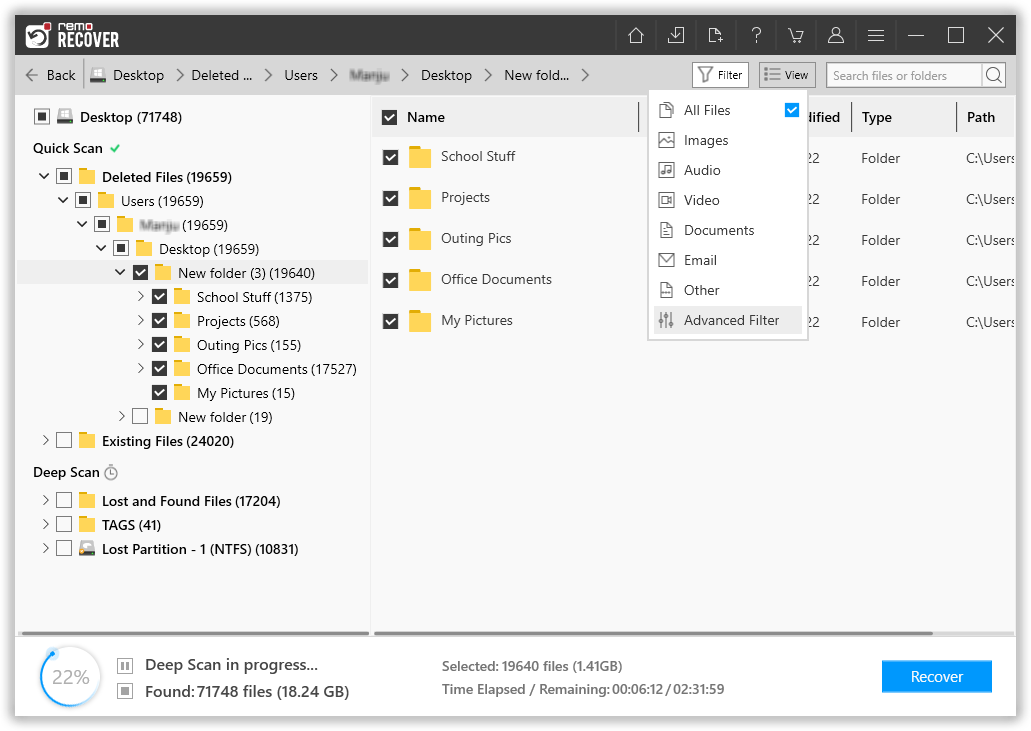 Figure 3: Recovered Folders
Step 5: Continue to preview the folders restored from the partitions. Mark the files for saving.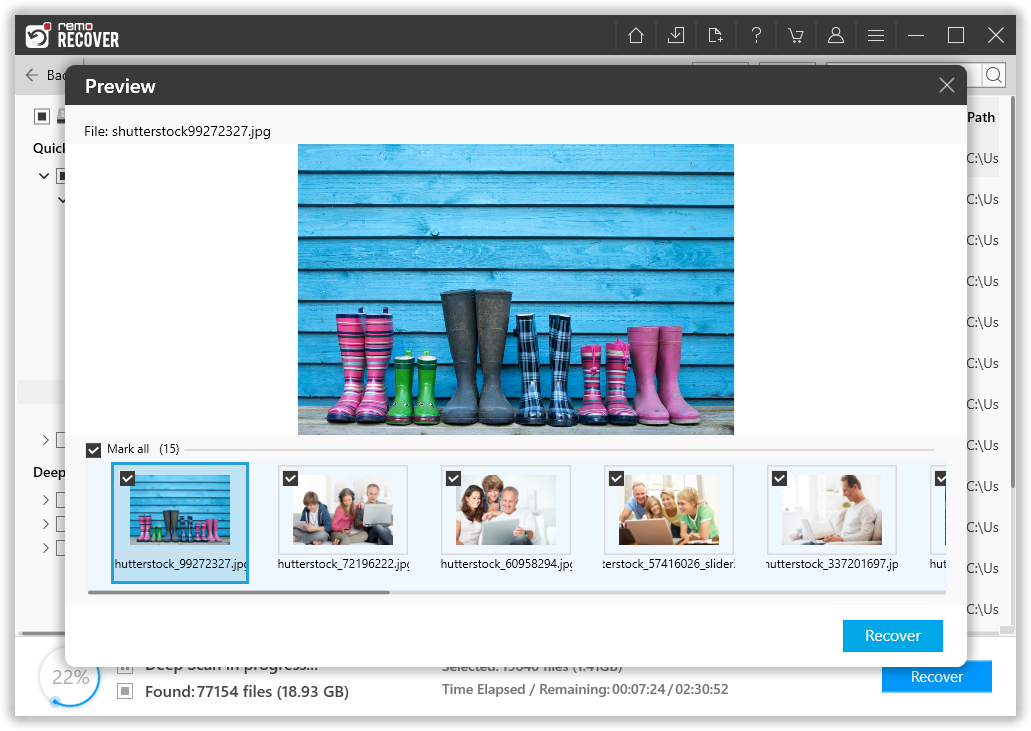 Figure 4: Preview Window
Step 6: Mention the destination location to save the retrieved hard disk partition data.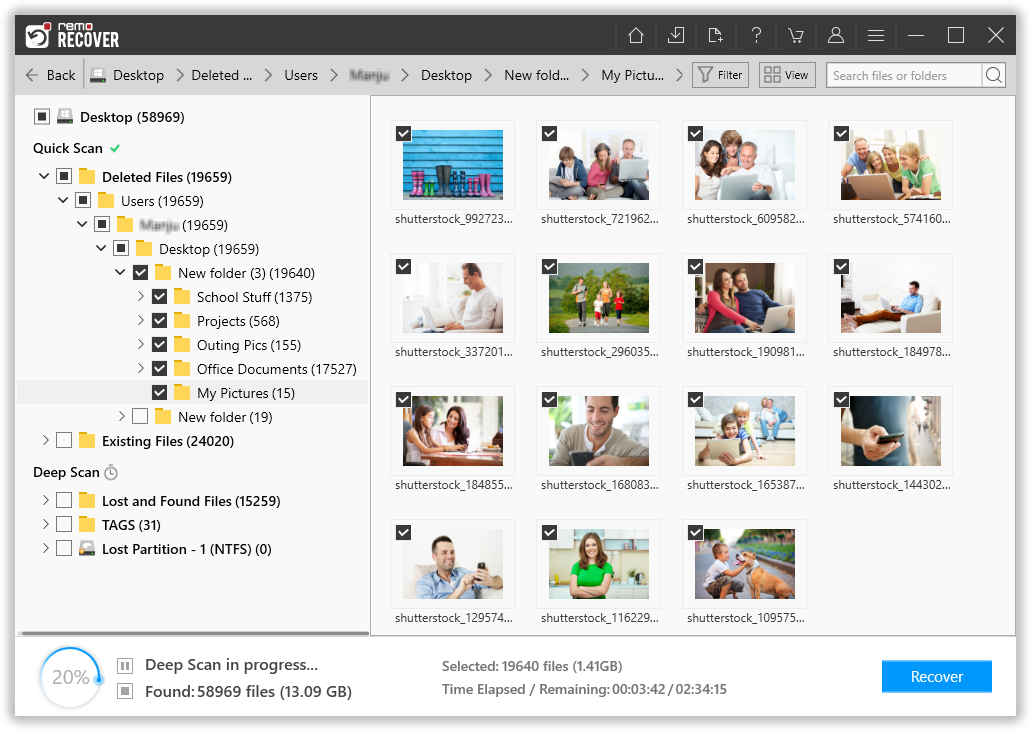 Figure 5: Save Recovered Folders