Restore Data from Toshiba Laptop Hard Drive
The powerful utility that recovers data from formatted, corrupted, and deleted Toshiba hard disk drives
Hard drive formatted with NTFS, NTFS5, FAT16, FAT32, and exFAT file systems can be restored without any hassle
Restores files of various file type formats
Apart from Toshiba it also supports HP, Dell, Lenovo, Samsung, Sony, Acer, Asus, and other leading brands of laptops
Alike other laptop HDD, the Toshiba laptops can also experience data loss disasters. The files and folders stored on your Toshiba drive can encounter deletion, loss and other threats. All such instances will put your important files to the risk of permanent loss. However, there could be multiple factors responsible for deletion of folders from the Toshiba laptop drive.
Reasons for deletion or loss of folders from Toshiba laptop drive
Human Error: Users choose important files mistakenly whilst picking unwanted files deletion. Applying Shift-Delete to the file will permanently delete the file/folder from its location. Also, if it is simple deletion users unknowingly clear the Recycle Bin without verifying if it contains important files or not.
Virus Infection: Viruses and other malicious programs damage files stored on the Toshiba system drive. This, in turn, will cause deletion, loss, and inaccessibility to the hard drive data.
Interruption While Transferring: Any interruption that occurs while transferring files from one system to another system may lead to deletion or loss of files from Toshiba laptop hard disk.
File System Corruption: File system contains metadata about stored files and folder on partitions. If the file system gets corrupted due to any reason then related partition becomes inaccessible and leads to a large data loss.
Bad Sector: Data stored on a bad sector become unreachable and data loss occurs. Bad sectors may be created on your hard drive due to frequently improper shutting down of the system.
Other Reasons: There could be further reasons responsible for data loss from Toshiba laptop hard drive such as system OS crash, improper handling, failed drives, etc.
No matter what is the reason behind the data loss, the Folder Recovery software can recover data from a Toshiba hard drive in a quick set of steps. You can easily download this folder recovery application on your computer and securely extract folders and files that are missing, deleted, or formatted in a matter of a few minutes.
Why opt Folder Recovery software?
Folder Recovery is an award-winning tool that performs restoration software by using its powerful scan algorithms. The deep scan algorithms scan the Toshiba hard drive completely to fetch all the inaccessible data. You can run this program on any edition of Windows and Macintosh machines. It also works with various other brands of laptops and desktops.
By making of this Folder Recovery software, you can recover data from the Maxtor external hard drive, Seagate, Toshiba, Samsung, WD, Buffalo, Hitachi, Sony, and other external HDD. Upon recovering deleted folders from the Toshiba laptop hard drive you can preview the files and folders. Moreover, this application works in a read-only mode and so will not cause any modifications to the original data. You can also run the demo version of this utility and see how easily the data can be restored from the Toshiba laptop hard disk.
Steps to Restore Data from Toshiba Laptop Hard Drive:
Step 1: Launch the Folder Recovery program on your Toshiba laptop.
Step 2: Open the application and select the Recover Files option.
Step 3: Pick the specific storage drive/partition from the list of all available drives in your Toshiba laptop.
Step 4: Now you need to click on the Scan button to initiate the folder recovery process.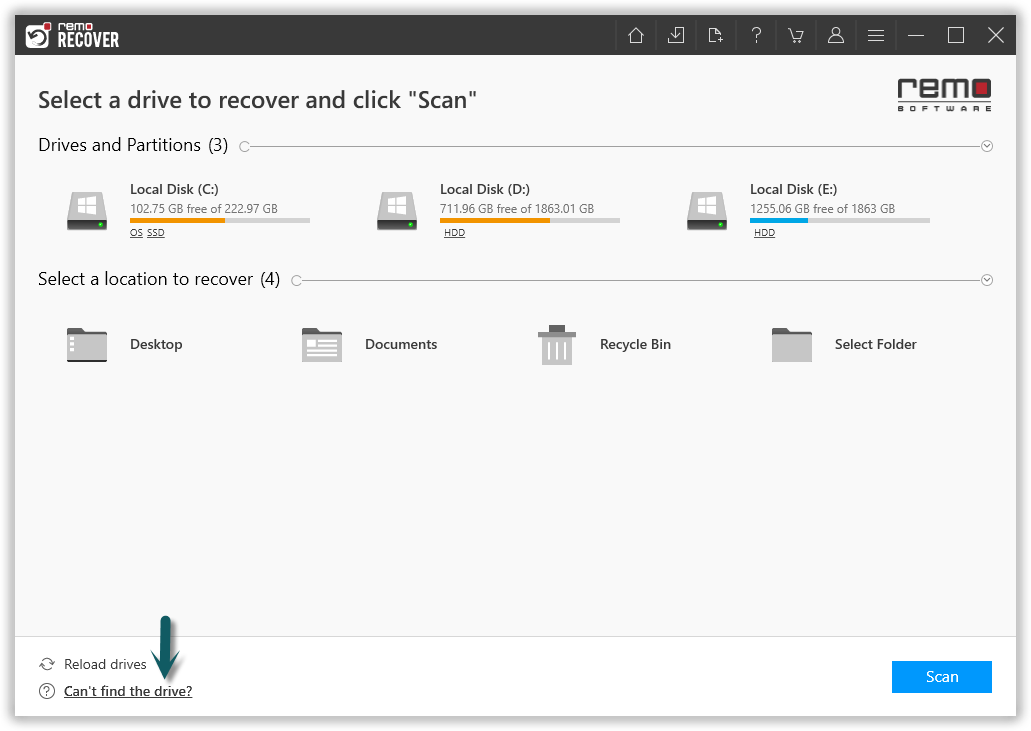 Figure 1: Recover Partitions/Drives
Step 5: The Toshiba hard disk will be now deep scanned by the tool.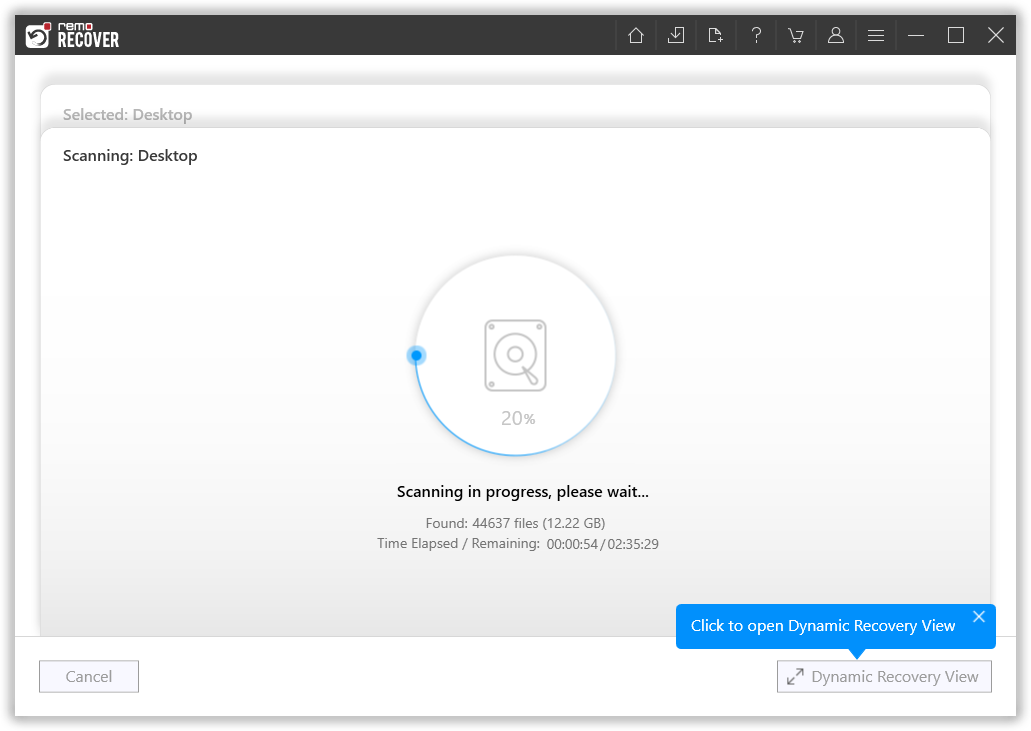 Figure 2: Scanning for Folders
Step 6: When the scan process is complete, you can check for your files under File Type View and Data View.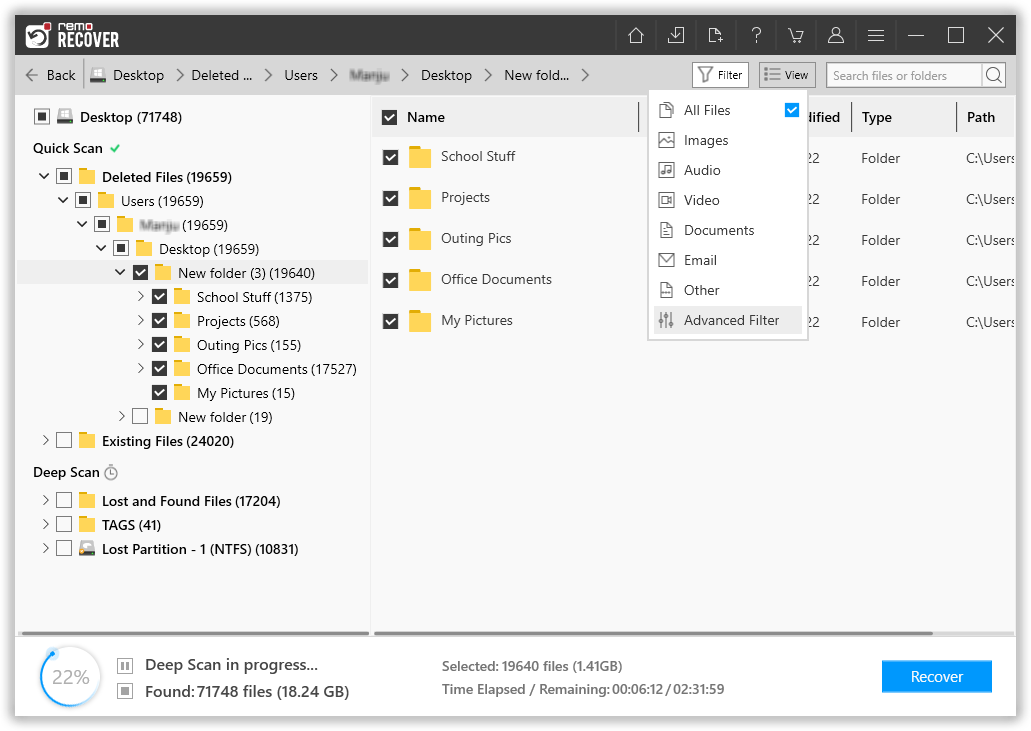 Figure 3: Recovered Folders
Step 7: To preview the restored file items, you simply need to right-click on that particular file.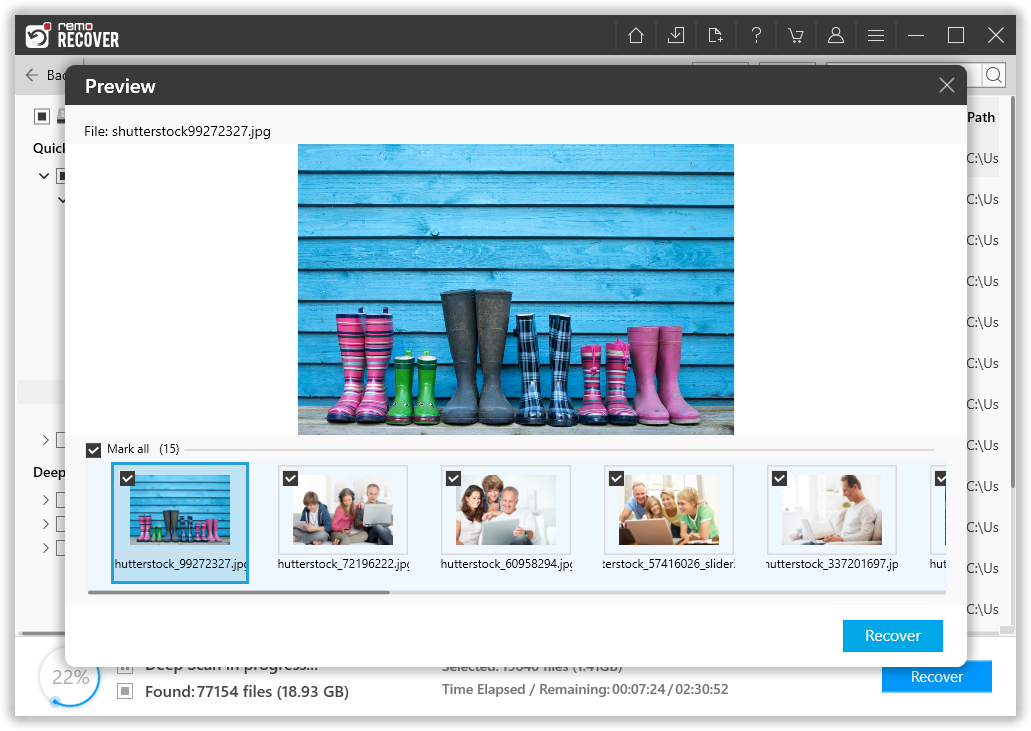 Figure 4: Preview Window
Step 8: Finally, select a suitable destination path to save the folders restored from the Toshiba laptop drive.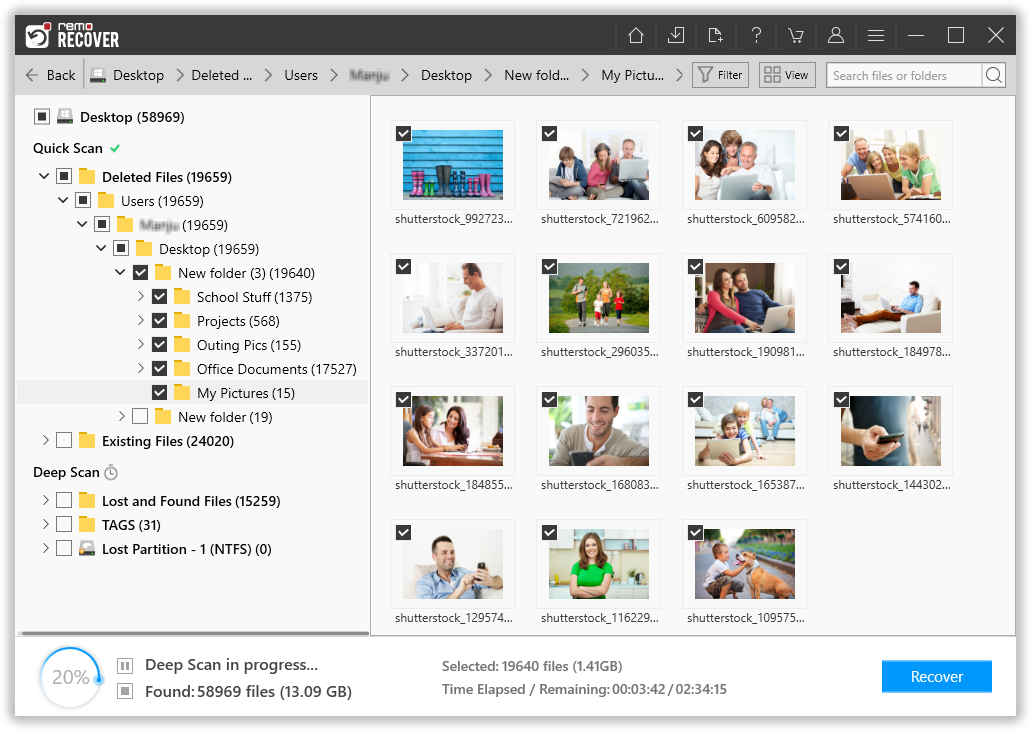 Figure 5: Save Recovered Folders