How to Undelete Folder from Desktop?
Instantly recover folder containing videos, documents, images, audio files, etc. deleted from the Windows desktop
The large folder that has bypassed the Windows Recycle Bin can be recovered with the Folder Recovery software
Comes in a trial edition that scans, recovers the folders, and displays a preview the recovered files & folders even before you purchase the tool
"Save Recovery Session" feature in the trial edition helps in resuming the recovery process at any time that avoids rescanning of the computer drive
Quite commonly users create folders on the computer desktop to manage files in proper order and access them easily. There may be different types of folders stored on your desktop. The folders you created on the desktop might contain some very important text files, videos, images, audio, etc. But the issue is that most of the users encounter is deletion or loss of the desktop folders.
Deleted folders from the Windows desktop
At various instances, the desktop files and folders get to delete due to various known and unknown factors. You could even lose access to certain vital files whose backup is unavailable and you just can't afford to lose it. This situation could prove troublesome to you. But do not worry because there is one simple way to regain desktop folders. It is the Folder Recovery tool that undeletes the permanently deleted files in simple clicks.
Undeleting desktop files and folders
Yes, it is simple to undelete folders from the desktop. The industry experts have designed a desktop Folder Recovery tool to achieve folder restoration. This tool can securely undelete desktop folders even if it not accessible anywhere in the Windows computer. Here is a thing that you must know- when you delete a file, only the reference to the file gets deleted and data is untouched. The space of the deleted file will be marked as free to be utilized by any new data. Therefore, you must start restoring the deleted files as soon as you encounter folder or file deletion. If not, any further usage of the computer(write operation) will overwrite the file that you are looking to restore.
Folder Recovery utility to restore desktop folders
Folder Recovery is a proficient tool that recovers files deleted from the desktop. It can easily recover files from corrupted hard disk, external HDD, USB drives, SSD, FireWire drives, etc. in no time. One can run this recovery utility on any edition of Windows and Macintosh OSX. To know more regarding deleted file recovery from MacBook, visit here - https://www.folderrecovery.net/can-you-deleted-files-on-your-macbook.html. You can try out the demo version of the Folder Recovery software and check its performance.
This Folder Recovery tool helps you to restore desktop files that are deleted due to the following reasons:
After Shift-Delete operation
Emptied Recycle Bin
Accidental format
Virus and other harmful threats
Note: If you want to recover folders from SD card, then check this URL- https://www.folderrecovery.net/from-sd-card.
Steps to Undelete Folder from Desktop:
Step 1: Run the Folder Recovery application on your Windows desktop. Choose "Recover Files" option.
Step 2: Browse the storage drive that stored the deleted desktop folder.
Step 3: You need to click on the Scan icon to begin the folder recovery process.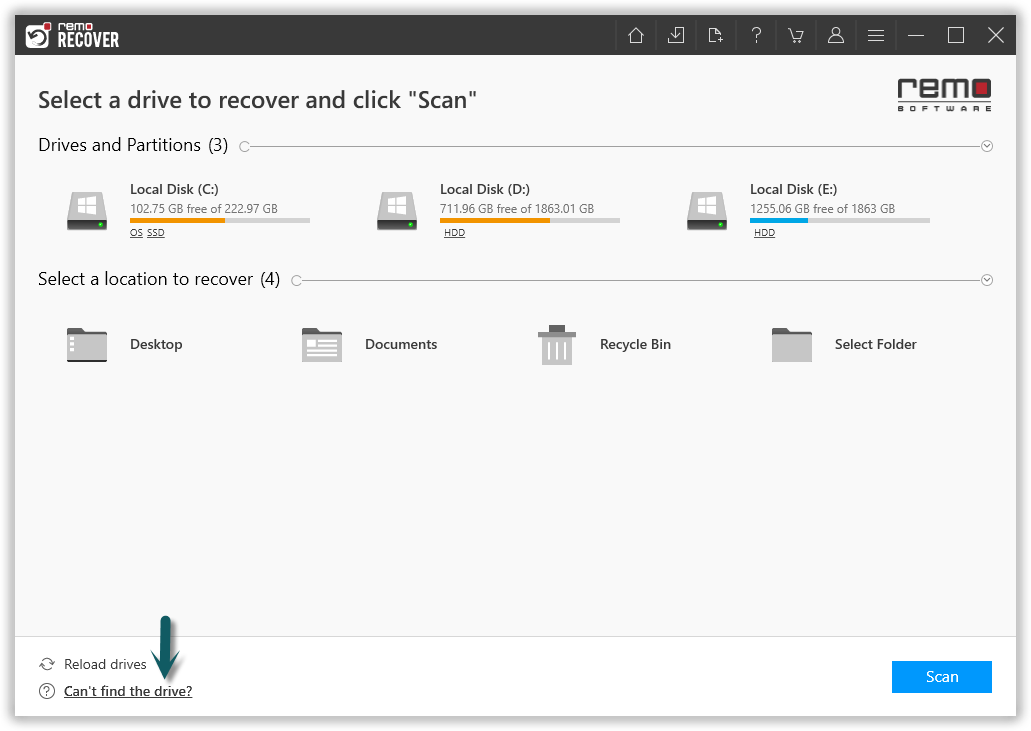 Figure 1: Recover Partitions/Drives
Step 4: The progress of the scan will be displayed in a new window.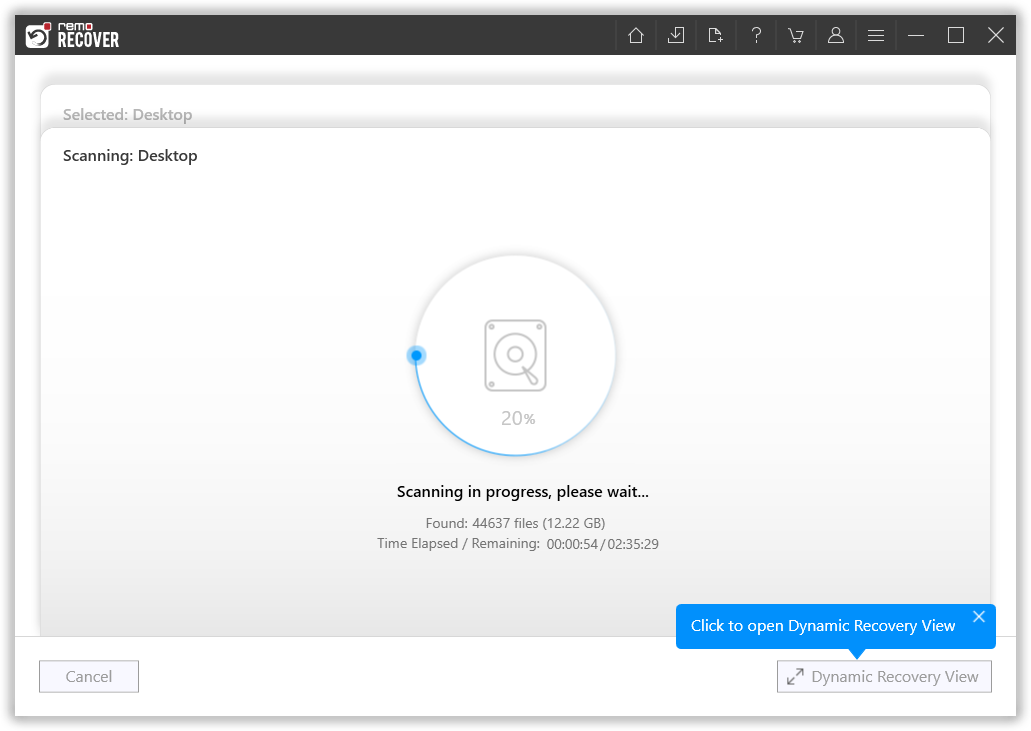 Figure 2: Scanning for Folders
Step 5: Verify the restored desktop folders in File Type View or Data View.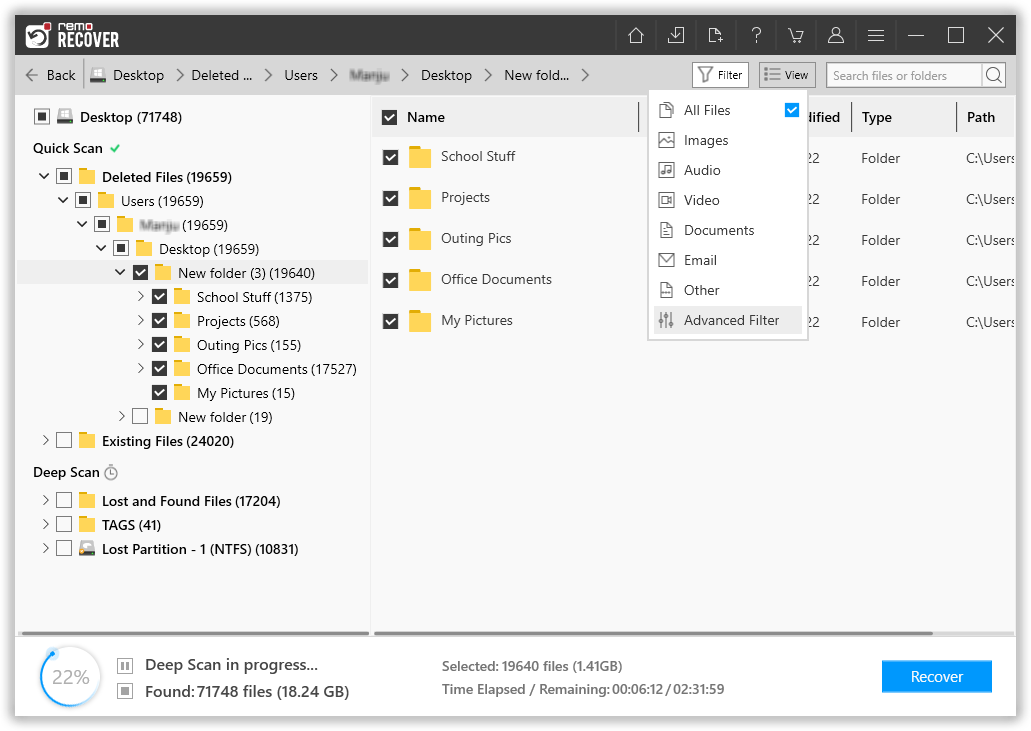 Figure 3: Recovered Folders
Step 6: Preview the restored file items and mark the ones that you would like to save.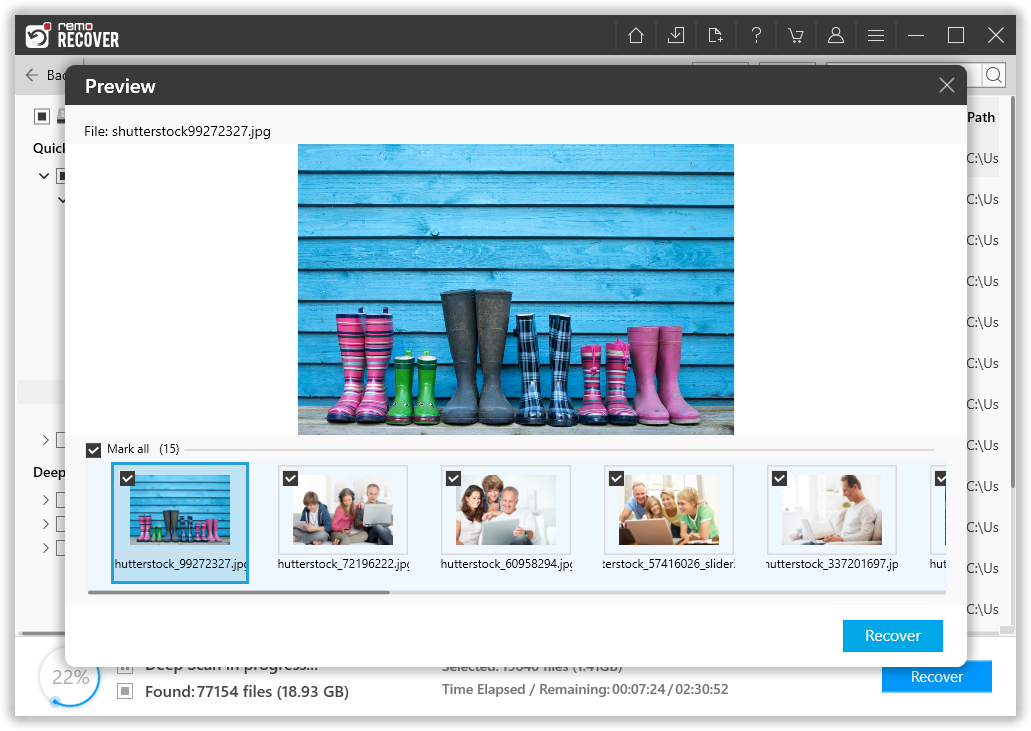 Figure 4: Preview Window
Step 7: If you are using the licensed version of the software then you can continue to save the undeleted desktop folders to any suitable drive location on your computer.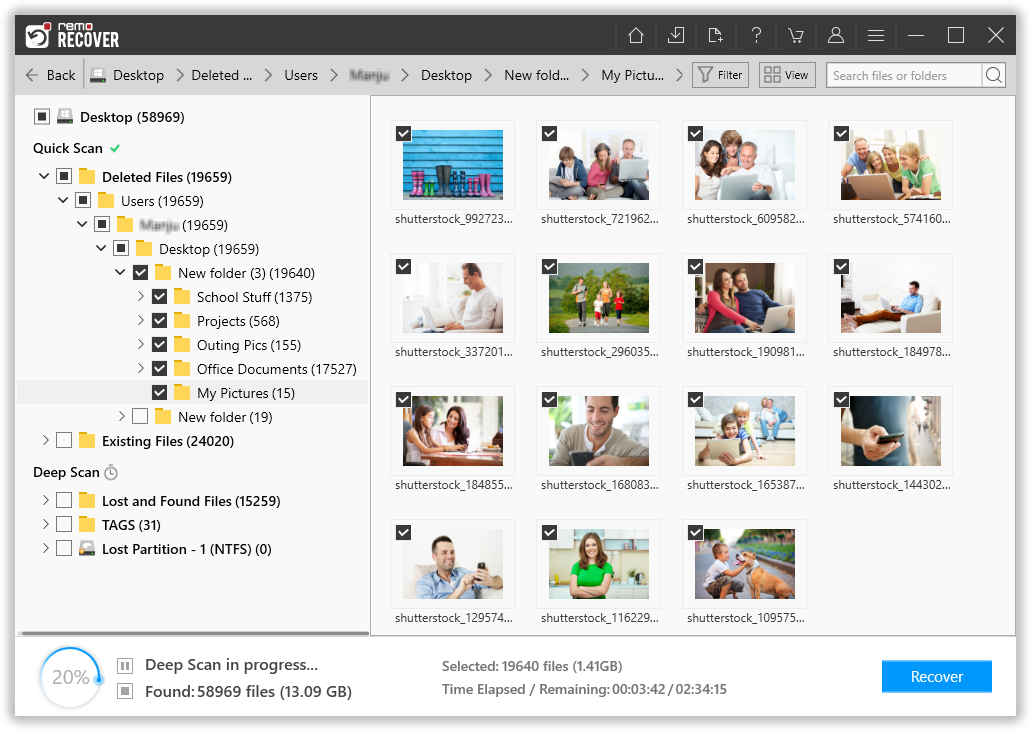 Figure 5: Save Recovered Folders