How to Recover Deleted & Lost Folders from USB Drive?
Restores lost and deleted folders from all brands of removable USB flash drives, external HDD, SSD, FireWire drives, etc.
Supports the restoration of over 300 types of files including videos, documents, pictures, audio files, PDF, HTML, XML, etc.
It recovers USB drive files that are deleted, lost, corrupt, formatted, or reformatted.
Allows users to preview the files restored from the USB drive storage
Have you ever accidentally formatted your USB flash drive? If you have lost some folders from your USB flash drive which contains some important business files, media files, or vital documents then you are about to find the best solution to regain USB drive files and folders. Continue reading this page...
Since USB devices are plug and play they are highly susceptible to corruption, deletion, and loss. Well, losing crucial data from your USB flash drive could be very disappointing to any user. You might have a great collection of media files and documents, but certain issues will threaten this vital data.
Some basic scenarios for loss of folders from a USB flash drive
If the USB drive files are infected by virus or malware, files contained in the folder display weird characters. When you try to delete such folders an error message reports saying- "access denied".
USB file system corruption
Deletion of USB files by anti-virus program installed on the computer
Interruptions caused whilst transferring files to/from the USB drive
Mistakenly format and reformat operations
USB drive errors and software conflicts
During these happenstances of data loss from the USB drive, you should simply make use of the Folder Recovery software. This versatile program is designed using the efficient algorithms that scan and extracts the USB drive data. It supports all brands and types of removable storage drives.
Why use the Folder Recovery tool?
Does not modify the original documents: Folder Recovery is a read-only tool that scans the specified drive and returns the file without altering their original content or the file structure.
Free of Virus/Malware/spyware: It is completely secure to run on all editions of Windows and Mac machines.
Use the Folder Recovery program to retrieve USB drive data
The Folder Recovery program is built with a deep scanning algorithm that efficiently scans the USB drive and fetches all types of file from it. It supports more than 300+ file type formats. The experts highly recommend the Folder Recovery program because it performs USB data restoration during USB corruption, deletion, format, etc. This ultimate tool can also retrieve files and folders from Windows as well as Mac OS(all latest operating systems are well-supported).
Note: Learn more about how to recover data from deleted partition in Windows 10 using the Folder Recovery application.
Significant features of Folder Recovery software:
Identifies and recovers multiple file types including emails, documents, zip archives, videos, pictures, songs, etc.
Can also restore folders after emptying Recycle Bin and after applying Shift-Delete on the files
Performs file and folder recovery from system drives, external HDD, SSD, FireWire drives, iPods, etc.
Compatible with all editions of Windows and Mac- Windows 10, 8, 7, XP, Vista, High Sierra, Sierra, El Capitan, Yosemite, Mavericks, Snow Leopard, Leopard, Mountain Lion, Lion, etc.
Presents a preview of the files recovered from the USB drive
Available in a demo version and technical support for any sort of assistance
Steps to retrieve lost or deleted folders from a USB drive
Step 1: Run the program and connect the affected USB drive. Select Recover Files option which is displayed on the home screen.
Step 2: Browse the USB drive from the list of available drives and click on the Scan button.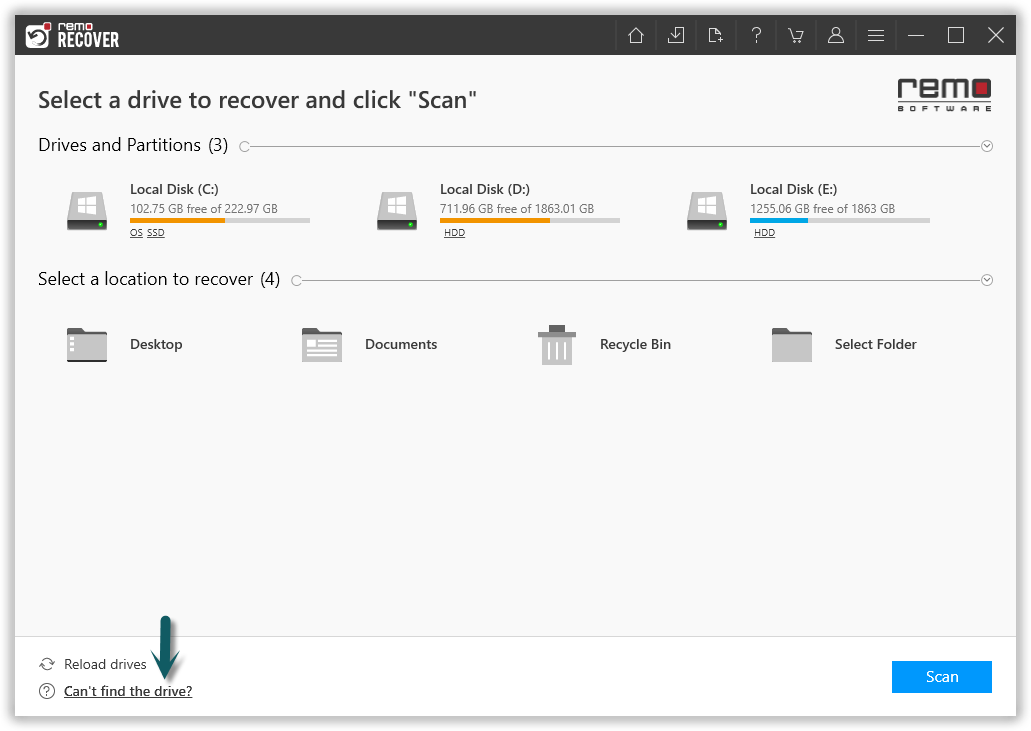 Step 3: The tool starts searching for the deleted, lost, or corrupt files from the USB drives.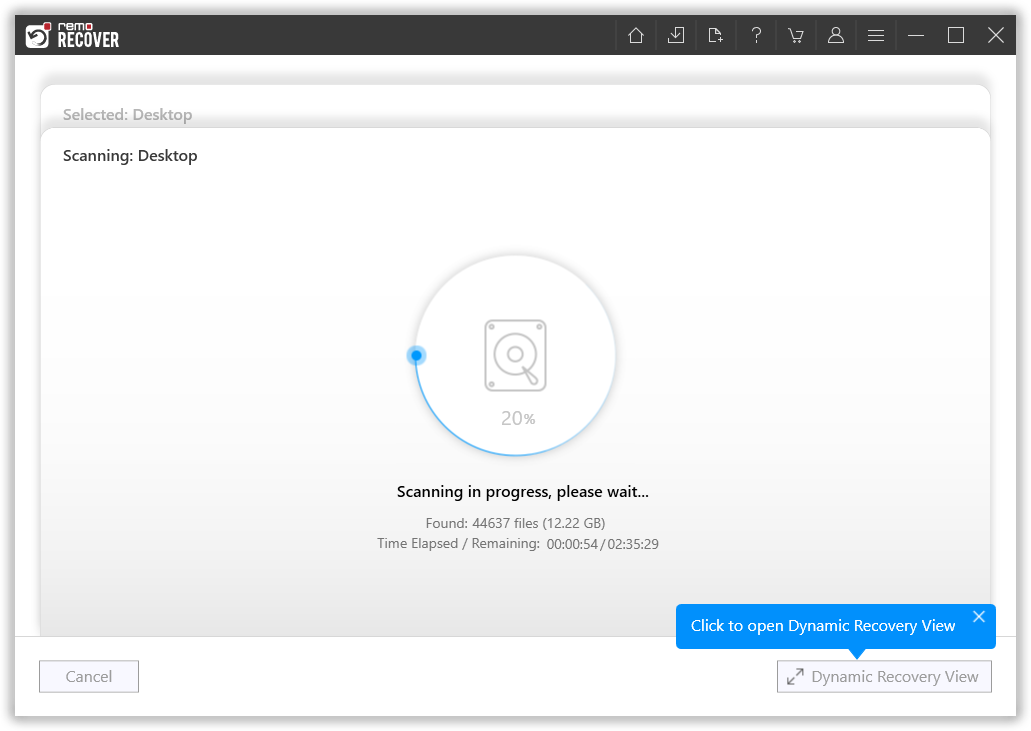 Figure 2: Scanning for Folders
Step 4: The recovery results will be displayed in File Type View and Data View.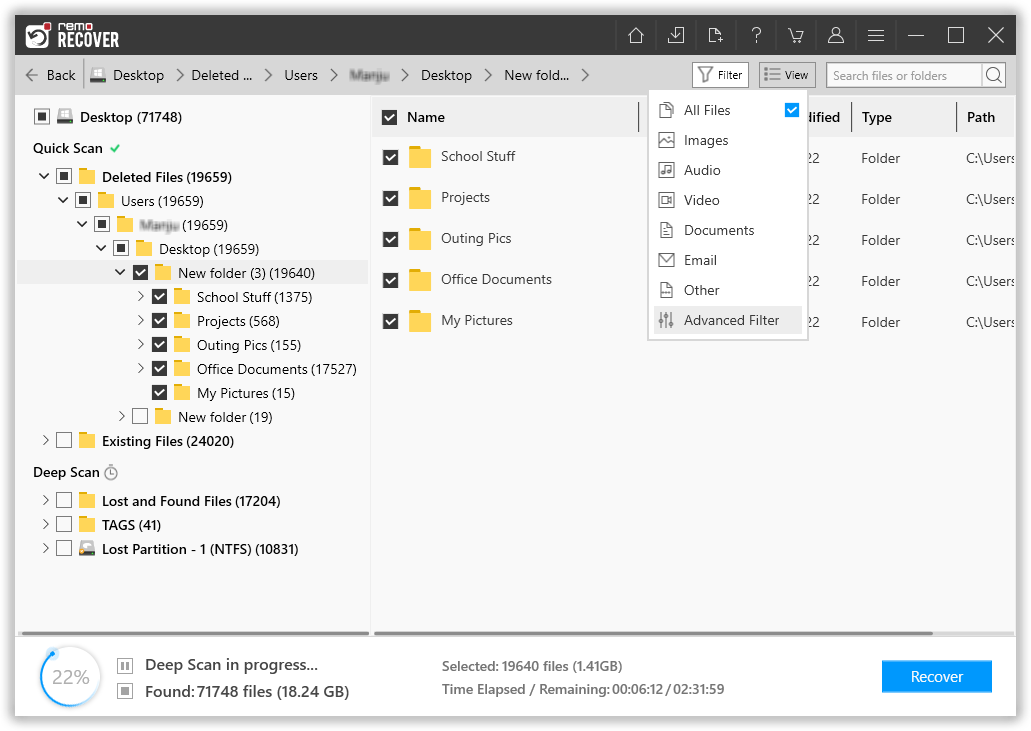 Figure 3: Recovered Folders
Step 5: Preview the retrieved file items and mark the ones that you would like to save.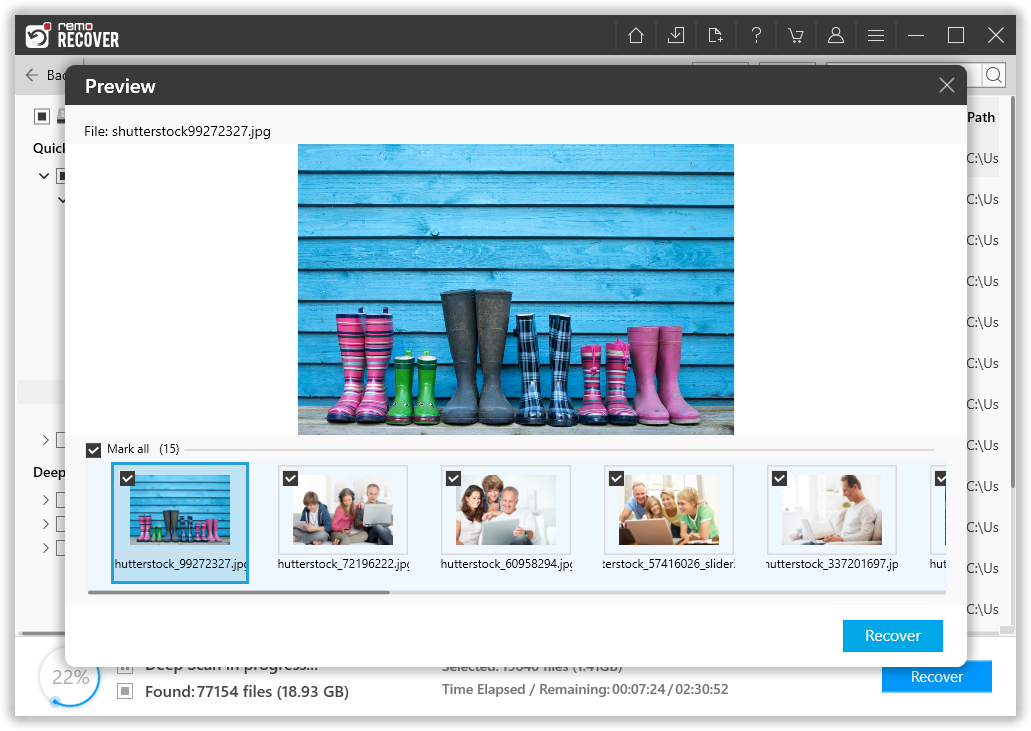 Figure 4: Preview Window
Step 6: Finally, choose a relevant file location to save the files recovered from the USB drive. Press on the Save button.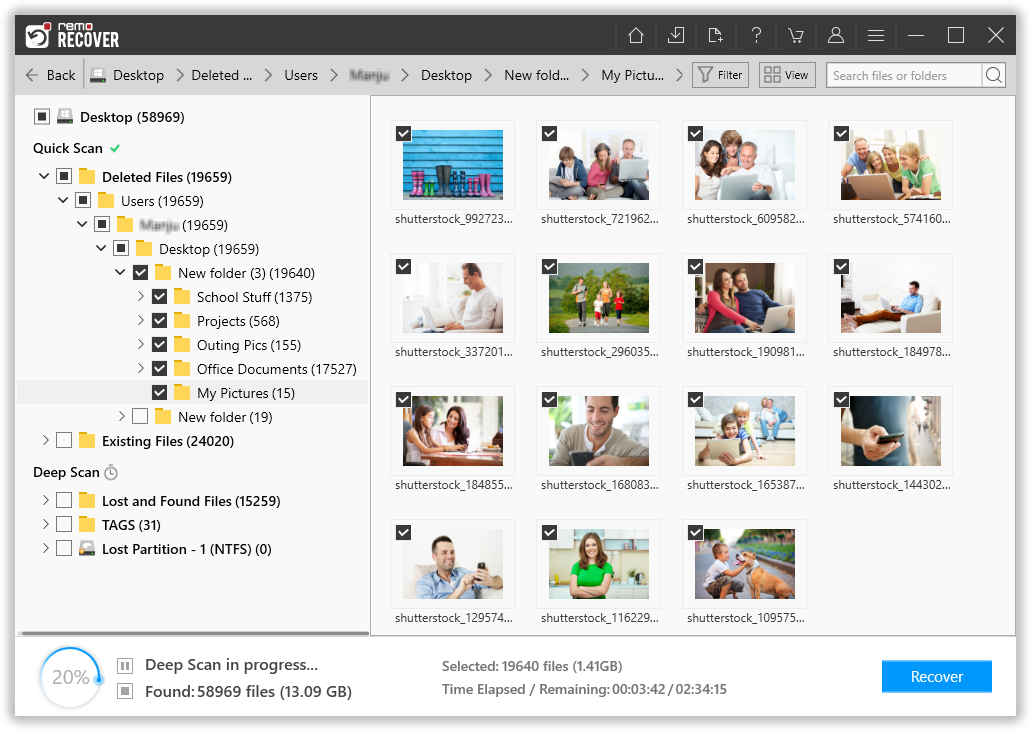 Figure 5: Save Recovered Folders