Recover Deleted Partition Windows 10
Retrieves system partitions that got deleted, lost, corrupted, and formatted in simple clicks
It supports partitions formatted with FAT16, FAT32, NTFS, NTFS5, and exFAT file systems
Also powerful to restore data from external hard disks, SSD, USB pen drives, FireWire drives, memory cards, and other removable storage drives
One can evaluate the software by downloading the trial edition and preview the recovered files before purchasing it.
"I was in an attempt to extend a disk partition on my Windows 10 system. But instead of selecting the Extend option, I chose the Delete option by mistake. Now I'm unable to locate that drive on the Windows Explorer. The data on that partition is very important to me. So, can anybody tell me how to recover data from a deleted partition in Windows 10?"
The Windows drive partitions can accidentally get deleted due to many reasons. You will not able to locate those deleted partitions using any internal mechanisms available on the Windows system. If you are concerned about restoring the data erased from such a partition, you have to use a reliable tool that is capable of securely recovering data from Windows 10 partitions. Picking up such a tool demands a lot of care since there are many tools which claim to recover any types of files from deleted partitions on Windows. Most such tools will be freely available on the internet. Before we learn the best tool to restore Windows partitions, let us see some of the scenarios that lead to data loss disasters.
Major causes for deletion of Windows 10 partitions
Third-Party Disk Management Utilities: Say, for example, you want to repartition a drive which has formatted with a UNIX OS. Windows will not provide any tool to read a UNIX partition data. So, you are depending on a third-party tool for that purpose. If any sort of interruption happens during this re-partitioning, it can result in the deletion of your precious drives.
Diskpart Utility: It is a Windows command-line tool which can be accessed by typing diskpart on Windows Command Prompt. You have to carefully use commands on this utility. If you mistakenly execute the Delete command it results in the deletion of a partition here. You will then need a Windows 10 Deleted partition data recovery tool to get back data from that deleted partition.
Windows Disk Management Utility: Unlike Diskpart, it uses a graphical interface to simplify working on it. But, unwanted haste in managing volumes on this tool can result in deletion of partitions.
Other reasons: Even bad sectors, virus/malware, reformat errors, drive failure, file system corruption, etc. can lead to loss of files from the Windows system drives.
A simple way to retrieve data from Windows 10 partitions
The Folder Recovery tool is a powerful tool which would be an ideal option for the people who are looking for how to recover data from a deleted partition in Windows 10. This tool is been designed using a simple GUI, that makes the data recovery process easiest possible to any individual user. This powerful Folder Recovery utility can easily bring back partition data as well as files deleted from your Windows desktop. Get more information regarding file restoration from desktop, follow this link: https://www.folderrecovery.net/undelete-from-desktop.html
Some notable features of the Folder Recovery tool
Features a "Save Recovery Session" that avoids rescanning of the drive
Works with all disk file systems on Windows PC's. There is a separate version of this data recovery program for Mac that can recover files from HFS partition and HFS+ partitions.
This data recovery tool allows you to restore files of more than 300 file formats including images, Word documents, ZIP archives, music files, videos and many more. Continue reading to know more about retrieving ZIP files using this software.
Lets users to preview the restored folder items in two different styled-layouts.
Moreover, you can recover files from formatted SSD drive and various external storage drives.
Steps to Recover Files from Deleted Partition in Windows 10
Step 1: Run the Folder Recovery application on your Windows 10 PC. select "Recover Files" option.
Step 2: Browse the drive from where the partition got deleted.
Step 3: Click on the Scan button.
Figure 1: Recover Partitions/Drives
Step 4: The software starts fetching for the erased partitions from the drive you selected.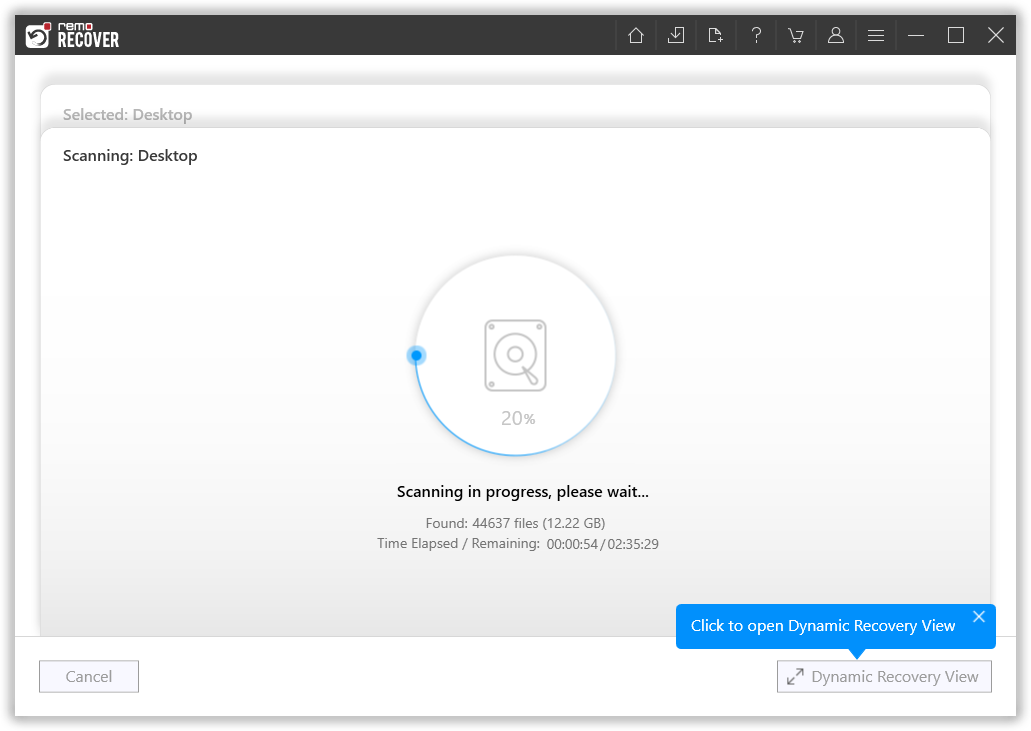 Figure 2: Scanning for Folders
Step 5: You can check for the restored files under File Type View and Data View.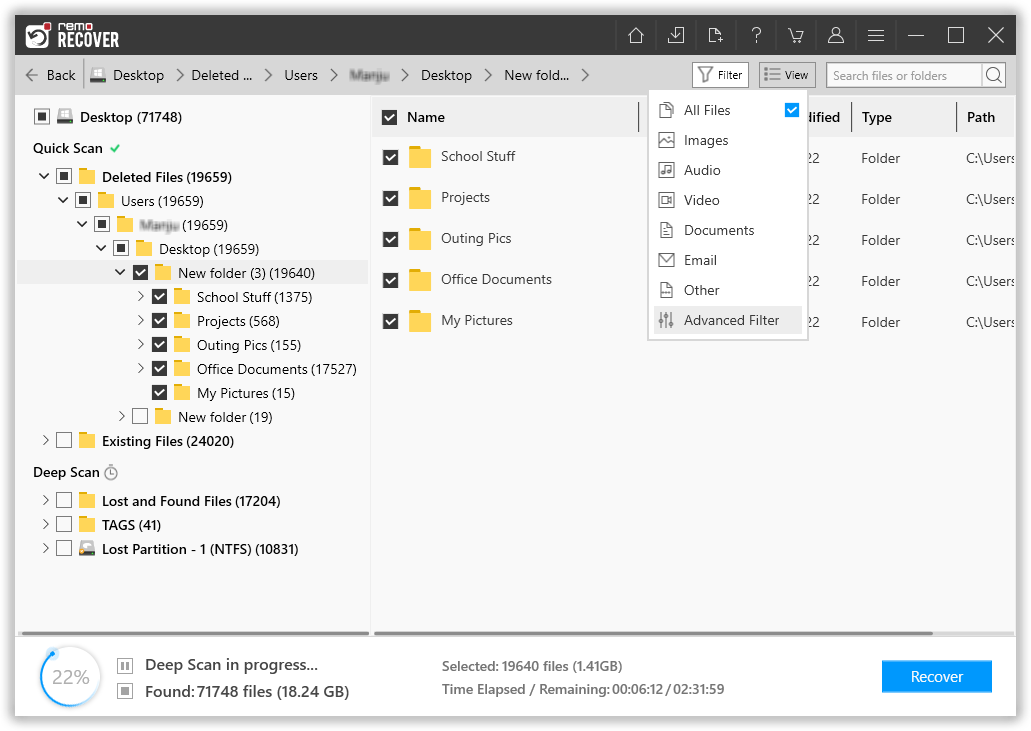 Figure 3: Recovered Folders
Step 6: You can preview a specific file by right-clicking on it.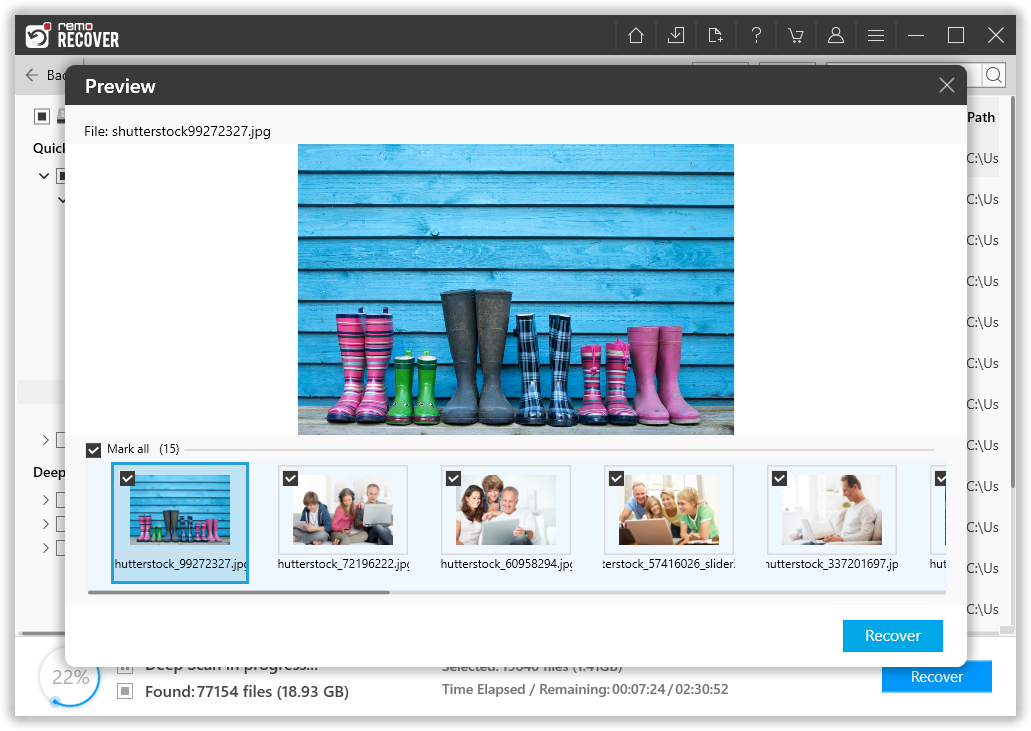 Figure 4: Preview Window
Step 7: Save the retrieved partition data to a suitable destination location.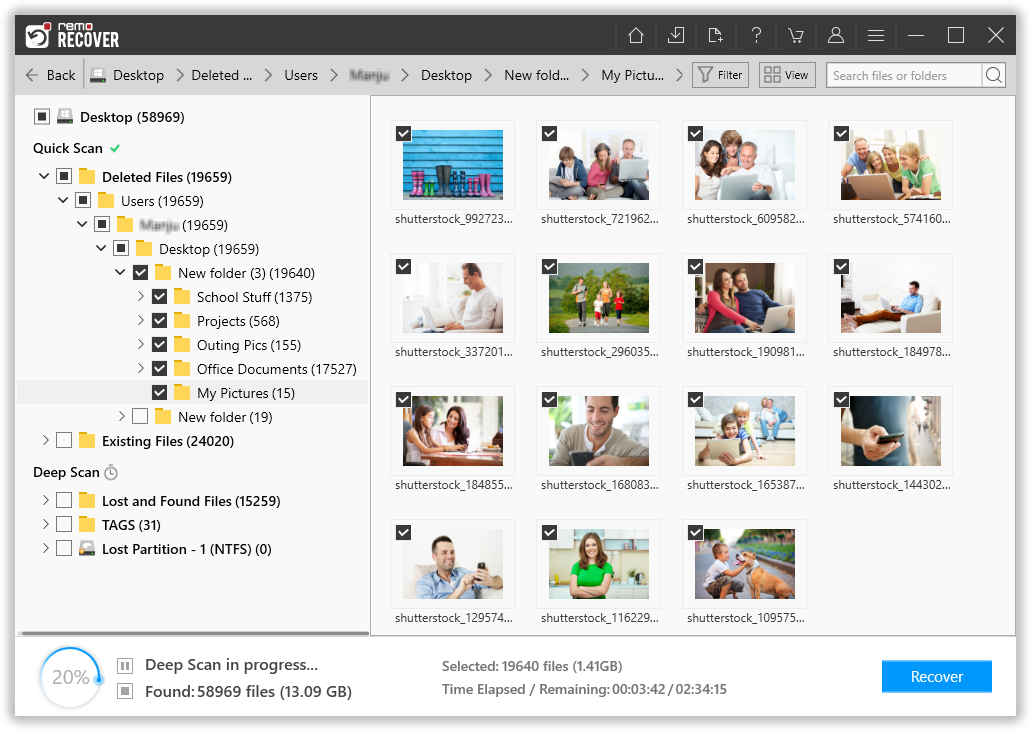 Figure 5: Save Recovered Folders