How to Recover Lost Folder on Mac OS X
Download, and launch the trial version of Folder Recovery tool that recovers lost or deleted folders and allows free preview of the recovered files & folder prior to purchase
It also supports deleted or lost files recovery from external HDD, SSD, memory card, pen drive, flash drive, USB drive, etc.
Capable enough to restore files and folders from formatted, severely corrupted, and deleted Volumes on all Mac OS X including the latest Sierra
"Save Recovery Session", and "Open Recovery Session" features of the software helps in exiting and resuming the recovery process at any time you want, and you need not rescan your computer again and again to recover your lost files
Data files including pictures, video files and others are a compilation of business and personal work, thus one prefers to keep them on their Mac folders. Folders are nothing but a virtual container within digital file system, in which group of files and other folders can be kept and organized. The files and folders are generally stored on different partitions or volumes of a system hard disk, which helps in accessing them quickly without much difficulty. No matter how experienced you are in using a computer, there is no guarantee that you will never go through the nightmare of accidental data or folder loss. The corruption of files, folders, volumes, hard disk, etc. can lead to the loss of important data from the folders.
The Folders are safe on your Mac hard drive until you unknowingly format the disk or delete those crucial folders. Unintentionally deleting the folder or emptying the trash is the most common scenario. Accidentally formatting wrong Mac Volume, Catalog file is damaged or corrupted, Apple Partition Map gets corrupted, volume header corruption, etc. can lead to the lost of important folders. Not using an effective antivirus which causes virus attack, malware and spyware attack can also cause damage to files and folders. Third party software can also cause deletion or corruption of folders. Sometimes volumes become inaccessible due partitioning/re-partitioning or fragmentation/defragmentation. MBR corruption leads to unbootable system which means you can't access the hard drive and thus losing all the folders. Improper system shutdown, power surges, journal corruption and using the Command + Delete keys are few more reasons for a data loss.
A precautionary measure you should always keep backup of your important files and folders. You should also not use the space of deleted or lost folder as it might get overwritten and restoring may become impossible.
Mac folder recovery is unique tool that definitely let you know how to find folders on Mac OS based computers. One can also restore folders deleted using rm command by the aid of this tool. It can also support Outlook Folder recovery from different versions of Outlook like 2000, 2003, 2007, 2010, 2013, 2016 etc. It is made of powerful built-in scanning algorithms which make the tool work faster and efficiently to recover lost folder on Mac. It can recover deleted data, which has been emptied from the Mac Trash. The software can bring back image folders containing picture of various file formats like JPG, GIF, TIFF, JPEG, etc with just few mouse clicks.
It can also be used to bring back folders after format from various interfaces like SATA, SCSI, IDE, etc. It can also be used to recover data from USB hard drives, flash memory cards, external drives, FireWire drives, iPods, etc. You can also recover deleted folder Mac OS X desktop PC, for further information look into this URL: www.folderrecovery.net/undelete-from-desktop.html. It the most used file and folder recovery software and also recommended by many professional experts as it can easily recover lost folders on Mac.
This tool would be a good choice of who are looking for an HFS partition recovery tool because this tool recovers all types of files which got lost due to HFS partition corruption or deletion. Visit the following page to know more about this subject: http://www.folderrecovery.net/file-recovery-hfs-partition.html
Steps to recover lost folders on Mac:
Step 1: Download & install the free demo version of the Folder Recovery Software for Mac as per the instructions. Later, just double-click on the icon that appears on the desktop after installation, a main window will appear as shown in Fig 1.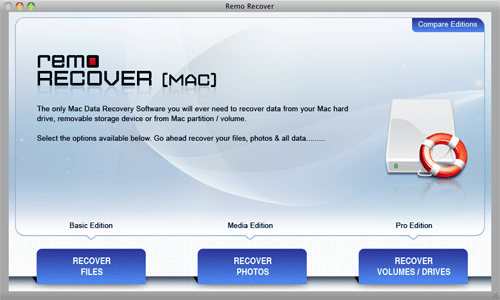 Fig 1: Welcome Screen
Step 2: Select the "Recover Deleted/Lost files" option from that main window. After that, a new screen will appear as displayed in Fig 2, from which click on the "Recover Lost Files" option in order to recover lost folders on Mac.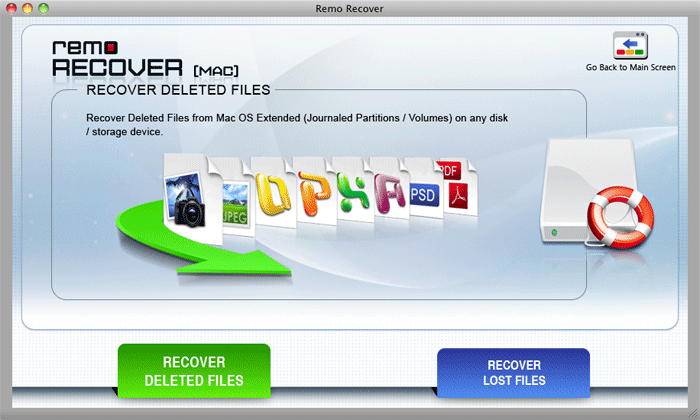 Fig 2: Select Lost Files option
Step 3: Now choose the Mac volume/drive from which you want to recover your folders & press the next button to start the scanning process.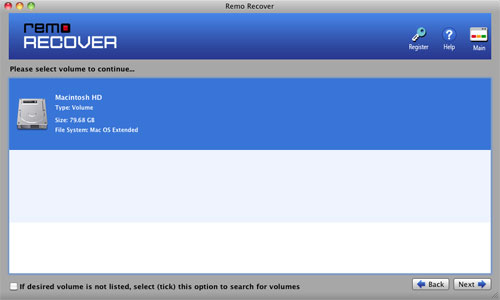 Fig 3: Select Volume
Step 4: After performing a complete scan of your Mac volume, it will show recovered files & folders in different viewing patterns like "Data Type View" and "File Type View". The Fig 4 shows a list of recovered folders, which you can save to any desired storage location after purchasing the full version and activating it.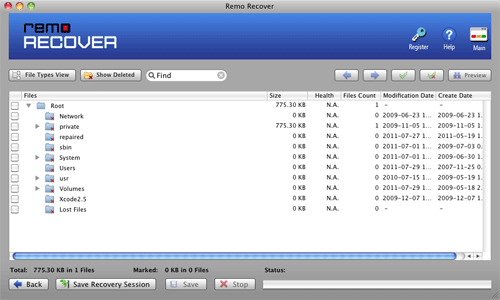 Fig 4: Recovered folders