How to Recover Deleted Folders from Laptop?
An efficient tool to restore files and folders from laptop drives.
Suitable to work with all brands of laptops and desktops
Supports recovery from hard drives, SSD, memory cards, USB drives, iPods, etc.
Works with all file formats of documents, pictures, videos, songs, and others
Compatible with the latest versions of Windows including- Windows 10, 8, 7, XP, Vista, and Server editions
Folders deleted from the laptop
The files and folders from a laptop get deleted due to several scenarios. Any vital pictures, documents, audio, video, etc. saved on the laptop drive will be threatened due to various instances of folder deletion. Well, if you have maintained a timely backup of the laptop drive files then you can easily restore it. If not, you will need a powerful folder retrieval software to undelete the laptop folders.
Note: Do not use the laptop further to add any new files as it might overwrite the data that you are looking to restore. The folders once overwritten will be permanently deleted and cannot be recovered at any cost.
Undelete laptop files using the Folder Recovery software
Folder Recovery is a promising tool to undelete folder from a laptop. It employs a powerful scan engine that deep scans the laptop HD and extracts all files and folders from it. Thereby, it makes it possible to recover the iTunes media folder, media files, documents, EXE files, compressed folders, emails, etc.
Using this incredible utility, you can restore files and folders from an external hard drive, iPods, memory cards, SSD, USB drives, and more. You can also check how to recover iTunes media folder using this application. Along with recovering deleted folder from the laptop, it also facilitates you to restore moved folder in an efficient way. After the folder retrieval process, it facilitates you to preview restored folders prior to restoration. Folder Recovery program also helps you restore data from a Toshiba laptop hard drive, Dell, HP, Lenovo, Acer, Sony, Asus, Samsung, and so on.
Some of the data loss scenarios where Folder Recovery tool serves useful
Applying Shift + Delete keys mistakenly on vital files
Virus, malware, and other threats
Emptying the Recycle Bin
Interruption while moving folders from one drive
Drive errors and format operation
File system errors
Bad sector formations
Steps to recover deleted folder from laptop:
Step 1: Download and install Folder Recovery software in your Windows. Select "Recover Files" option from the main screen.
Step 2: Choose the laptop drive from where the folders got deleted and click on the Scan button.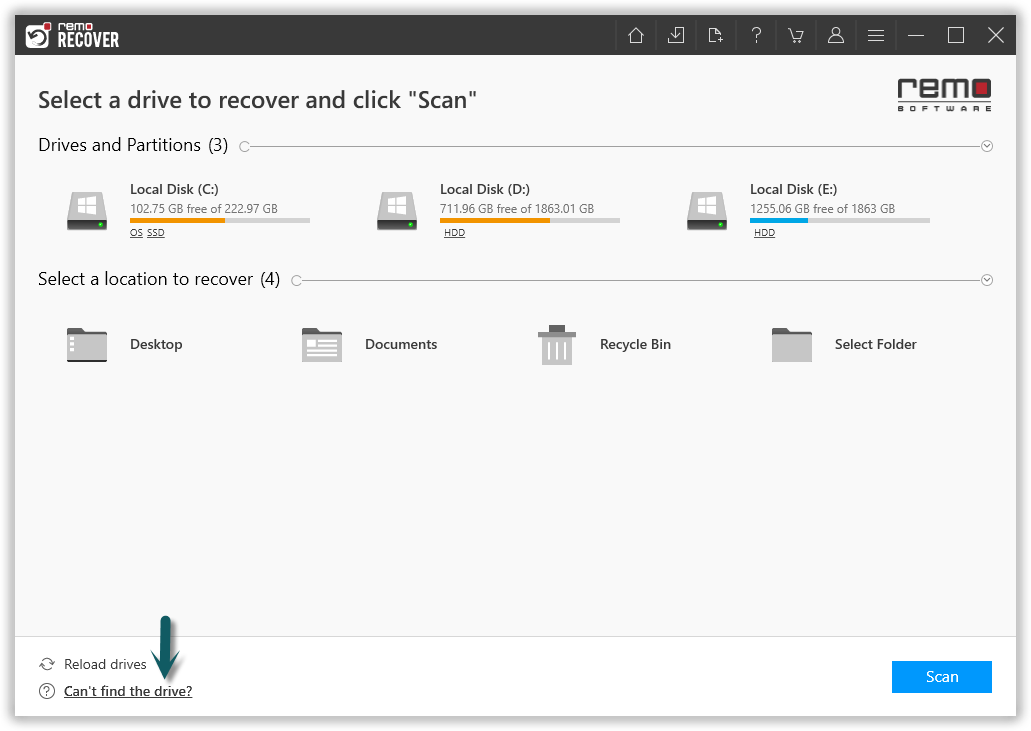 Figure 1: Recover Partitions/Drives
Step 3: The laptop drive is scanned for deleted files.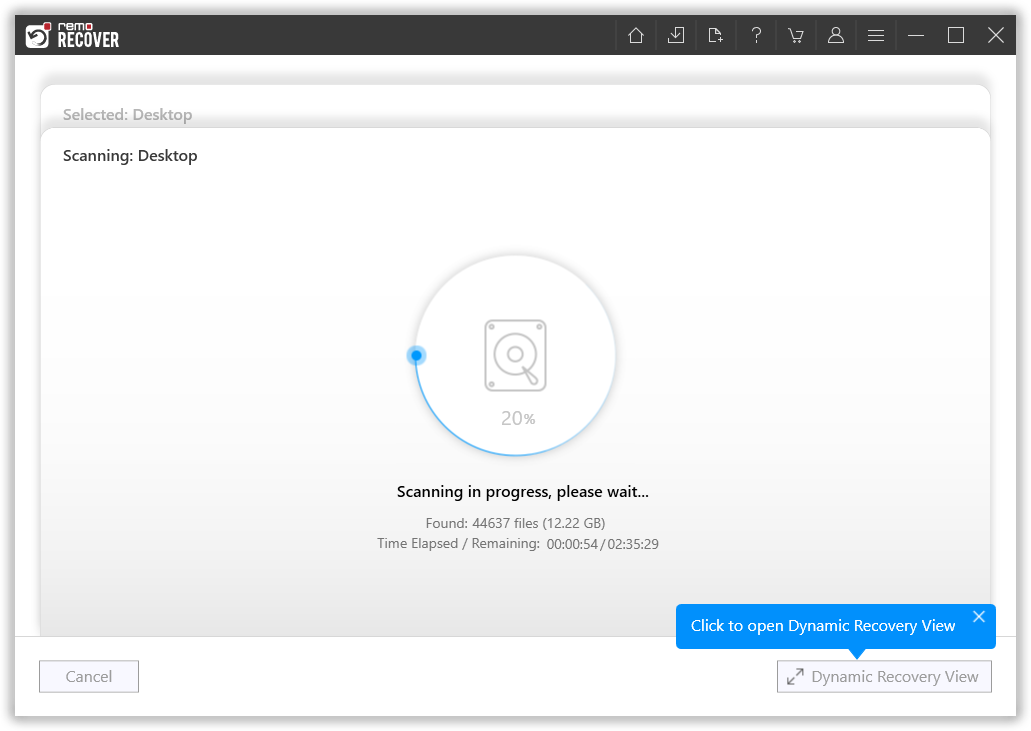 Figure 2: Scanning for Folders
Step 4: The recovered images, audio, video, documents, etc. will be returned after the scan process.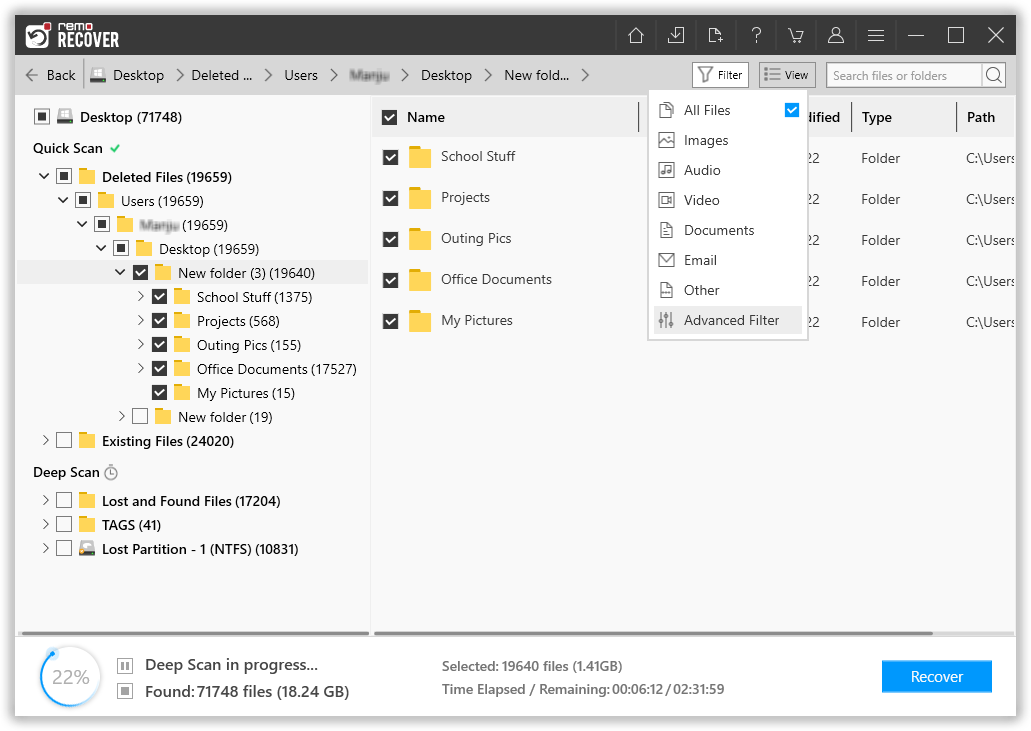 Figure 3: Recovered Folders
Step 5: Preview the retrieved file items and mark them for saving.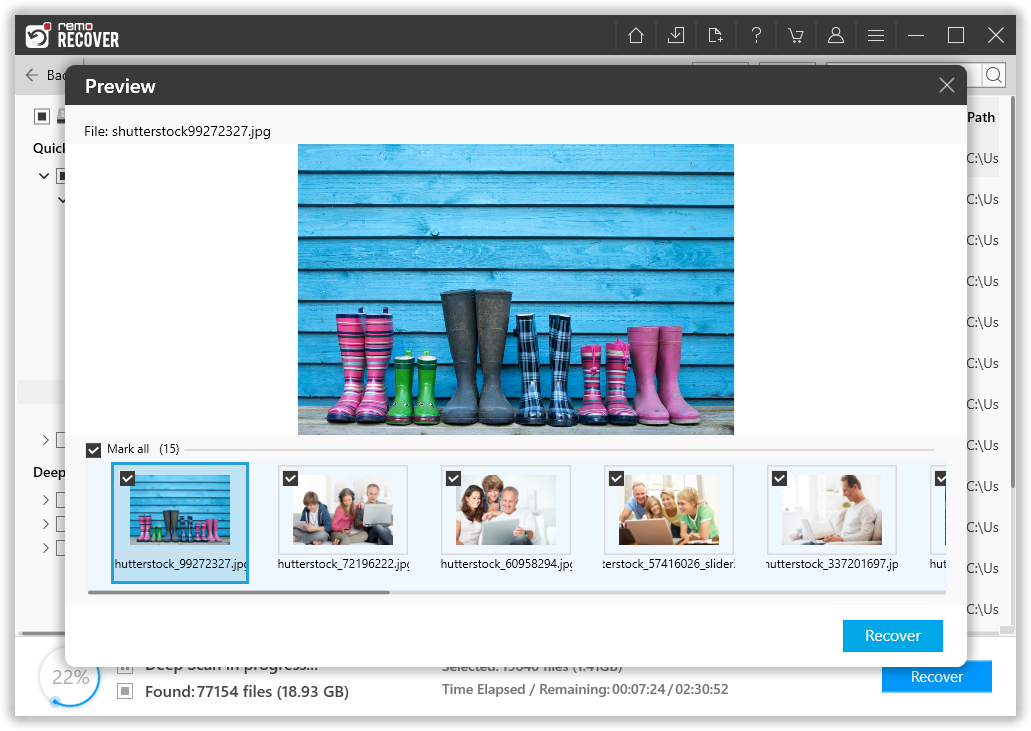 Figure 4: Preview Window
Step 6: Mention a suitable drive location to save the files regained from the laptop.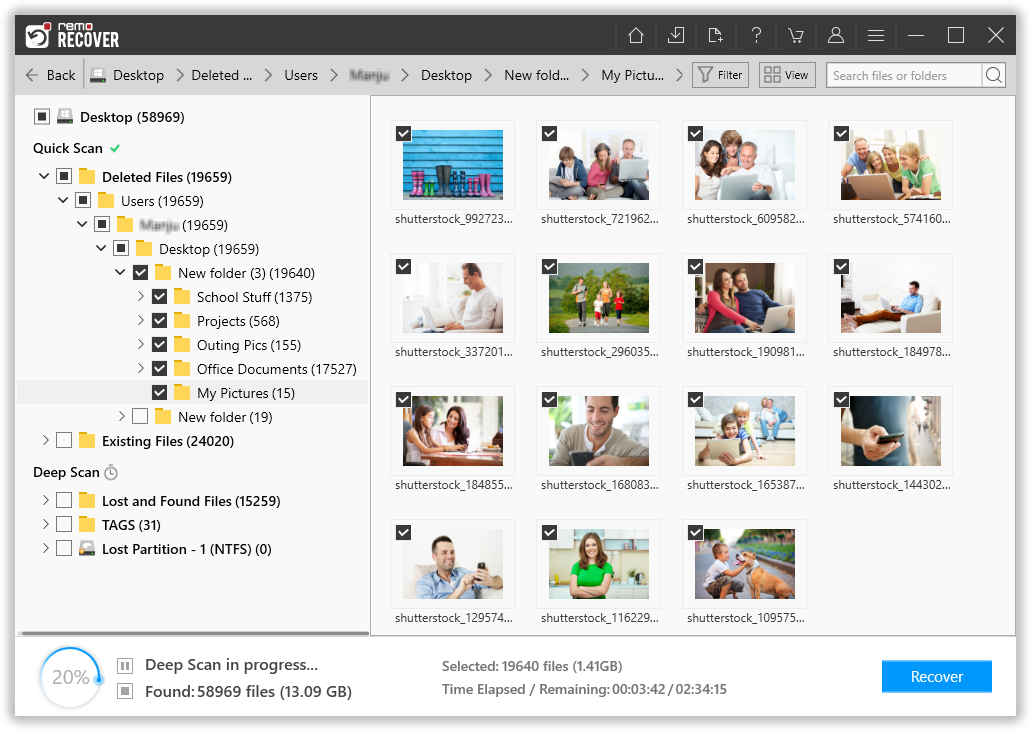 Figure 5: Save Recovered Folders