Recovering Deleted Music Folder: A Complete Guide
Recovers MP3, AVI, WAV, AIFF, ACC, OGG, and various other audio file formats in a few clicks
Music files from corrupted and formatted storage drives can be regained
Supports music file recovery from hard drives, iPods, digital cameras, USB flash drives, SSD, memory cards, etc.
Other than music files, all media file formats of images, videos, animations, etc. can be regained with ease
Losing your music folder can be disheartening, especially if it contains a collection of your favorite songs. However, with the right approach and tools, you can recover the deleted music folder and restore your beloved tunes. In this step-by-step guide, we will walk you through the process of recovering a deleted music folder from your computer or any other storage device. Follow the instructions carefully to increase the chances of successful recovery. Before recovery of deleted music files, there are some precautionary measures to be taken immediately after losing your music files from the storage drive/device.
Stop using and Protect the Storage Device:
Stop Using The Device: As soon as you realize that the music folder has been deleted, stop using the storage device to prevent further data overwriting. Continued usage can make recovery more difficult.
Safeguard The Device: If the music folder was deleted from an external storage device, such as a hard drive or USB drive, safely disconnect it from your computer to avoid accidental modifications.
Next, immediately utilize reliable data recovery software to regain your lost/deleted music files & folders. before going on to the recovery of deleted music files, let's have a look at few scenarios wherein our music files get deleted from the storage device.
Accidental deletion: You might mistakenly choose the wrong music folder for deletion and thereby delete it permanently.
Formatting: Formatting a drive deletes all folders present in it including the music folder. This is because formatting erases the record of all files present on the drive. In this case, you have to restore folder after a format of the drive on the computer.
Emptied recycle bin: If you empty the recycle bin without checking for data in it then the music folder in it gets deleted.
The music folder may bypass recycle bin if the folder is larger than total space of recycle bin. Well, whatever may be the circumstance in which the music folder is deleted from the computer, you can recover deleted music folder using the robust recovery software like the Folder Recovery software.
Folder Recovery Software to Regain Deleted Music Files & Folders:
Folder Recovery software helps you to restore deleted music folder on all Windows OS. This utility supports the restoration of deleted files from music folder like MP3, OGG, M4A, AMR, WAV, AIFF, etc. It is fully compatible with Windows OS like Windows Vista, Windows XP, Windows 7, Windows 8, Windows 10, Windows 11, Windows Server 2003, and Windows Server 2008.
The Folder Recovery tool also helps to recover the DCIM folder from SD card, external HDD, SSD, iPods, etc. that contained your vital music files. It enables restoration of music and all other media file formats of videos, pictures, animations, etc. from various devices. Read more about how to recover files from JVC camcorder in just a matter of time.
One can run the demo version of the software on any edition of Windows & Mac machine to achieve music file recovery in simple steps. After installing the tool on your computer you can effortlessly recover My Videos folder, My Pictures folders, My Music, and other system folders with ease.
Step-by-step Instructions to Recover Deleted Music Folder
Step 1: Launch the tool, Select the drive from which you want to recover deleted folders and hit the Scan button. If you can't locate the drive try clicking on Can't Find Drive? option on the bottom left corner, this will scan your system to locate the drives that weren't listed before.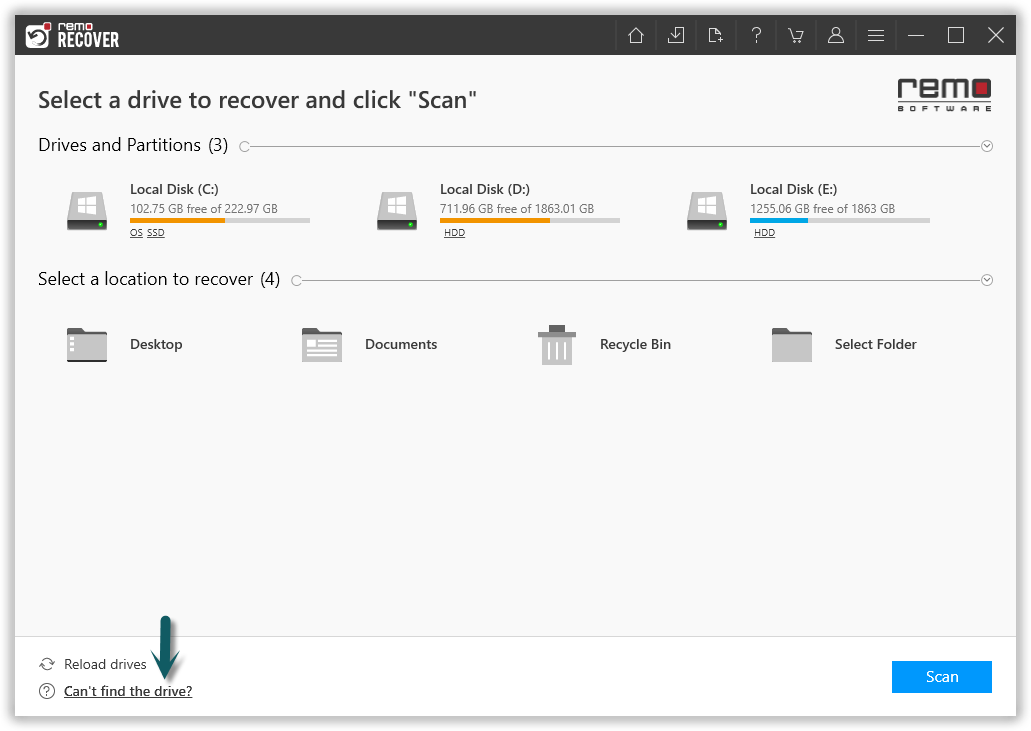 Figure 1: Select the Drive and Click Scan
Step 2: After completion of the Quick Scan process the tool will run into Deep Scan automatically and list all the folders and files in Dynamic Recovery View, Preview the recovered folders and files and verify.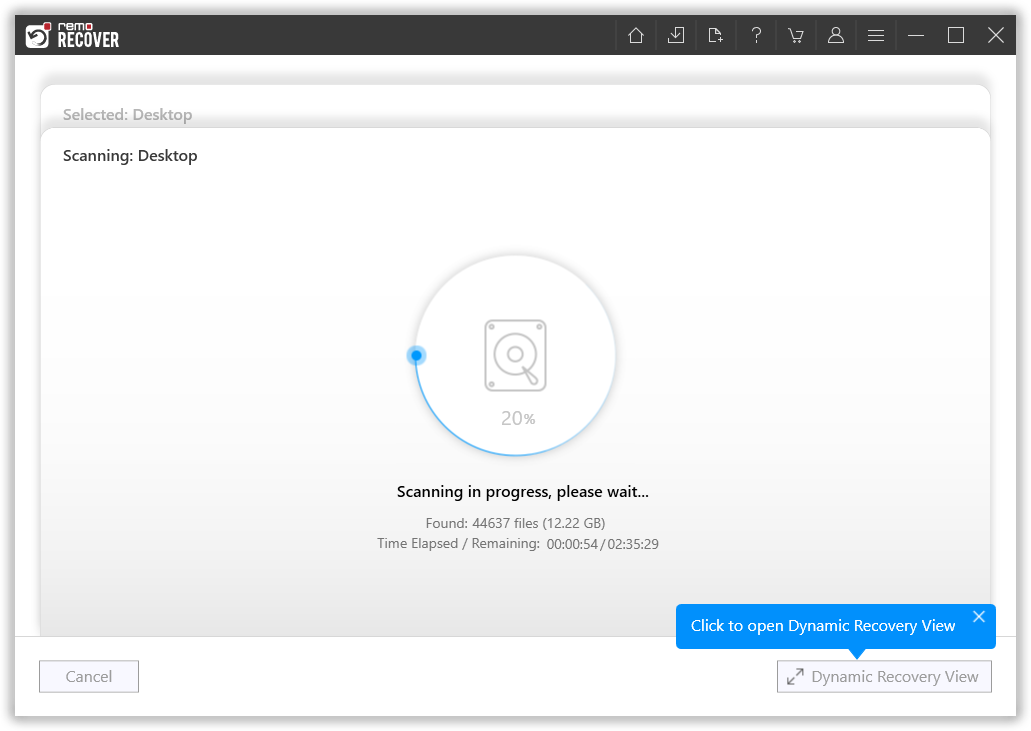 Figure 2: Scanning for Folders
Step 3: Software completes quick scan, and starts with the deep scan to recover more files. After the completion of quick scan, you can find any files you are looking for using the search bar or filters.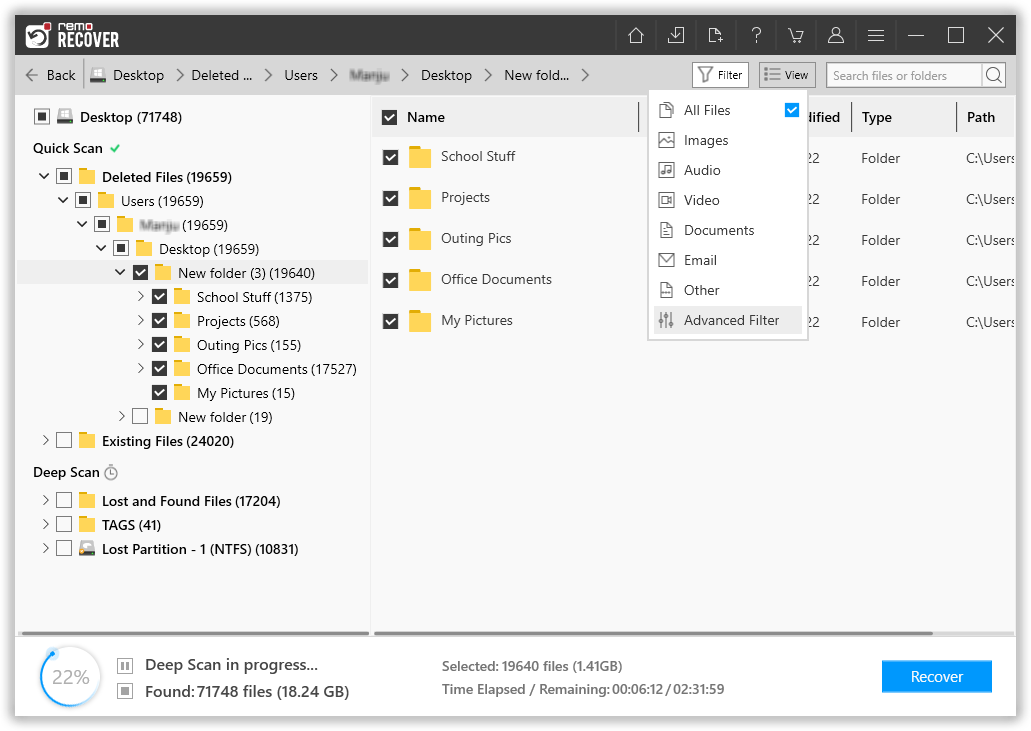 Figure 3: Recovered Files after Quick Scan
Step 4: Double click on any file to preview the files, and evaluate the recovery results.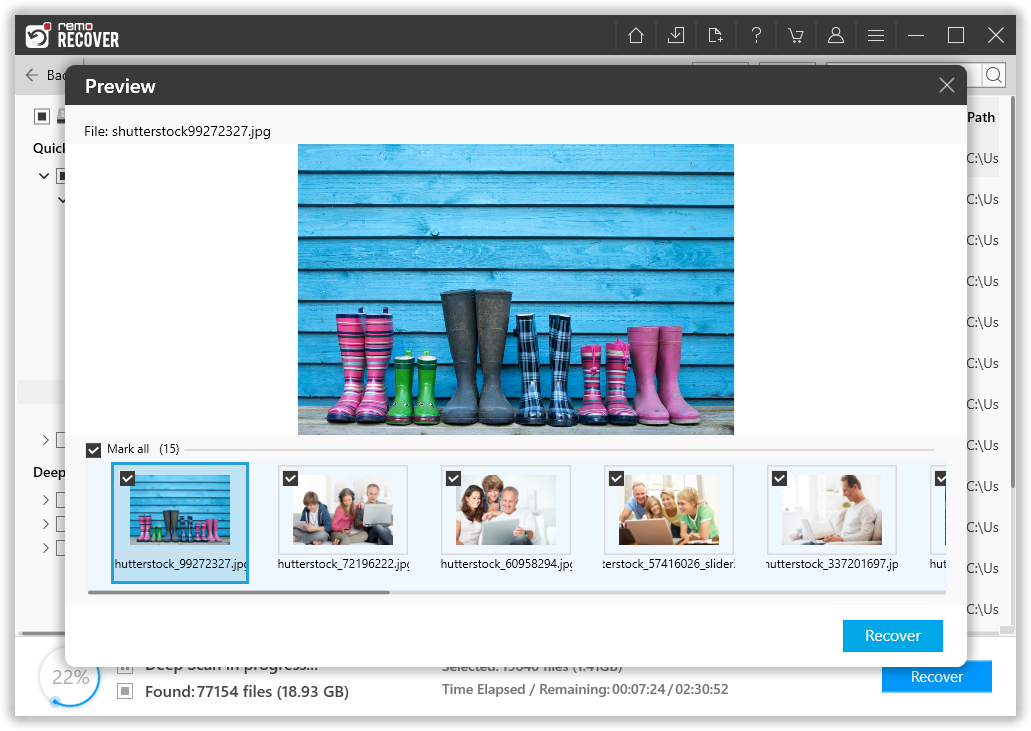 Figure 4: Preview Window
Step 5: Lastly, select a suitable destination path to save the recovered files.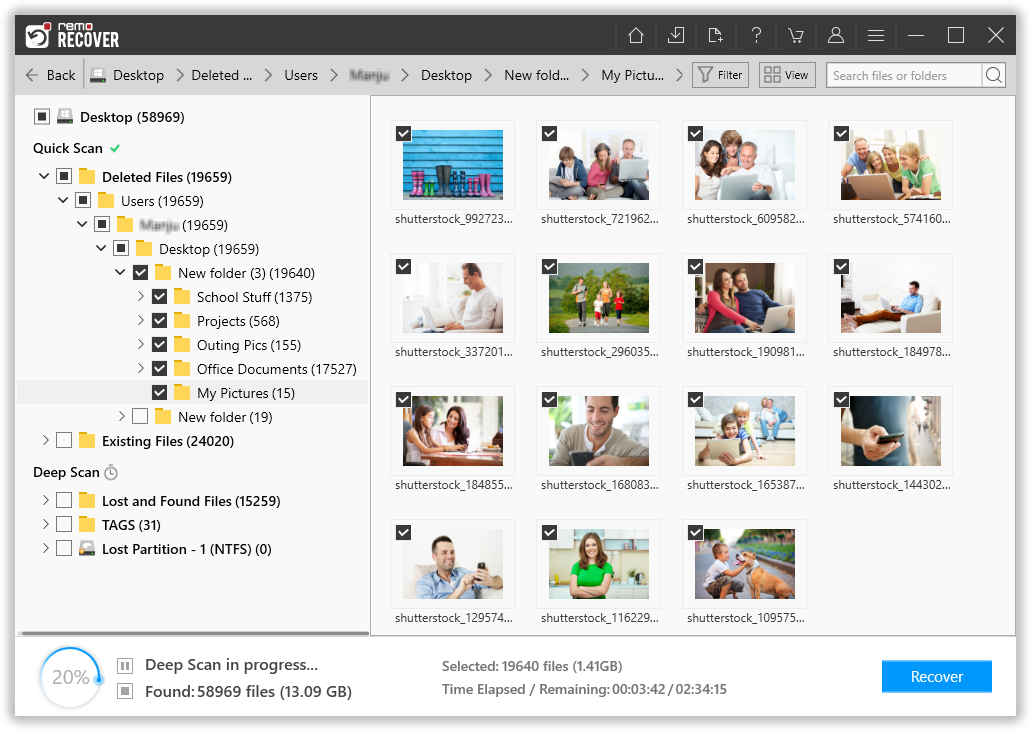 Figure 5: Save Recovered Folders