Recover Files from a Corrupted Partition
An ultimate tool to restore data from the entire corrupt partition.
Supports different types of hard drives like SATA, PATA, SCSI, IDE, etc.
Suitable to work with file systems like NTFS, NTFS5, FAT16, FAT32, exFAT, HFS, and HFS+
Also suitable to work with external HDD, SSD, USB flash drive, memory card, iPods, etc.
Avails free preview of the recovered files even in the demo version
A computer or laptop hard drive will be usually segmented into multiple logical drives called the partitions. By partitioning the hard drive, one can store a set of files on different partitions like software or system files of one partition, all media files on other partition and all other documents on a separate partition. As a result of this, file accessing time will get reduced as the user doesn't have to spend more time searching for a particular file. However, like other storage devices, even files stored on the hard drive partition are not safe.
Corrupt disk partitions
Various reasons can result in a corrupted partition, the users must be prepared for any such unexpected data loss crisis; by maintaining a backup for all important files on the drive. Once the partition gets corrupted. Thereby, all your vital files remain inaccessible. Some common causes for hard disk corruption are listed down below-
Disk partitions severely infected by external threats like virus, malware, trojans, and so on
Bad sectors formed on the hard drive partitions
Incorrect partitioning
Drive file system corruption
How to retrieve data from the corrupt disk partitions?
Folder Recovery is one of the excellent tool, which has been suggested by industry professionals to recover folders from deleted partition, corrupt, formatted, or lost disk partitions with ease This proficient recovery tool also allows you to retrieve data from the non-booting drives. It is capable to identify and recover 300 file types including video files, music, photos, documents, zip files, etc. This advanced application also helps you in file and folder recovery after a format of your hard drive partition. It is safe, easy and fast recovery process to get back files from a corrupted partition in a small amount of time.
This utility has strong algorithms to restore files from the corrupted partition in an effective way. It also has a simple GUI that guides you how to recover files from a corrupted partition. This is one of the best utilities to retrieve partitioned data from hard drive partition. Also, it is compatible with all disk file systems including- FAT16, FAT32, exFAT, NTFS, NTFS5, HFS, and HFS+ file systems. Visit the following URL to know more about restoring data from NTFS partitioned drives on Windows 7: https://www.folderrecovery.net/restore-deleted-ntfs-partition-windows-7.html. This effective program also allows you to restore deleted folder from a pen drive, external HDD, memory stick, external HDD, iPods, etc.
The Folder Recovery tool is available in a demo version that is available for free. It also lets you preview the files and folders restored from the drive partitions in two different layouts. Furthermore, all other Windows editions like Windows 10, 8.x, Vista, XP, Windows Server 2008/2003 are also supported by the Folder Recovery utility.
Steps how to recover files from a corrupted partition
Step 1: Download and run the Folder Recovery program on your PC. On the main screen, select "Recover Files".
Step 2: Locate the corrupt partition that is to be scanned for data. Click on the Scan button.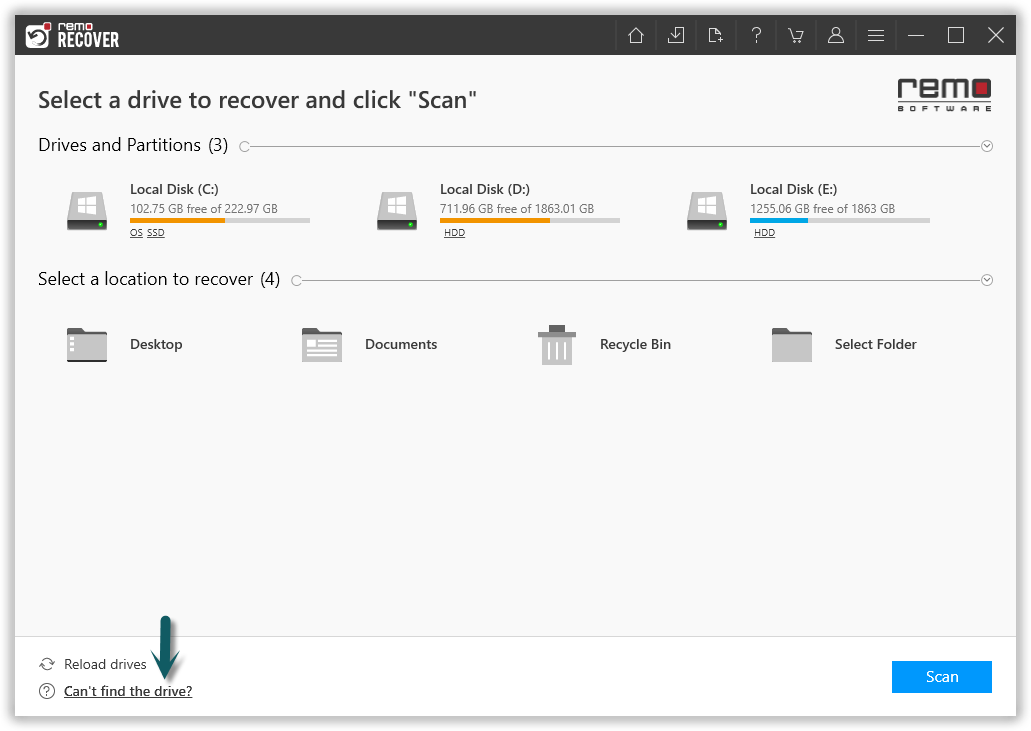 Figure 1: Recover Partitions/Drives
Step 3: The corrupt partitions are now scanned for data.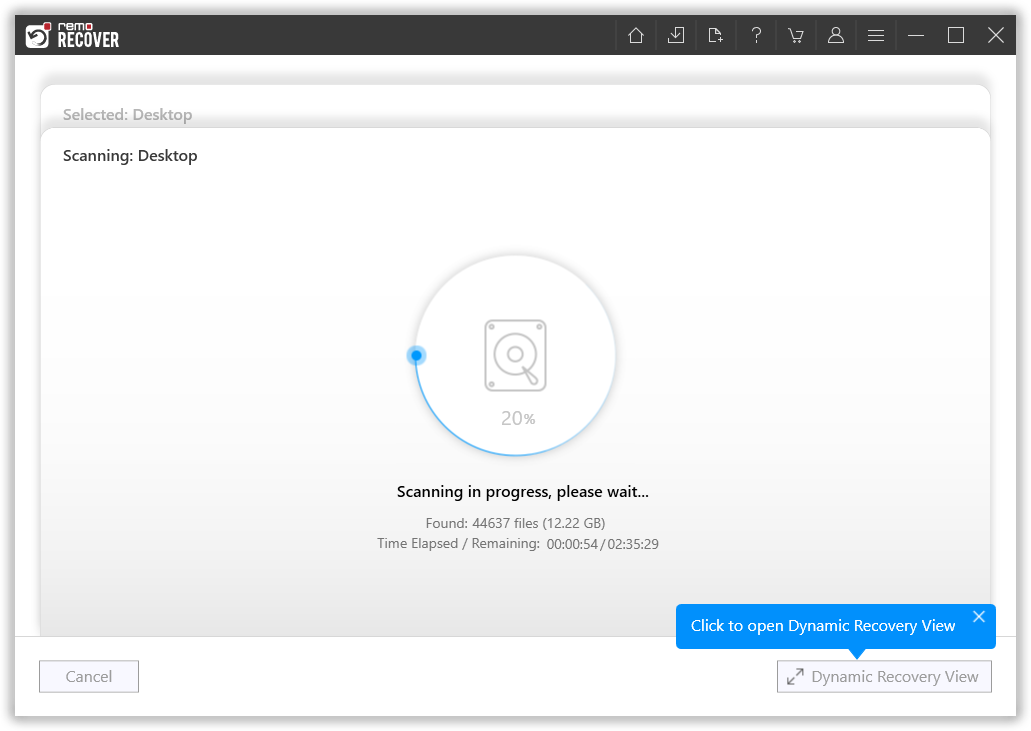 Figure 2: Scanning for Folders
Step 4: Check for the recovered files under File Type View and Data View.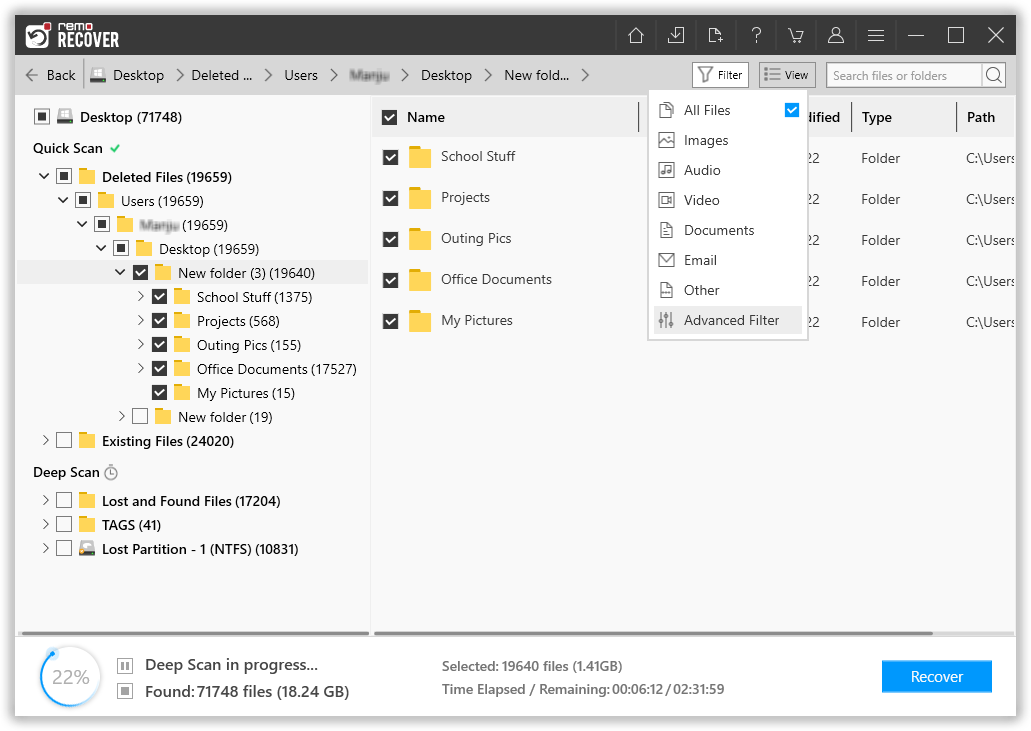 Figure 3: Recovered Folders
Step 5: Now you can preview the restored files and mark them for saving.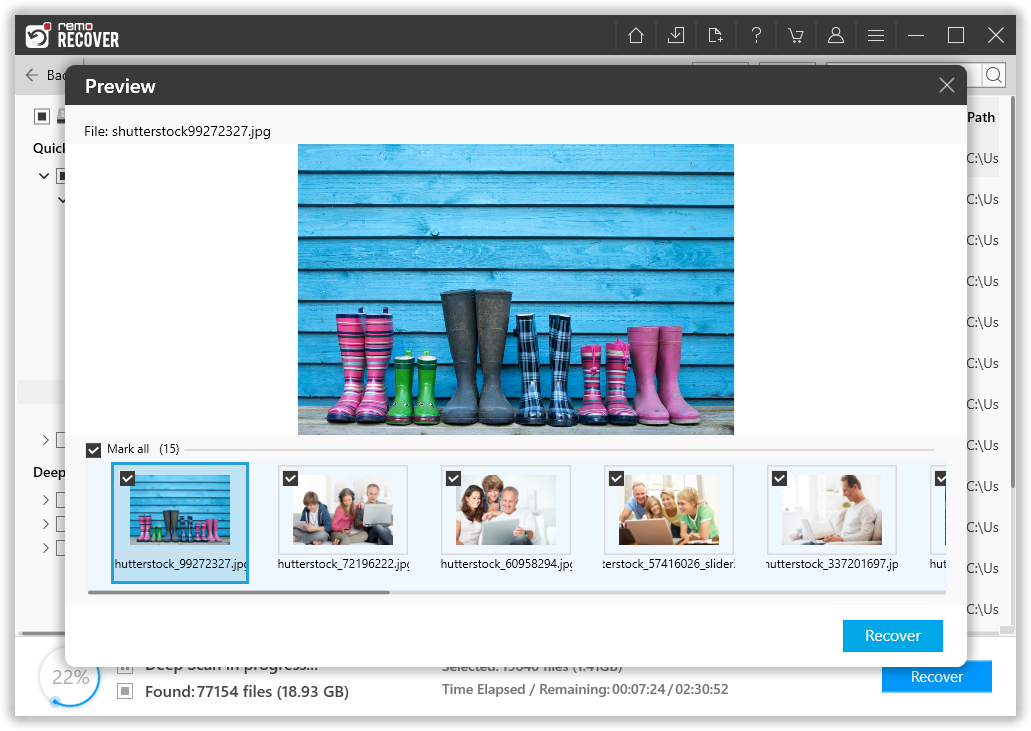 Figure 4: Preview Window
Step 6: Mention the drive location to save the data recovered from the corrupt disk partitions.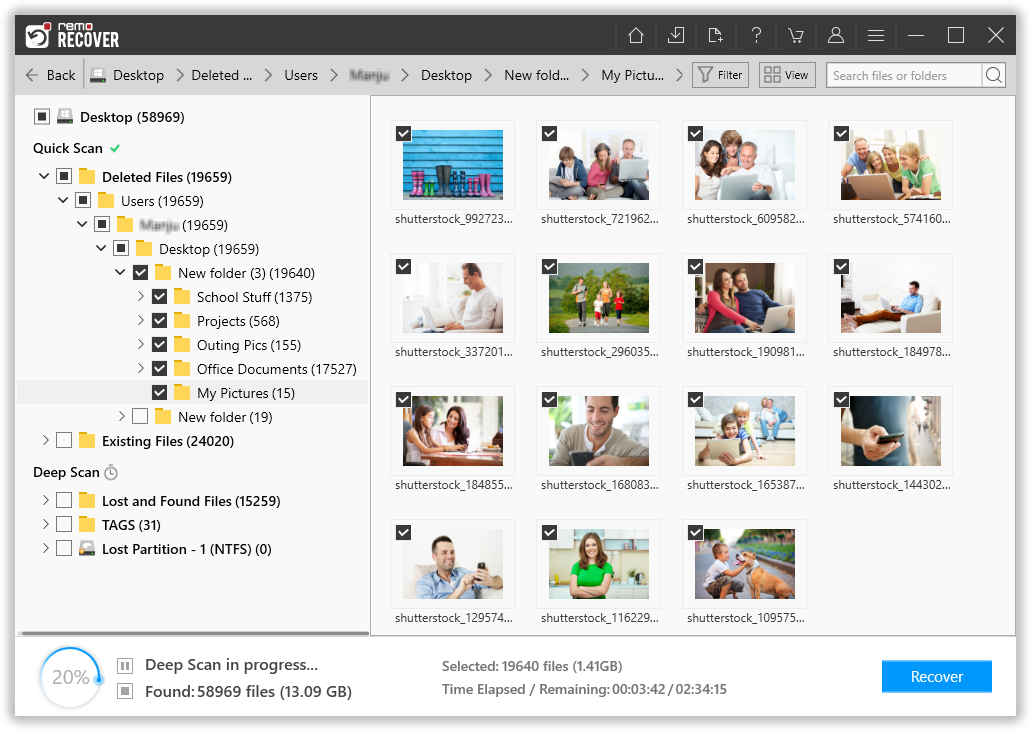 Figure 5: Save Recovered Folders