How to Recover Lost Folder on Mac OS X?
Download, and launch the trial version of Folder Recovery tool that recovers lost or deleted folders
Available in a demo version that restores and presents a preview of the extracted files
Also performs folder recovery from external HDD, SSD, memory card, USB flash drive, iPods, etc.
"Save Recovery Session", and "Open Recovery Session" features of the software help to resume the recovery process at any time point of time.
Fully compatible with all editions of Macintosh OSX
Folders are nothing but a virtual container within the digital file system. It helps to hold files and other folders in an organized way. The files and folders are generally stored on different partitions or volumes of a system hard disk. No matter how experienced you are in using a computer, there is no guarantee that you encounter accidental data or folder loss.
Folder deletion from Mac volumes
The folders are safe on your Mac hard drive until you unknowingly format the disk or delete crucial folders. Some common scenarios of folder deletion from Mac drive volumes include-
Unintentional deletion the folder
Emptied Mac trash
Deletion via 'Command+Options+Delete'
Formatting the wrong Mac Volume
Catalog file corruption/volume header corruption
Apple Partition Map gets corrupted
Virus attack, malware/virus/spyware attack
Unreliable third-party software
Journal corruption
Note 1: A precautionary measure you should always keep backup of your important files and folders. You should stop saving new files as soon after encountering deletion or loss as it might overwrite the deleted or lost folder storage space.
The simplest solution to retrieve lost Mac folders
It is now much simpler to restore files/folders lost on Macintosh machines with the help of Folder Recovery software. It is a unique tool extracts the Mac folders by applying a deep scan on the Mac volumes. It can also be used to bring back folders after format and various other instances of data loss from Mac drive volumes.
Note 2: Also read the steps to restore folders deleted using rm command by the aid of this tool.
Folder Recovery program can also be used to recover data from USB hard drives, flash memory cards, external drives, SSD, iPods, etc. The application works with High Sierra, Sierra, El Capitan, Yosemite, Mavericks, Snow Leopard, Leopard, Mountain Lion, Lion, etc. Furthermore, there is a Windows version of the folder recovery tool, which you can also avail to recover Windows desktop data. For further information look into this URL: www.folderrecovery.net/undelete-from-desktop.html.
This tool would be a good choice of who are looking for an HFS and HFS+ partition recovery tool because this tool recovers all types of files which got lost due to HFS partition corruption or deletion. Visit the following page to know more about HFS partition recovery: https://www.folderrecovery.net/file-recovery-hfs-partition.html
Steps to recover lost folders on Mac:
Step 1: Download and install the free demo version of the Folder Recovery software for Macintosh
Step 2: Click on the Recover Files option. Browse the Mac volume from where the folders are lost.
Step 3: Hit on the Scan button to begin the folder recovery process.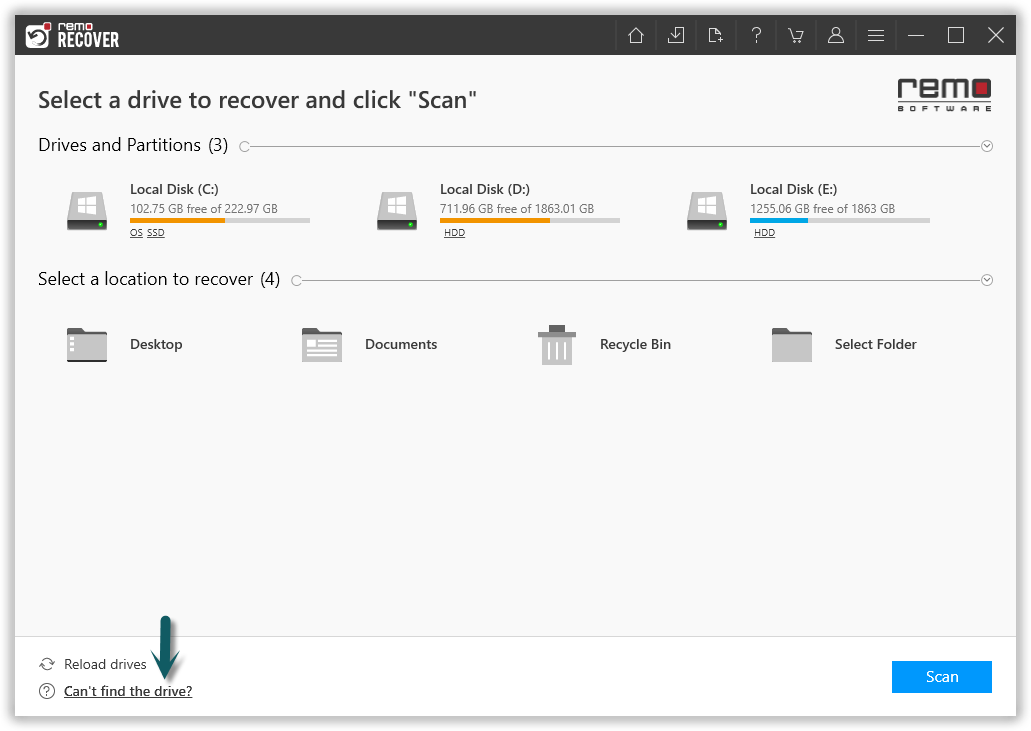 Figure 1: Recover Partitions/Drives
Step 4: The progress of folder recovery will appear on a new window.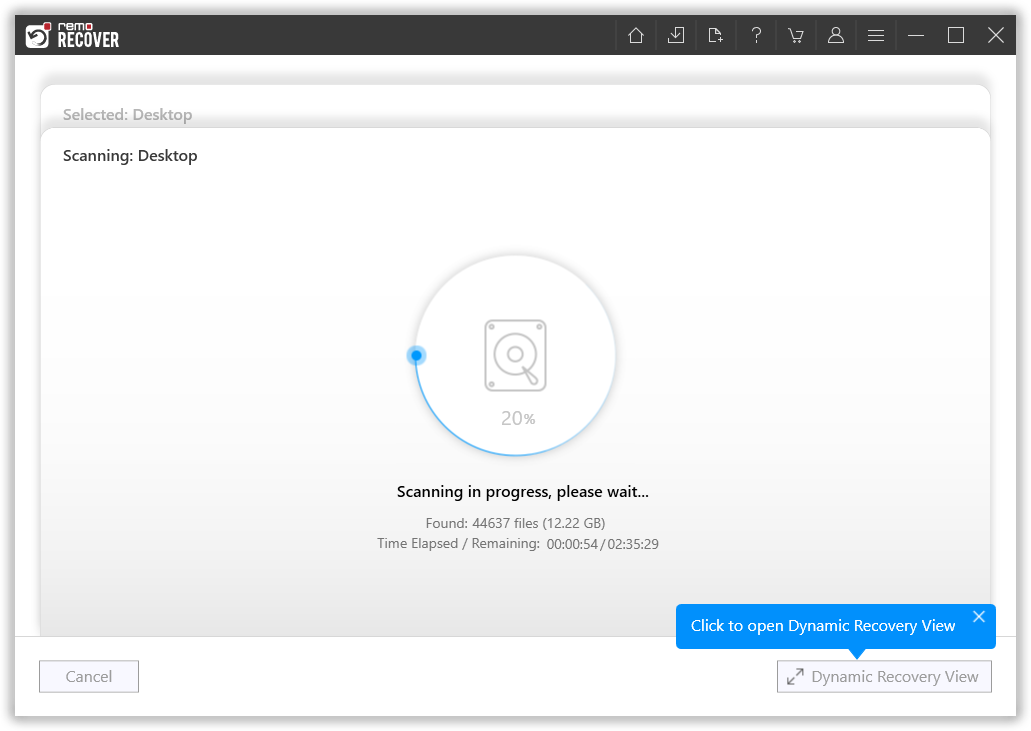 Figure 2: Scanning for Folders
Step 5: Confirm the recovered folders in File Type View and Data View.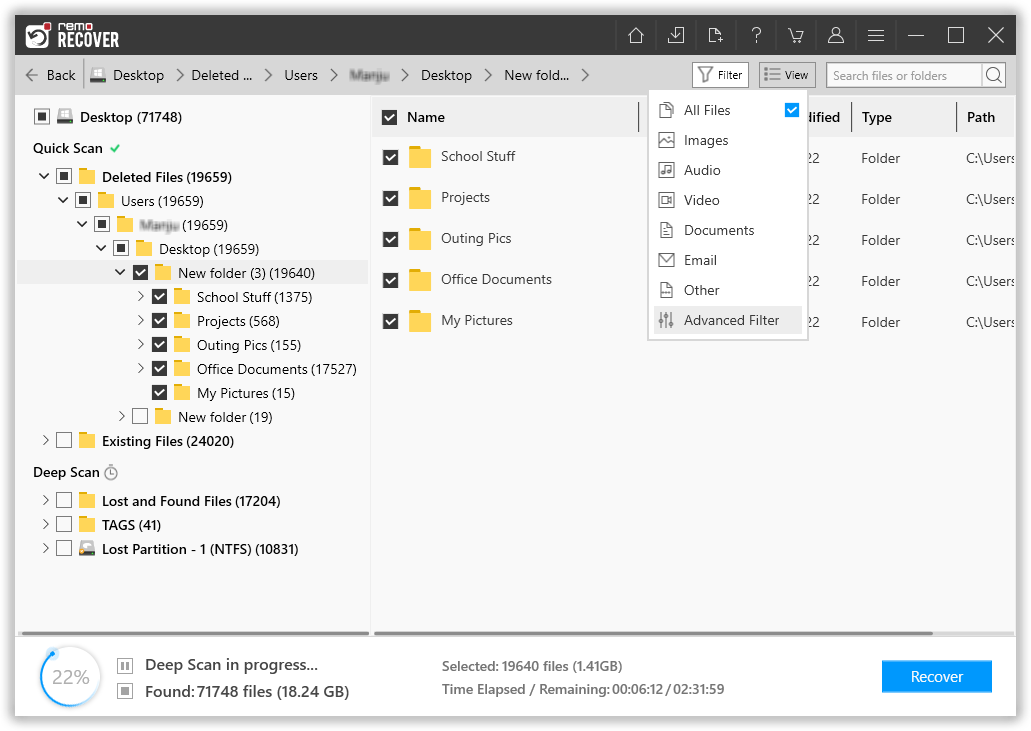 Figure 3: Recovered Folders
Step 6: Preview the revived file items with a right-click.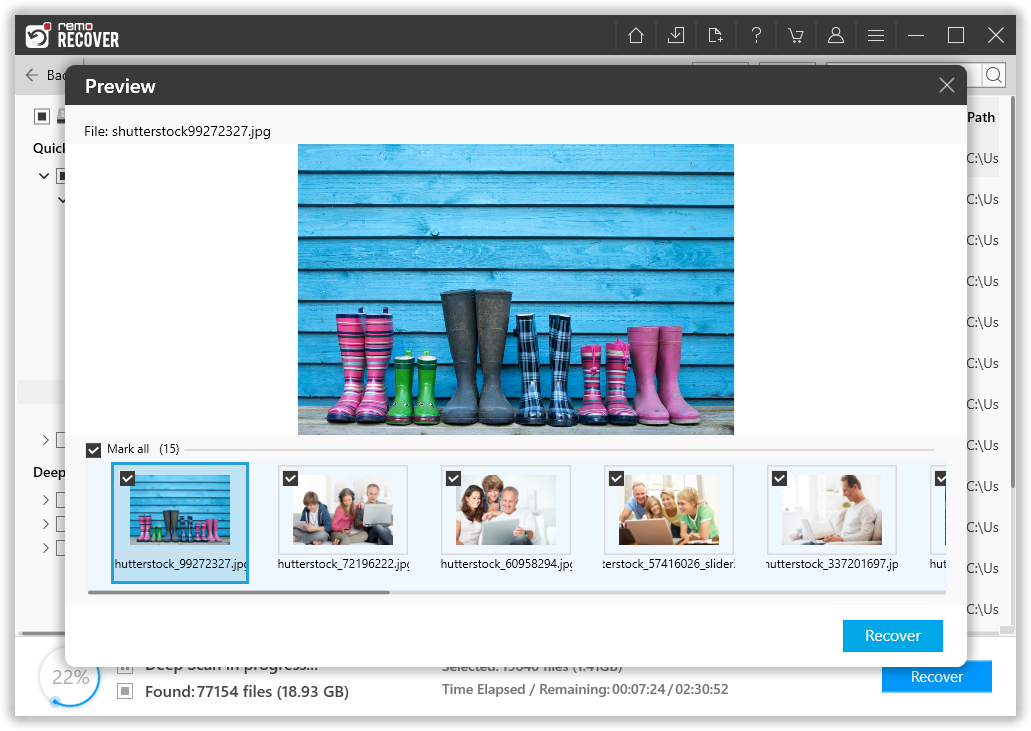 Figure 4: Preview Window
Step 7: Pick the folders that you want to save. Then proceed to browse the drive location to store the files restored from Mac volume.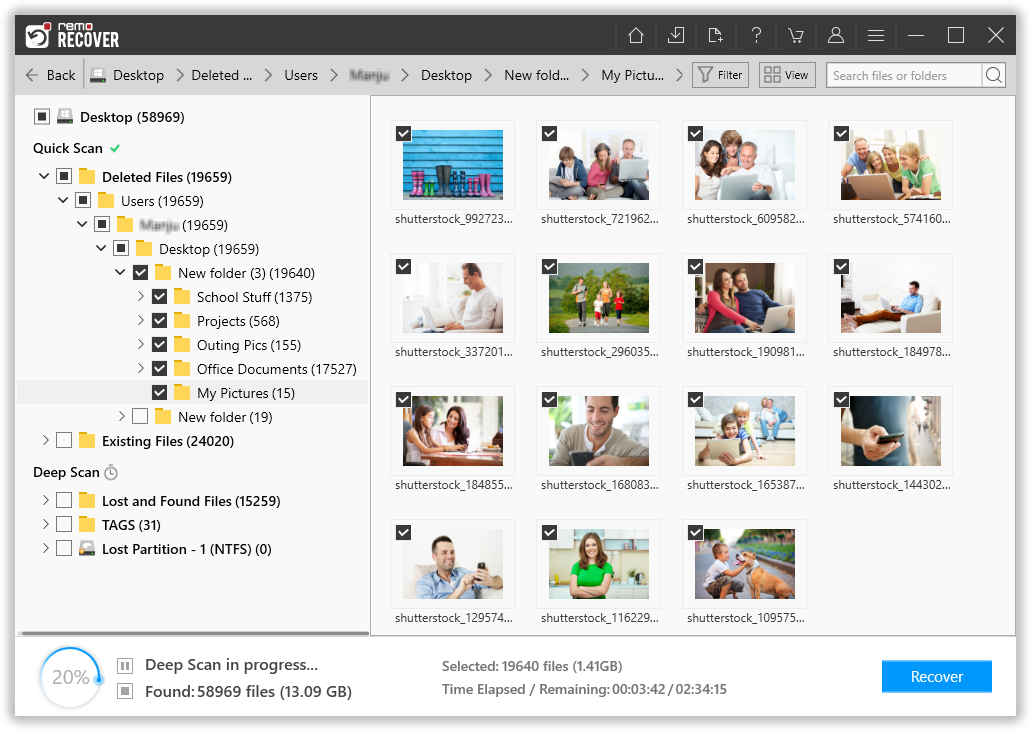 Figure 5: Save Recovered Folders