How to recover PST folder?
Recovers PST folder that is lost, deleted, or corrupt
Available in a free demo version
Performs restoration of all Outlook files and folders creating using any edition of Microsoft Outlook program
Compatible with all Windows OS including the latest Windows 10 and earlier versions
Microsoft Outlook is developed by Microsoft Corporation. A Personal storage table (.pst) is an open proprietary file format which is most commonly used to store different types of information such as calendar events, copies of messages and other items within the Microsoft Outlook mailbox. This file format is also known as Personal Folder File. Microsoft Outlook keeps track of all information in a personal storage table (.pst) or offline storage table (.ost) files that are located on the local system. Folders are used to store similar type of files or information. But a major problem could encounter when accidentally delete your most important PST folder from your system.
Have a look over scenarios where you may lose or delete PST Folder
Accidental Deletion: Mistaken deletion of PST inbox folder by using "SHIFT+DELETE" key combination. This results in the complete deletion of the PST folders on your mailbox.
Malware/Virus Attack: It is one of the most common reasons for the deletion of PST folder from your system. Virus attack may infect your system and so may also affect the PST folders.
Improper Upgrade of Outlook: Improper installation or upgrade of Microsoft Outlook program can delete your PST folder permanently from your system.
Abruptly shutting down the System: Forceful termination of the computer system while working on Outlook, may result in permanent deletion of the PST folder.
When you experience loss of Outlook PST folder you might look for the best way to recover deleted PST folder. Well, irrespective could be the reason for deletion of PST folder, there is one efficient technique to restore PST files. It is the Folder Recovery application that securely recovers PST folder without altering the original file structure/contents.
Folder Recovery tool to restore MS Outlook PST folders
The Folder Recovery is an award-winning application that is proficient in retrieving PST and OST files that are deleted/lost due to various reasons. It makes use of a powerful scan engine that scans the storage drive and fetches the folders in no time.
Salient Features of the Folder Recovery Software
Helps to retrieve files lost after system restore, format, virus attack, etc.
This software is compatible with Windows such as Windows 10, Windows 8, Windows 7, Windows XP, Windows Vista, Windows Server 2008/2003 and so on.
Also performs recovery of image, video and other media folder with ease. To know more about how to restore the image folder, Refer link:www.folderrecovery.net/bring-back-missing-image.html.
Restores PST files created on Outlook 2000, 2003, 2007, 2010, 2013, and 2016. To know more about it, check this page: https://www.folderrecovery.net/how-to-recover-deleted-folder-in-outlook-2016.html
Supports file and folder recovery from USB pen drive, memory stick, external HDD, SSD, SD card, iPods, etc. You can know more about how to recover deleted folders various files from the USB pen drive by visiting the following link: https://www.folderrecovery.net/restore-deleted-from-pen-drive.html.
It also provides you a real-time preview option. You can easily preview your recovered PST folder by clicking on the "Preview" option.
How to recover PST folders on Windows?
Step 1: Download and run the Folder Recovery software and select "Recover Files" option from the main screen.
Step 2: Browse the location of the deleted PST folder on the computer. Press on the Scan button.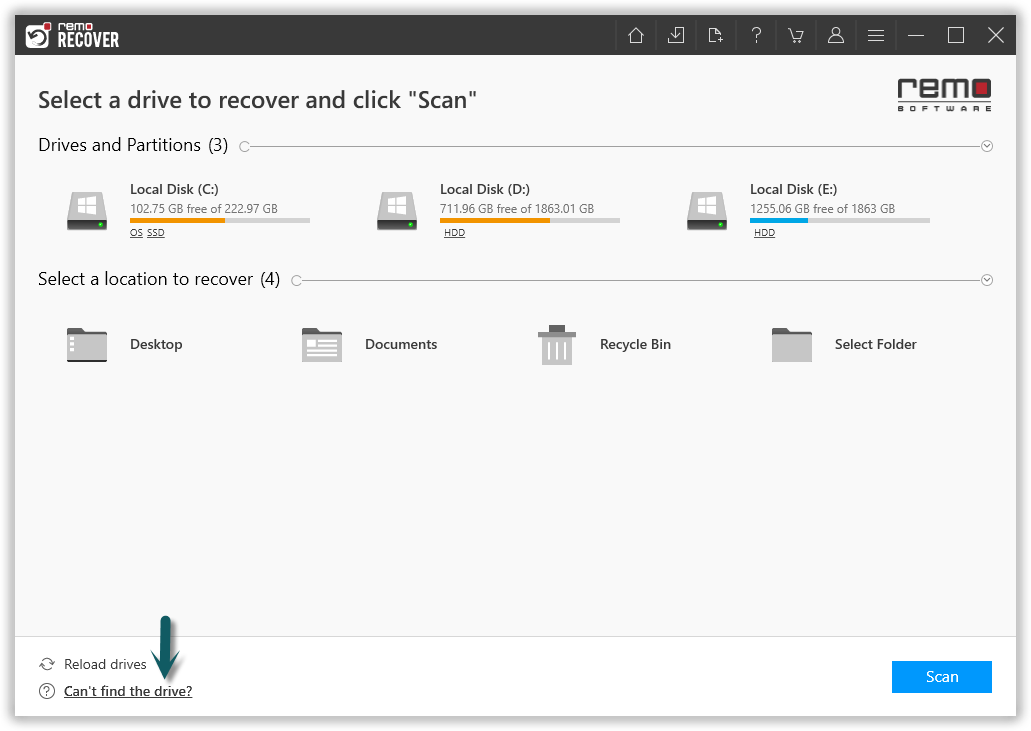 Figure 1: Recover Partitions/Drives
Step 3: The progress of scan will appear as shown in Figure 2.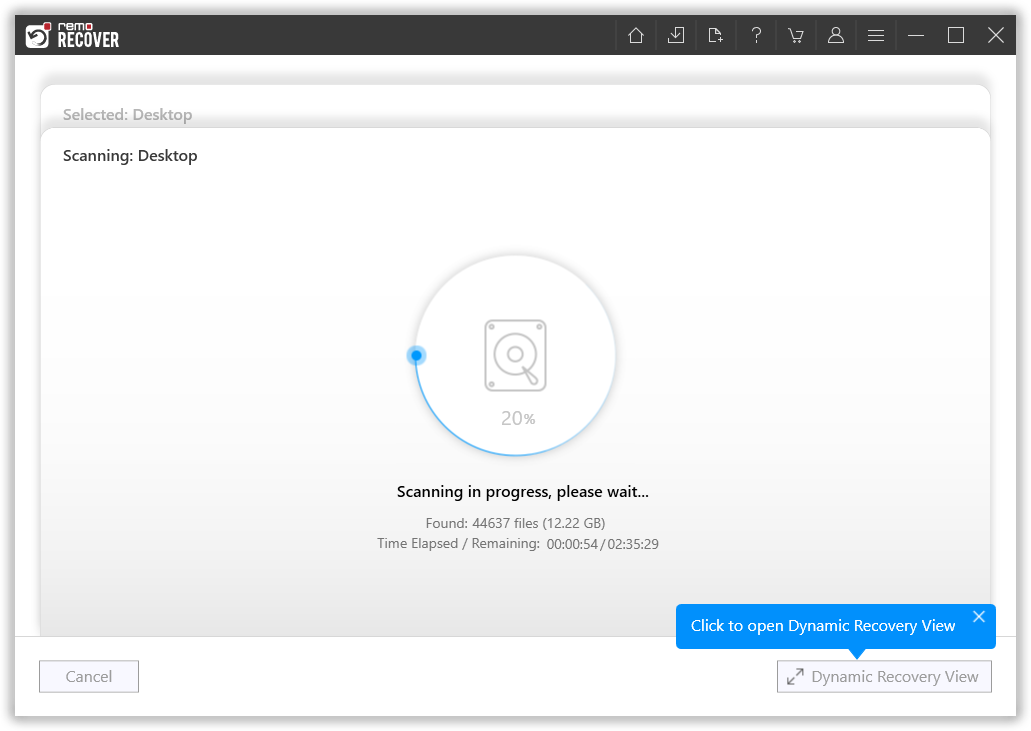 Figure 2: Scanning for Folders
Step 4: The list of folders restored from the selected drive will be displayed. Mark the required PST folder for saving.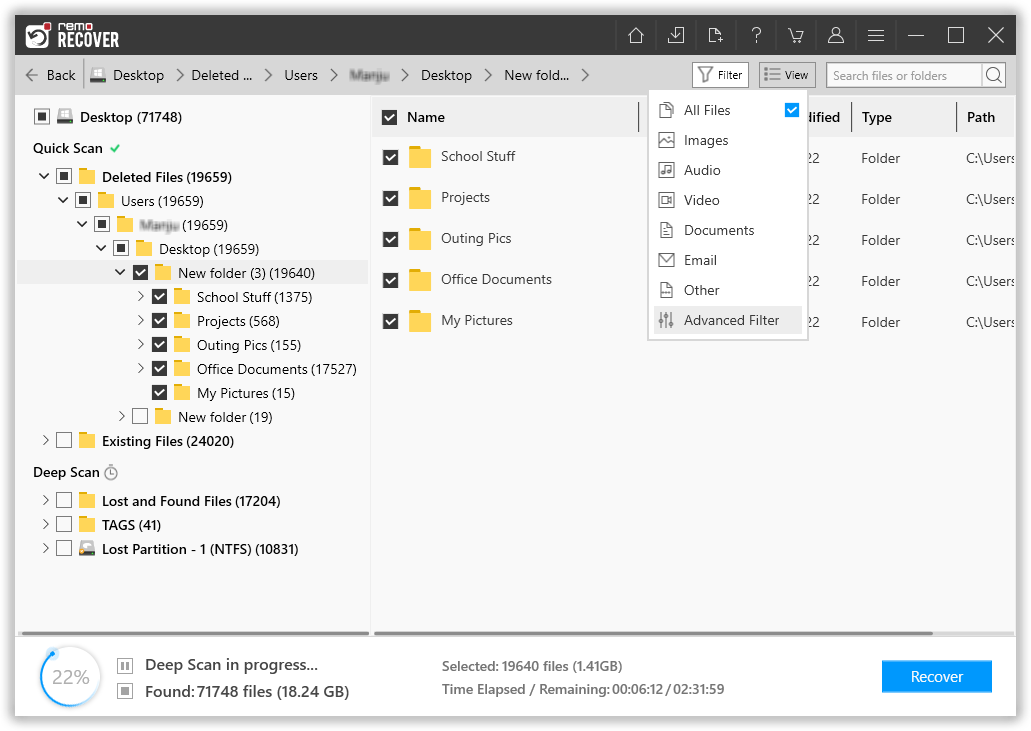 Figure 3: Recovered Folders
Step 5: Choose a target location to save the retrieved PST folder and tap on the Save button.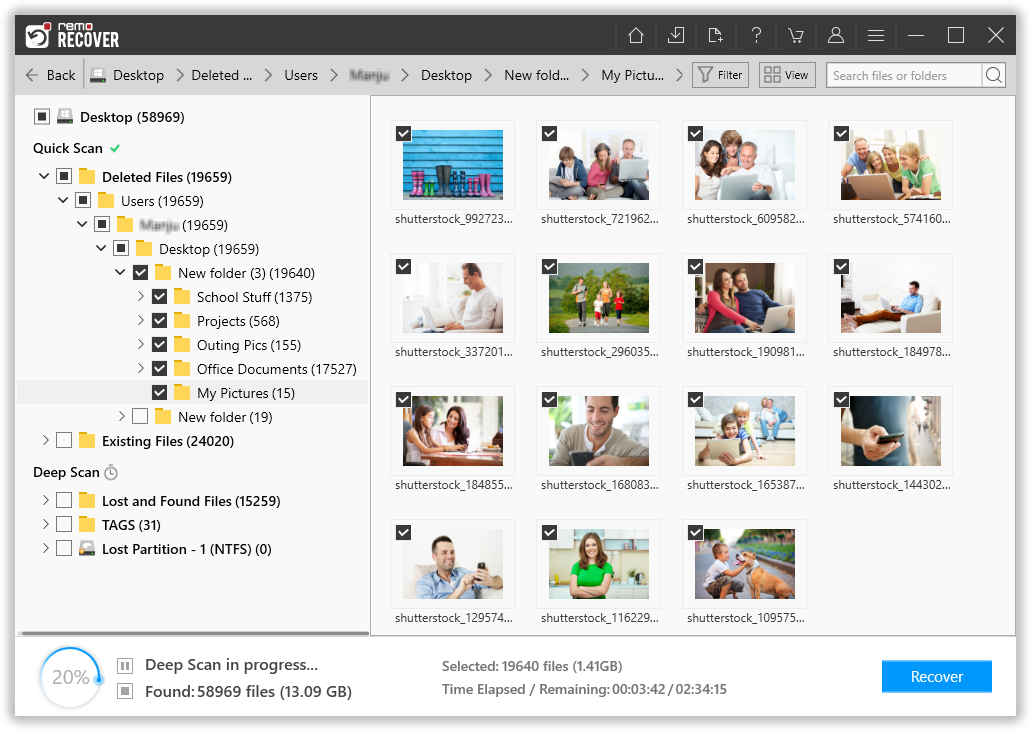 Figure 4: Save Recovered Folders